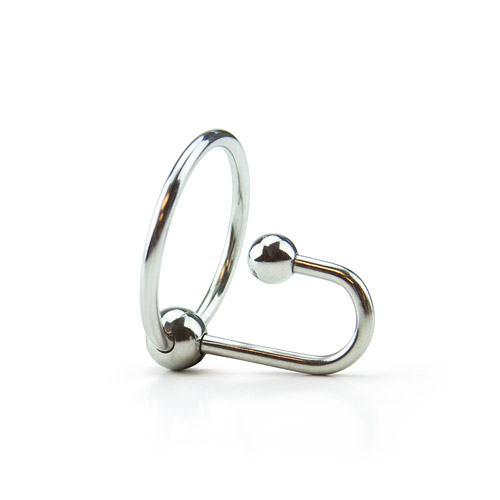 Urethral double ball plug
Metal penis head ring
by EdenFantasys
Seems more extreme than it is
Urethra play is super fun if you haven't tried it, and this is a great intro to that space. It was a bit hard for me to use other than as a prelude to the main event, but don't let that stop you; this thing looks good, feels good and definitely expands your sensation set.
Published:
Pros
Looks good, easy to clean, it's a unique sensation
Cons
The ring could have been smaller or shaft longer (for me)
Let's start out with the elephant in the room. That curved ball goes in your Urethra. That's the pee hole. If that's a bridge too far, then you can leave the room now.

Everybody gone? Good. Let's get down to business. Pee hole business.

First, the connection between the hook and the ring isn't fixed, it can pivot, which lets you choose the angle that the ring sits at. This makes it much easier to find a comfortable and secure placement where the ring is just behind your head, and the hook sits as deeply as possible while not pushing too hard on the walls. It appears to be made of well finished stainless steel, so it should be easy to clean and sterilize. Ideally, you would boil it for a few minutes before use to minimize any chance of a urinary tract infection. The smooth finish both makes it easier to clean and more comfortable on insertion. You may need some sterile surgical lube on the ball in order to get it inserted (especially if you're inserting it flaccid), but I was able to use it with no lube.

The insertable ball looks really big. Maybe too big if you've never put anything in there, but my experience was that it was the ideal size, it slipped in easily, and there as just a little stretch getting past the narrowest part of the tube right behind the frenulum. (About a quarter-inch inside). I started it with a flaccid penis and wore it around while I did some other things and it was very comfortable, I hardly ever noticed it, in fact, I'd say that this particular use isn't the point of the thing. After about an hour, I decided to put it to the real test and got things stiffened up.

With an erect penis, the little stretch on insertion is even more apparent. I could feel my erection squeezing the ball from inside and tried to place the ring in such a way as to provide some constriction and really lock the ball in place. This was a real disappointment for me. Since the tip of your penis is less hard than the shaft (by design), I couldn't get the ring to positively lock hard enough to actually masturbate normally (much less slide into a vagina). I could slide downward, but any upward sliding always pulled the ring out, which is a damn shame because the thing feels great. Urethral stimulation is really intense, even with just a slick ball. It's not the kind of thing that alone can result in orgasm (at least for me), but it's amazing in the build-up. I had hoped that this ring would lock in well enough to at least fully masturbate if not actually have sex (which seems like it could be fun for all involved), but it couldn't.

That aside, it's a really fun sensation, might be able to factor into a blowjob if the giver is careful, definitely looks hardcore (would not be out of place in any BDSM scene you might consider) and maybe if you're thicker than average (or your head is particularly large and/or hard) then maybe you'll get a bit more mileage out of it.

Either way, there's a lot of uniqueness for not a lot of investment. I definitely recommend it even if you've never really thought about sticking stuff in your penis.
This product was provided free of charge to the reviewer. This review is in compliance with the FTC guidelines.
Thank you for viewing
Urethral double ball plug
– male sex toy review page!