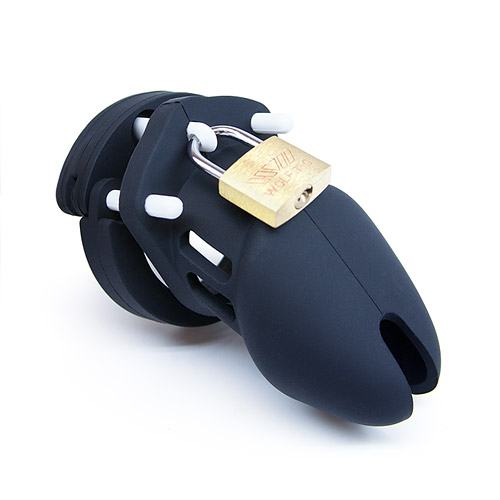 Chastity cage X0020 silicone
Chastity device
by EdenFantasys
Sensory Deprivation
You don't know what you've got till it's gone! Very fun mind trip. Highly recommended for people who like some anal play but can't keep their hands off themselves. You people know who you are! A unique sensory deprivation experience. Very interesting journey overall.
Published:
Pros
Unique Experience, Silicone, Adjustable
Cons
Silicone ball ring can pinch skin once in a while.
Attention: If your penis is above average size, this cage will be a very tight squeeze. I did not think I would be able to ever get it on. But with lube and patience, I succeeded.
The cock cage is associated with many fetishes that might not align with your mindset. However, it is a fun sensory and mental experience. I am the Dominant partner, so why would someone like me don the cage? The answer is to delight my submissive. For something new, unusual, and frankly kind of funny. I knew she would love it and laugh, and she did.
This is my first cage rodeo, so I have nothing to compare it to. Being made of silicone, I think it will last forever and is easily cleanable. The silicone has a little stretch, but not much. Your member will be doing more of the contortions. When you get semi-erect or at least attempt to, some shaft from your pubic bone, which is behind the cage, will push the cage outward a bit. I had to compress inches of my soft shaft like an accordion to get all the pieces secured. So when you get turned on, these accordions back out a bit bulging from behind the cage to the testicles. But it only can bulge so much because the penis is bent, so I never would get anywhere near fully erect. Which is the point. Mentally this is odd because desire, arousal, and boners are so interwoven and closely associated. So it is quite odd and fun to feel the mental spark but have your body physically subdued. It makes the mind keep sparking. Also, you don't realize how much sensation the head of your penis receives passively, even in a non-sexual manner, like brushing against clothing or sheets. This cage showed me that. It is like a sensory deprivation tank for your nerve endings. Which is a very interesting experience. When you yearn for touch and sensation, you are left with just an exposed urethra. And the cage does heighten the desire to have it stimulated. Which is never quite satisfying enough, so it leaves you wanting more. A fun mental trip.
I personally can't see wearing this all day, though you certainly could. The silicone testicle ring and the accompanying upper bracket are prone to grabbing and lightly pinching little bits of skin. You can wiggle and readjust accordingly. It can also pull at pubic hair, so a close trim or shave is optimal.
I've read online that hygiene-wise, you would still want to take it off to wash and ensure bacteria doesn't build up, even if you want to wear it 24/7. Wearing the cage is a choice. No cage, even a steel one, can contain a motivated person from getting out of it. You could easily escape the silicone cage with a pair of scissors to the ball strap. You could also probably successfully jerk off to orgasm with the cage on, but it would be weird. And I never did.
The instructions the cage comes with are not excellent, and it comes with a lot of redundant parts to allow you to customize the fit, which at first was confusing. I ended up looking at the pictures on the product description webpage, and that was more helpful to put it together the first time. Once you put it together, you can secure it with the included lock or zip-tie type tags.
Overall, a very unique and fun experience!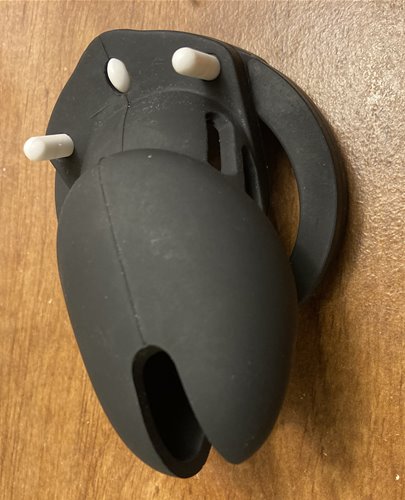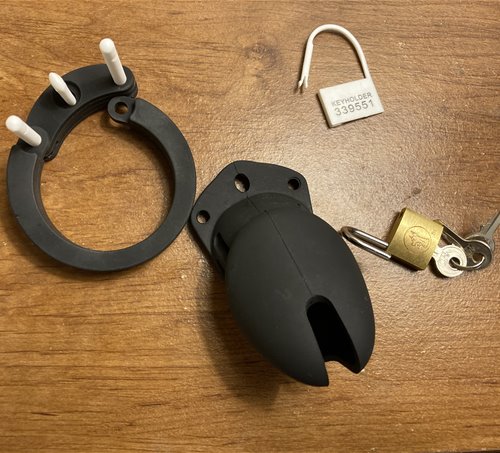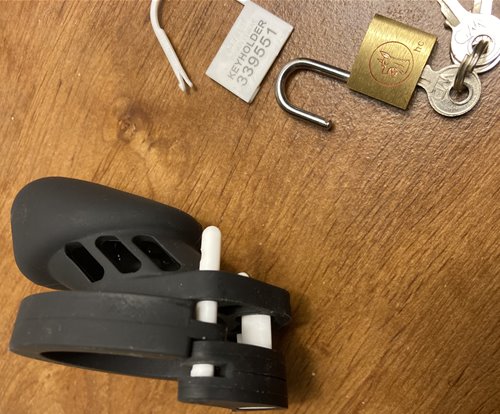 Follow-up commentary
5 months after original review
I really want to like this, but it is just too small. I squeezed into this for the longest session yet, around +4 hrs, and it was cutting off circulation. Not the toy's fault, just a sizing issue.

Overall, this has sent us down the path of being very interested in chastity cages. Now we just need to find one that fits better.

This product was provided free of charge to the reviewer. This review is in compliance with the FTC guidelines.
Thank you for viewing
Chastity cage X0020 silicone
– male sex toy review page!