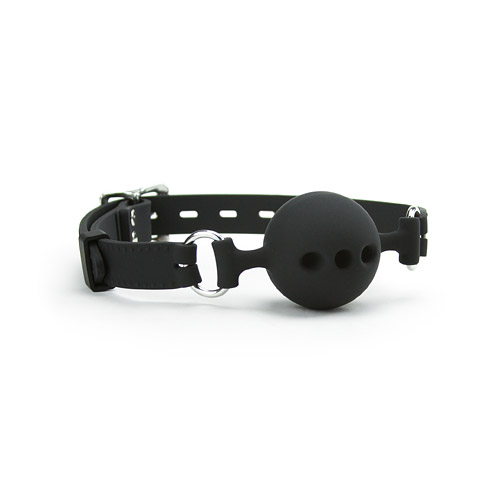 Breathe silicone ball gag
Ball mouth gag
by EdenFantasys
Shh... Not a Sound!
I sat with my hands hovering over the keyboard, trying to find a downside to this toy; I drew a blank. This is a high quality gag that offers comfort and safety. The size and design are spot-on. Out of all of the toys I have gotten from EdenFantasys, this gag may be my all-time favorite. No, this toy does not vibrate, suck, or rotate, but it opens the door to so many submissive fantasies. Just thinking about this toy makes me aroused.
Published:
Pros
very smooth, comfortable, sexy as fuck, quick release clasp
First Impressions

When I first opened the plastic packaging, I was amazed by the smoothness of this toy. Unlike with plastic or leather gags, this toy had no sharp edges. Since the ball and the straps are silicone, you won't find a sharp edge anywhere on this toy. The silicone material felt like velvet slipping through my fingers. As I raised the toy up to my face, I noticed the scent of rubber and machine oil. This must have been a byproduct of manufacturing or storage. However, after a single wash with hand soap, the smell was not discernible. I had never worn a ball gag before, and was expecting the ball to be similar to a tennis ball, hollow and compressible. However, the ball on this gag is made out of solid silicone with little give. The silicone material does allow you to bite into the ball without hurting your teeth. It has a similar amount of give to those solid rubber bouncy balls that come in a ball & jacks set.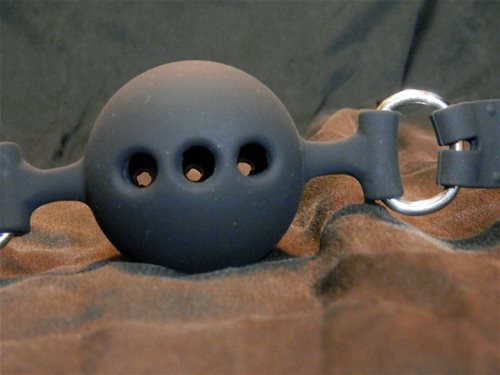 There are cone-shaped holes drilled through the gag to allow for the user to breathe. When you wear the gag, the small end of the holes is inside your mouth. My best guess is that this reduces the amount of drool that can collect in the holes, maximizing air intake through the breathable gag.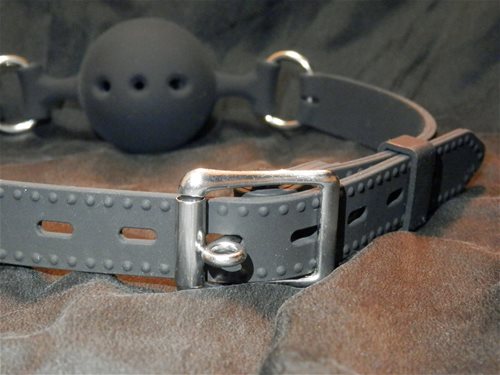 One feature that I greatly appreciated was the circular buckle pin. Unlike with the buckles you find on belts or horse bridles, this pin has a circular shape that allows for a quick release. With one pull on the strap, the pin will easily unhook itself. This gives me peace of mind to know that in an emergency, I will not be fiddling with a pesky pin to remove the gag.
Details
At 1 3/4" in diameter, I found the ball size to be just right, small enough not to hurt my jaw, but big enough that I still felt restrained. After about fifteen minutes or so, my jaw did start to ache but keeping your mouth open for that long does that, with a gag or without one.
The strap is adjustable in size with 10 buckle holes. At the tightest setting, the length is 14 1/2", and at the loosest setting, the length is 21". The best tightness really depends on the user. If you are someone who is scared of gags, I would suggest leaving the gag on the looser side. The tighter you fasten the gag, the deeper the ball goes into your mouth. You will not be able to push the gag out with your tongue when the gag is tight.
While lipstick can be super sexy, be warned that lipstick on silicone can be hard to remove. Normally, soap and water are sufficient for cleaning silicone toys. However, after trying to scrub off the lipstick with regular hand soap and then dish soap with no avail, I found that makeup wipes work best to remove stubborn lipstick smudges on your silicone toys. Click
this link
to read more about silicone.
Experience
First Use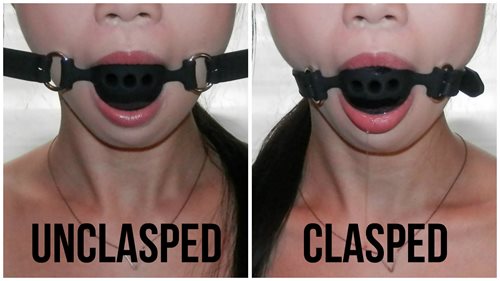 My first time with this toy was a solo session while at my parents' house. I was in my room with the door closed to hide my kinky new toy from my family. With a mix of fear and anticipation, I pushed the ball into my mouth. It was cool against my lips and I could feel the metal loops pressing into my cheeks. My tongue massaged the smooth underside of the gag while my teeth grasped for purchase on the now slick surface. Though I knew the gag was a breathable gag, my brain was still surprised that I could suck in a breath through the obstruction now seated fully in my mouth. I secured the strap around the back of my neck, feeling it snap into place. When I pulled my hands away, a strange sensation overcame me. I started thinking, if my mom were to knock on my door, I wouldn't be able to answer. If my phone rang, I wouldn't be able to say a word. Though I could easily take off the gag, the knowledge that my new toy took away a bit of my control, my ability to speak, made my pussy start leaking. My mind wandered to darker fantasies, what if my Dom kept my gag fastened whenever he wasn't using my mouth for more pleasurable activities. By this point my panties were soaked and my brain felt a bit fuzzy from all the submissive thoughts churning around in there. I reached for my phone and snapped a few pictures to send to my Dom. Would he be able to tell how turned on I was? Could he see how much I enjoyed this new toy? As I waited for a response, I felt wetness on my naked chest. Looking down, I saw a line of drool sliding between my breasts. How deliciously humiliating! I unlatched the buckle and pulled the ball out of my mouth with a small
pop
. I felt content, knowing that tomorrow's playtime wasn't too far away.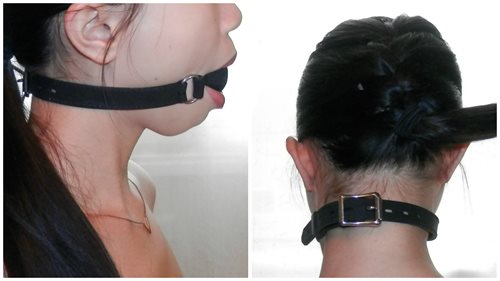 Follow-up commentary
7 months after original review
This toy remains one of my all-time favorites! Even after prolonged play sessions, the silicone strap is very comfortable! When I first got this gag, I worried the ball was too small. However, with further use, I realized, that after 15 minutes with a gag in your mouth, your jaw will thank you for choosing a smaller size!
This product was provided free of charge to the reviewer. This review is in compliance with the FTC guidelines.
Thank you for viewing
Breathe silicone ball gag
– ball mouth gag review page!