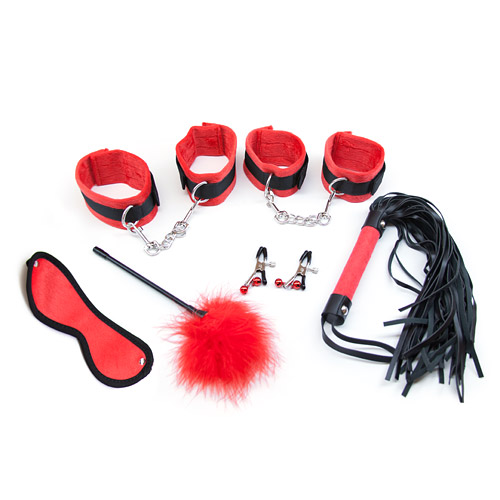 Sexy slave bondage set
Advanced BDSM set
by EdenFantasys
Simple for BDSM Beginners
All in all, this kit is one I recommend overall for a beginner's BDSM kit and would pair up very well with some soft Bondage Rope or Tape, a comfortable gag that won't hurt your mouth, and a partner willing to give it a try.
Published:
Pros
Velvety soft, a really nice set for beginners
Cons
Chain will break if you flail your arms or legs too hard.
I've used BDSM sets like this in the past, but this one here is rather simplistic, and I like it as it comes in a 5 piece kit with one set of restraints that can be used on your ankles or wrists, a set of nipple clamps with really cute bells on the ends of them so that when you're riding your partner's dick, or they're fucking you from behind (or missionary, it depends on the partner), they can hear the bells jingle with each thrust inside, a rather cute looking blindfold, a red feather tickler, and a velvety soft flogger with leather straps that make a very good "crack" sound when struck on the skin.

To summarize each item in detail, I'll begin with the restraints.
They're velvety soft, durable with the chain and clasps; even though I tested their strength when I tried them on, the chain came apart on one end, and had to reattach one of the loops back onto the chain so it wouldn't happen again, but after the repair job, they hold up very well now, and I quite like the feel of them on my wrists or ankles, as they have Velcro in case I need to escape for any reason.

The Nipple clamps are adjustable, with cute little red bells on the ends of both clamps, with the removable silicone covers so that you can go as rough with them off or gentle enough to cause pleasurable pain without any kind of harm to the body. They're rather comfortable on my own nipples, and I enjoy the feeling of them when they're tight or loose, just for the sensations.

The flogger and the Tickler will get their own summary, as one is soft, and the other can be used as hard or soft as needed. With the red feather tickler, you can brush it over your partner's skin while blindfolded or face in a pillow to tease their more sensitive areas, such as the backs of their legs, along their neck or nipples, just wherever you think will cause a reaction from your partner, while the Flogger has a velvety handle and a bunch of strips of leather to cause either a tingling tease when you lightly tap it on your partner's skin or a pleasurable moan when struck on the parts of the body you know will make them feel the sensation of leather on their skin. With this particular tool, pleasure can range from sensual yet teasing to purely lustful with how you decide to pleasure your partner or have them use it on you.

The blindfold itself is soft on the eyes, leaving very little space to see under it when I was able to adjust it fully on my face, but it's comfortable, and it's not too tight yet not too loose at the same time, so that I can't see absolutely anything at all. I tested this on myself as I blindfolded myself, used the flogger on my legs and belly, and just having my eyes covered like that actually sent more pleasure through my body than when I could actually see without it as my nerves had woken up to enjoy the sensations.

In short, this set is a very good choice if you're wanting to enjoy some light BDSM that you can start out with and test it out however you want, at a swinger's party, a BDSM party, just one on one play, whatever you feel like. Not to mention, for a kit like this, it's a really good bargain that I'd recommend happily to anyone.
This product was provided free of charge to the reviewer. This review is in compliance with the FTC guidelines.
Thank you for viewing
Sexy slave bondage set
– advanced bdsm set review page!