Soft, Fashionable Cuffs; Good Bang for the Buck!
This is a great little pair of cuffs that give you plenty of bang for the buck. These cuffs are sturdy and aren't going to easily be damaged. Just avoid getting the cuffs dirty, and you're good to go!
Published:
Pros:
Sturdy, soft suede lining, good value for your money
Cons:
cuff overlaps on wrists, difficult to clean
I will start this review off by saying that I am constantly looking for a good pair of cuffs. I use cuffs a lot and since I have yet to purchase a really nice pair, the ones I buy tend to break or become damaged after awhile due to poor design. This pair of cuffs seem to be very sturdy and I think it might last me awhile.
The cuff itself is made of leather and has a thick lining of suede. This is my first time owning a product made with suede, but I've done extensive reading into the care of it. Suede can be very difficult to clean (near impossible to get stains out) and easily becomes dirty. It is recommended to use special suede leather cleaning supplies, a damp washcloth, or a damp washcloth with vinegar. This is not an item you want to risk getting bodily fluids or lubricant on.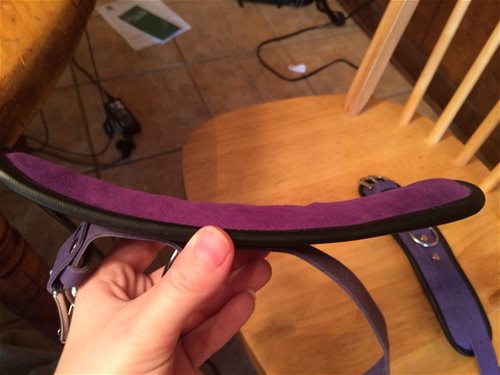 The cuff is decently flexible and doesn't have that super stiff new leather feel to it. The color is a darker purple than I expected, but it's really nice. I think I prefer the darker purple shade. When I first opened this item, I did notice that there was a new leather smell, but it wasn't very potent. After a few days, the scent dissipates. This item did not come with a chain to connect the two cuffs. I personally like to use rope to connect the cuffs, but you can also look into chain or velcro straps.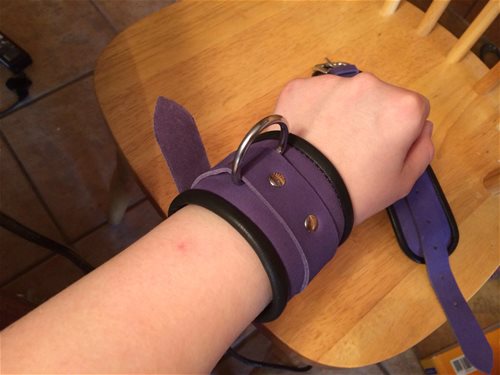 The cuff itself is 9 1/2 inches long and the adjustable strap is 14 inches long. My wrists are of average size for a female (about 6 1/2 inches around) and because of this the cuff overlaps on me as seen in the picture. If this is the case for you, it may take a little while for you to get used to the feeling. When the cuff overlaps it feels very uncomfortable due to the pressure it creates. Loosening the strap doesn't help with this. If you're like me, you will adjust to the feeling after a few hours of wear.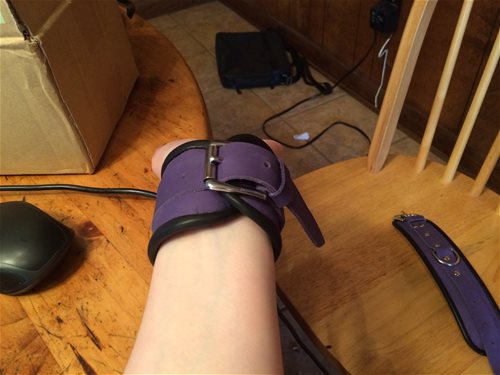 For a lot of people, this item won't be able to be used as a pair of ankle cuffs. If you have small to average sized ankles, you may be able to wear them. My ankles are 9 1/4 inches around and I can fit in the very last hole on the adjustable strap. I am really considering buying another pair of these to use as ankle cuffs; they feel great around the ankles because there is no overlapping of the cuff.
The cuffs are great once you get used to wearing them. I love the softness of the thick suede and the bulky, sturdy feeling of the cuff on my wrist. I like that I can't slip out of these cuffs. I definitely think this is a great item for the price and I would purchase this item again.
This product was provided free of charge to the reviewer. This review is in compliance with the FTC guidelines.

Thank you for viewing
Purple hand cuffs
– sex toy review page!