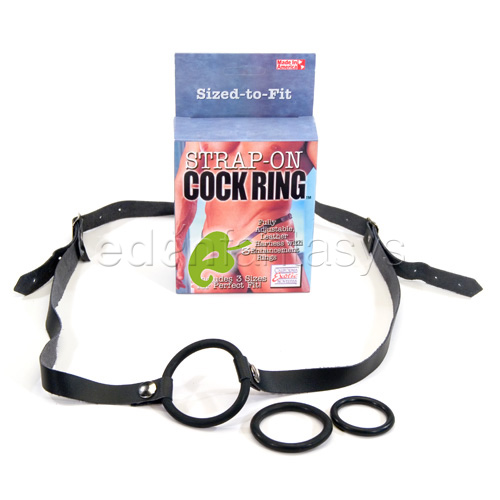 Strap on cock ring
Cock ring discontinued
by California Exotic
Strapped-On Engorgement
All in all, I think this is a great product. I'm giving it 4 stars because we were successful with one of the rings, and because Mr does enjoy using these. I'm not a huge fan of rubber, but for a cock ring, I'm willing to look past it.
Published:
Pros
Affordable. Easy to use. Three rings to test.
Cons
The leather may not be real. Not silicone.
Cock rings are used for several different reasons. One reason is that the wearer needs help with maintaining erection. Another reason could be that the wearer enjoys how their cock looks while wearing a ring. Yet another reason could be that the wearer or their partner enjoys the engorgement that a cock ring could help achieve. We fall under "All of the Above." Of course, there are other reasons to enjoy a cock ring, but those are ours.

When Mr and I were shopping for a ring we were looking for something that was a little stretchy and offered a bit of a learning curve. This is where this set really came into play. It comes with three different-sized rubber rings that measure 1.25, 1.5, and 2 inches in diameter and they stretch out just a bit more than that. The rubber material didn't really bother us since we are a fluid-bound, monogamous couple; and since the ring would never be inside of me, I didn't have to worry much about it. There is a very cheap leather strap that comes with it that can be worn for support. Mr wears a size 38-40 in pants and he had no problem with the strap fitting his waist on the biggest notch. I'm not entirely sure that the strap is real leather; I didn't do much investigating into proving one way or the other whether it was true. It uses a standard buckle to secure.

To clean the rings, soap and warm water do just fine. Since it's rubber, it's not sanitizable. That is only a concern if you're wearing this with multiple partners. The beauty of this material is that it's inexpensive and can be used with either silicone or water-based lubricants.

We found that wearing the ring around the entire package works well for Mr. It restricted the blood flow enough to engorge his penis and heighten his sensitivity, but it was not uncomfortable for use through an entire session. It's recommended that you not wear this for restriction longer than 30 minutes. If you notice that the skin is turning blue or purple, or having pain, please remove this at once. The leather strap did give some support that Mr liked a lot, specifically in a D/s scene. The heightened sensation also facilitated CBT, which was a favorite component for Mr. We found that the largest ring was the most effective for him. His cock is average thickness, but around the full package, he needed a lot more room. The medium fit, but was too tight. We found the smallest ring to be useless.

The engorgement that occurs for Mr is particularly satisfactory for me. It helps him reach my G-spot a little better when the head of his penis is more pronounced from the engorgement.

The simplistic black rubber is aesthetically pleasing. If you only want something for aesthetics, and want something flashier, you can try a jelly ring or other colored rings. FTM transgendered people and other gender players can use these around your strap on for aesthetics or other play.
This product was provided free of charge to the reviewer. This review is in compliance with the FTC guidelines.
Thank you for viewing
Strap on cock ring
– cock ring discontinued review page!