Tie Me Up In a Bed Of Roses
Whether you use this as a decorative leash, a tie down for light play, a decoration for your bedroom or as a light flogger this Rose Rope Vine will be sure to please all the senses.
Published:
Pros:
well made
quality leather
gorgeous
Cons:
not easy to tie up a partner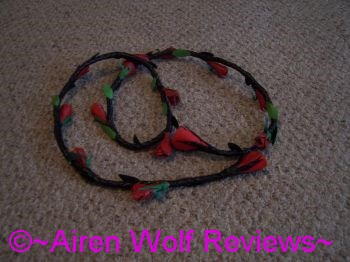 A rope of roses that you can tie a partner down with? Well, to be honest, not so much. Then again I really didn't buy this to tie anyone up with. It CAN be used to tie someone up but the braided leather is not easy to manipulate into a firm knot.
What I use this for is a flogging device much like a belt or as a decoration for my living statues. Wound around the neck or trailing through a gorgeous bust line it looks amazing. It also looks amazing coiled on my dresser top like a slightly sinister but utterly beautiful snake of roses.
So what is the 411 on this "rope"? Well it is roughly 70 inches long and has beautiful leather roses studded all along the black braided leather rope. These roses even have little green leaves! There are a few too many roses to allow a good area to wrap a knot around a wrist or ankle. Still, it's simply GORGEOUS and smells like good quality leather. It does make quite an attractive gag...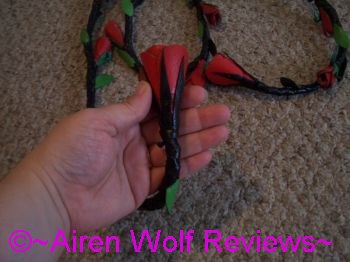 I like it as part of a roses set that I have built one piece at a time. Imagine being tied up in roses, flogged with roses and wound around with even more leather smelling gorgeous roses, doesn't that sound stunning?
The "rope" is would very tightly and can stand up to quite a bit of twisting and pulling without raveling and it smells heavenly when it's manipulated. The roses are tightly formed and the leaves are woven into the braid in such that it prevents them from being accidentally torn out of the braid.
I truly love that this can be displayed freely without causing any friction with family or friends. Well, my friends know what it is and nudge me when they see it sitting on my desk or dresser...but it looks like any other flowered garland that are sold in hobby stores. It smells better, though. I mean have I mentioned that this smells AMAZING?
Now I never recommend using leather cleaning products, soaps or oils on toys that will come in contact with your sensitive skin. These products can be caustic and irritate sensitive skin. I suggest a damp cloth (and I MEAN damp) rubbed down the length of the vine with the roses not against them to remove dust. Body oils will make the leather soften and shine...and by that I mean the oils on your skin not the fluids from your genitals!
This product was provided at a discounted price in exchange for an unbiased review. This review is in compliance with the FTC guidelines.

Thank you for viewing
Tie me up rose vine
– restraints review page!