Titillating Fun
These are a really fun addition to sexy wear. They stimulate the nipples without causing lots of pain and are a great departure from normal lingerie. However, those looking for intense sensation will need to look elsewhere.
Published:
Pros:
Great for beginners
Cute
Inexpensive
Cons:
Can't tighten them past the default
Several months ago, I selected some non-piercing nipple rings on a whim. I was surprised at how much I liked them and how sexy Husband thought they were. From there, I started looking at more nipple wear and found the Feather Nipple Clamps.
The packaging, although not as tacky as what some other companies have, is not discreet. A bare breasted model wearing the clamps graces both the front and back of the package. On the back there is some brief information and touts being great for both beginners and the experienced. We'll get to whether or not that's true in a minute.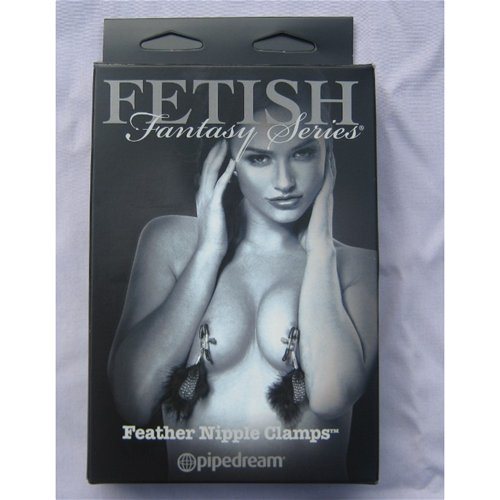 As for the design, let's talk first about the feathers. The feathers on the clamps are mostly black, with a single speckled feather on each one. Don't expect the feathers to look as fabulous as they do on the model, but they aren't particularly unattractive, either. I'm not sure if they are held in place by glue or tension, but I can say that the first time I put them on and stood up, one whole set of feathers fell out. There is a plastic end that encases the tips of the feathers that slides into the clamp, so I just put them back in. They haven't fallen back out since.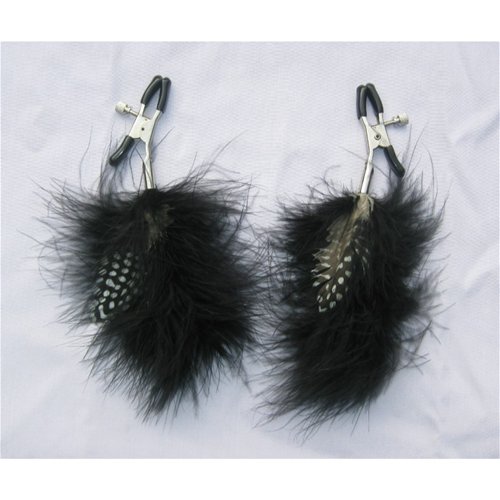 The clamps have rubber tips, which make it more comfortable and make it so it's more of a squeezing, not a pinching, feeling. The clamps squeeze open, but there is a screw that adjusts how wide the clamps will be when you release them. This is something really important to note, and I'll explain why. Imagine there is no screw there, just the clamps. They open and they close, that's it. The screw that is attached does NOT cause the clamps to be any tighter than just the default closed position. If you want a more of an intense sensation, the adjuster screw will do you no good. What it actually does is make the "closed" position wider for those with larger nipples and those who want less sensation, not more. Because of this, I would say that they really are for people that are beginners, have larger nipples (that normal clamps are too intense for), people that are sensitive, or those that just bought them as a kind of sexy body wear.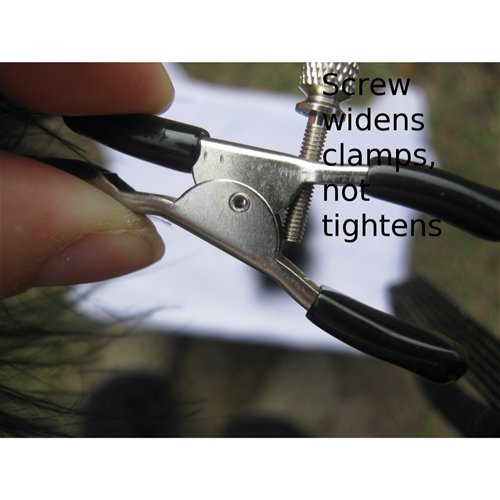 During use, the clamps aren't that bad at all. They aren't amazing, but not bad. They don't fall off during use or really get in the way. They do make my nipples more sensitive without causing lots of discomfort, and don't cause agonizing pain when I remove them like some other clamps do.
The one complaint I have about these (other than not being able to tighten them) is the size. I'm rather large breasted and my nipples sit kind of low on my breasts. The clamps are fairly long, being about 6 ½ inches from the top tip of the clamps to the bottom of the feathers. This means that they are so long, they almost hit my belly button! Husband likes the way they look. He doesn't love them, but he likes them. To me they look awkward and strange reaching so far down to the point where I am distracted. Of course, everyone's chest and torso are shaped differently, but if you have low nipples and large breasts like me, be aware of how they will fit.
As it is, these are a cute addition to our toy stash and a great addition for anyone who wants maybe a
little
bit of discomfort, some sexy body jewelry, or a departure from the same old lingerie choices. Take them for the inexpensive but fun adornment that they are.
Follow-up commentary
5 months after original review
These were fun for a while. They are cute and playful, but they aren't really made to last. Even though I only used them occasionally, the glue the held the feathers inside of the clips eventually came loose. They're still a fun little buy for a special occasion, but don't expect them to last unless you handle them carefully.
This product was provided at a discounted price in exchange for an unbiased review. This review is in compliance with the FTC guidelines.

Thank you for viewing
Fetish Fantasy feather clamps
– nipple clamps review page!