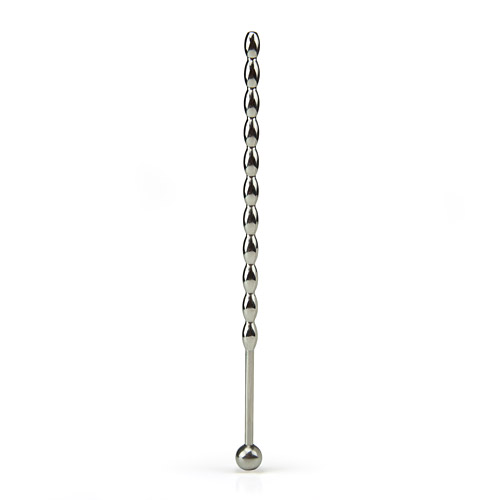 Urethral penis-plug
Urethral penis plug
by EdenFantasys
Use with caution and lots of lube!
Interesting toy for someone looking for new sensations. Remember to use lots of lube and relax. You do not want to end up in the emergency room!
Published:
The Urethral penis-plug is one of the strangest and scariest toys I have ever used. I have been looking at this toy for a while working up the courage to try it out. Before I got it, I did something very important. I researched it.

Plugs and sounds like this one can unlock some very unique sensations, but they do have their risk. They are noted to improve blood flow and strengthen erections. I don't know if that is true, I am no doctor, I do know if handled improperly, they can cause damage to the urethra, prostate, and bladder. There is also an infection risk. Unfortunately, none of this information is included with this toy.

The Urethral penis-plug arrived in a velvet bag inside a ziplock bag with the toy wrapped in bubble wrap. There was no box or paperwork going over the dos and don'ts of this toy. Through my research, here is a short list: (note - I am not a medical professional.)

Do: inspect the toy. Make sure everything is smooth. Enjoy looking of the surgical steel.
Do: sanitize toy in boiling water for 10 minutes and clean hands and privates before use. You do not want a UTI!
Don't: use an unsterile lube. A surgical lube is recommended. I used a silicone-based lube that does not go sticky.
Do: use lots of lube. The urethra does not lubricate itself.
Don't: force it. This can cause micro-tears and potential infection. I found if I inserted the tip that gravity did all the work.
Do: relax. Nuff said.
Don't: expect it to make you orgasm. It should feel strange but good and maybe a little stingy.
Do: remove before you ejaculate if it does cause an orgasm.
Do: clean well after use.
Do: expect some discomfort and potential burning when you pee. If it doesn't go away, talk to your doctor.
Don't: panic if it gets stuck. Relax. You may be going to the emergency room.
Don't: try to go too deep. You could hurt your bladder.
Do: enjoy! Carefully!

Urethral penis-plug did feel good, but I don't think I would try it again due to the risk involved.
This product was provided free of charge to the reviewer. This review is in compliance with the FTC guidelines.
Thank you for viewing
Urethral penis-plug
– sex toy review page!