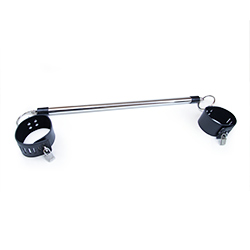 Luxury bondage bar with cuffs
Spreader
by EdenFantasys
When Bondage Meets Luxury
Luxury combines with BDSM to give you the Luxury Bondage Bar With Cuffs. The vegan leather cuffs are comfortable yet sturdy around your ankles, just as they should be. The metal bar between them ensures your ankles are kept apart, forcing your legs open to a certain degree, but your upper legs still have a fairly free range of movement. This bar may not be the most restrictive, but it's still able to help bring a little excitement into the bedroom for those looking for new experiences.
Published:
Pros:
Comfortable Cuffs
Extra Keys for Security
Cons:
Not Very Restrictive to Upper Legs
First Impressions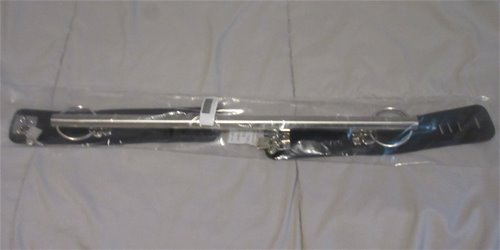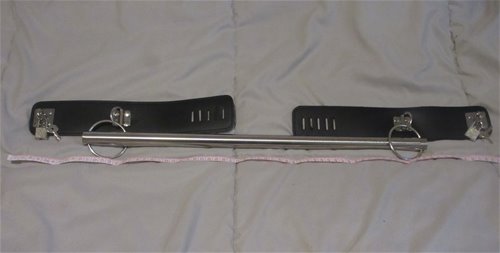 When my Luxury Bondage Bar With Cuffs first arrived, it came in a plastic bag, the cuffs open and the locks attached.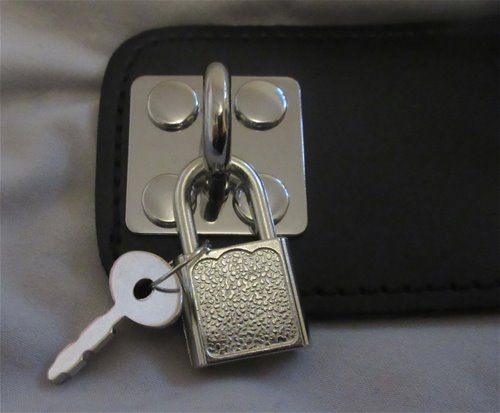 The locks that close the cuffs arrive locked onto the rings they attach to, with 2 keys attached to each lock. Due to my inability to manage a simple split ring, I did struggle a little to remove a key from the side of the lock in order to unlock them to test out the cuffs, but that was my own fault. Perhaps the design would be a little more user-friendly if the keys to the locks did not come attached to the locks, but this is just a minor detail and did not impact my experience with the product at all.
Appearance-wise, I enjoyed how sleek the smooth metal bar and simple black cuffs looked. The design is fairly basic, without any decorative embellishments, but its simplistic style works. I find the general aesthetic of toys to be an important factor, as the visual stimuli are just as important as the physical to me, and the luxury bondage bar met my standards in that department. Next was to see how the bondage bar met up to my physical standards.
My Experience With The Luxury Bondage Bar With Cuffs
The cuffs wrap around your ankles and are locked into place with the mini padlocks. I have fairly wide ankles and found the second hole on the outside of the cuff to be a comfortable fit for me. However, I tended to pull things a little tighter to the third hole in order to get an even snugger fit, as I prefer my restraints to be as tight and restrictive as possible. Even with the tighter fit, the cuffs still felt nice on my skin and didn't cause any discomfort no matter which position I was in.
With the bondage bar attached at my ankles, I found that there was still plenty of room for me to maneuver my legs. Due to the bar being connected to the cuffs by a metal ring, you can actually close your legs a fair amount. In most positions I was able to bring my knees together entirely, closing up my thighs and concealing that special sweet spot the bondage bar is meant to keep easily accessible. When it comes to restricting movement, it isn't the most effective piece of BDSM gear, however, this may raise its appeal to those who are looking for a simple, fairly tame, accessory to help spice things up in the bedroom.
The spreader bar is most effective in positions which draw your ankles closer to your body. With your legs extended, your ankles, and by extension the bondage bar, are simply too far away from the action and allow too much movement of your upper legs. The more your legs are raised and drawn closer to your body, the more effective the spreader bar will be. It is also fairly efficient in a doggy style position, however, the free movement of your knees manages to allow one to close up their upper legs even with the lower legs separated by the bar.
Final Thoughts
Those dang knees! I found the fact that I still had so much free movement in my upper legs disappointing, as I enjoy the sensations which come from bondage and the restriction of movement it brings. It did do the trick in keeping my ankles apart and was effective at keeping my legs open in positions which locked my knees and prevented me from closing my thighs together, but all-in-all I found the experience with this bondage bar somewhat lackluster.
That being said, I do believe it could be a decent selection for those looking to experience some light BDSM. If you are a sub or have a sub, who is nervous about trying out bondage, the luxury bondage bar could be the perfect item to help you dip your toe in the water. The cuffs are comfortable around your ankles, and the range of movement you can still manage when locked into the bar can help you still feel secure without too many limitations.
This product was provided free of charge to the reviewer. This review is in compliance with the FTC guidelines.
Thank you for viewing
Luxury bondage bar with cuffs
review page!