A solid mainstay in the studded department.
These are a reliable, but overall pretty boring condom. If you're willing to shell for the ONE 576 condom, go for those. If not, or if you're not willing to venture off Eden, these will do just fine.
Published:
Pros:
Studded, didn't break.
Cons:
Nothing special about them.
Rough Rider? The name conjures up something intense. The packaging definitely helps it along. The slutty biker girl image? Bam, you're in for something special. If you were as hyped as I was, you thought you were, at least.
The actual product ends up being a bit of a disappointment then. While there are three condoms in the package (Imagine that? Condoms in a condom package!) they're nothing special. They're studded alright, but they won't do the humping for you. They're average-sized condoms (not too loose, not too tight). The studs definitely do add a little bit to the experience, but they won't spice up bedroom adventures like lingerie and toys will.
The condoms come individually wrapped in a foily wrapper, and are lubricated. The lube is rather bread-and-butter as far as condom lube goes. There's a light, nondescript smell to it and you really forget about it as soon as you slip the condom on. There's also that slight taste to the lube, but it disappears after a bit. Sex with them is sex. They're not particularly thick nor thin and haven't broken on us yet.
Compared to other condoms, there are much better choices. The ONE 576 studded condom is still our studded condom of choice, because of the novel packaging and great experiences we've had with them. While they're not available on Eden (sadly) the trouble one goes through to procure those in bulk is very, very worth it. These condoms were fun to try (when is sex ever not fun?) but they didn't add anything special to our experience, and so we probably won't buy another package unless they're really on sale or free or something of that sort.
As with most condoms, don't reuse. Use condoms and prevent pregnancies and the spread of STD's. You've heard it a million times, you know the drill. Keep the packaging somewhere cool and dry and don't use condoms past their expiration date for safety's sake.
Here's a picture of the outer packaging.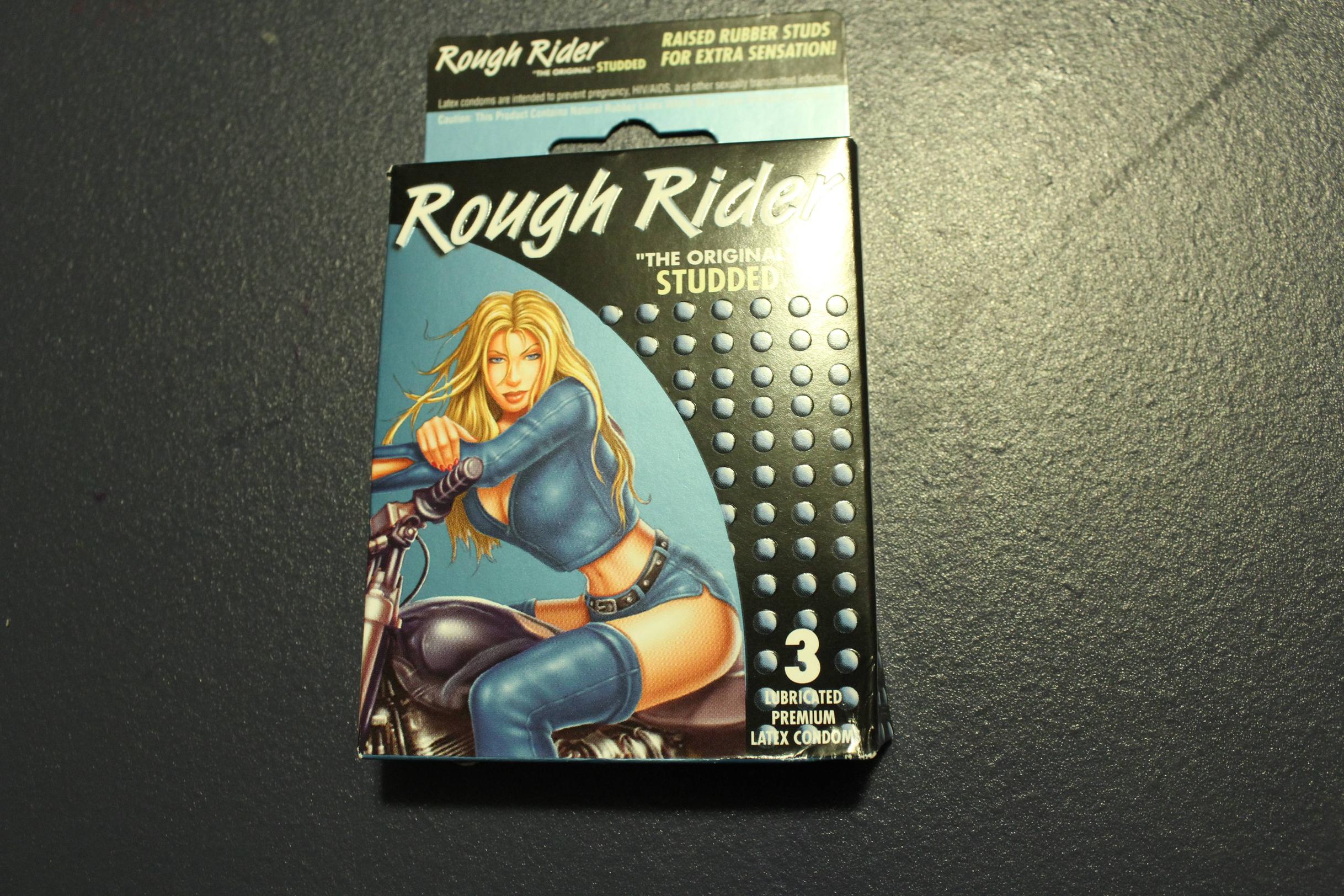 Experience
We had a decent time with these in the bedroom. Nothing special though.
This content is the opinion of the submitting contributor and is not endorsed by EdenFantasys.com

Thank you for viewing
Rough rider studded
– male condom review page!