Fun green-color safety
"When you're looking for something a little different, give these Kimono® type E condoms a try." These condoms have little ribs and nubs on both sides of the condoms so that both partners can feel them. So I decided to try it.
Published:
Pros:
- Strong
- Ribbed for her pleasure
- Thin for his pleasure
Cons:
- Sometimes can't feel the ribs and nubs on the female side
- Price (higher than others)
INTRO:
I was pleasantly surprised when I saw the packaging, which was not what I expected to receive. As I later found out by visiting the manufacturer's website, the manufacturer had changed the name of condoms (Kimono Type E was Kimono MicroThin Ribbed + Sensi-Dots ), designed a total package, and the individual packet. The product itself remains the same. The condoms are in a nice green color and the texture is ribbed and also has Sensi-Dots. The silicone lubricant is not only on the outside, but on the inside too. All of this is designed to create a condoms which gives pleasure for both partners.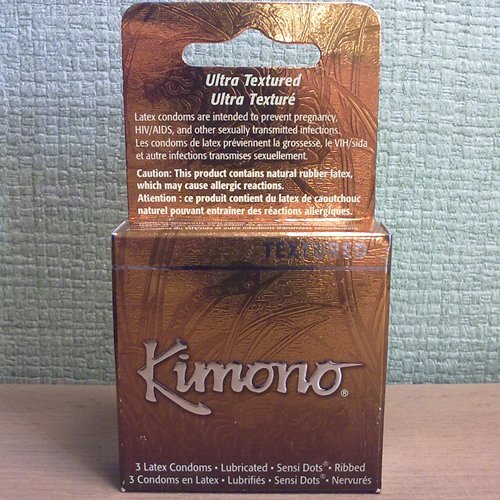 SPECIFICATIONS:
Kimono MicroThin Ribbed + Sensi-Dots
Length: 190 mm
Body Width: 52 mm
Head Width: 52 mm
Latex Thickness: 0.065 mm
Lubricant Type: Silicone
Lubricant Amount: 250 mg
Сlicking on the link below, you can see the comparison chart of the major brands, which are on the market.
Condom Sizes - Determine which condom size is right for you ([http://www.kimono-condoms.com/condom-size.html])
THICKNESS/FEEL/TEXTURE:
Kimono MicroThin Ribbed + Sensi-Dotsare are very thin condoms. This adds to the sensation: it feels like you're not even using a condom except for the ribs, which I and my girlfriend found quite pleasurable. They are also surprisingly strong, given how thin they are.
SIZING:
It's just the right size for a man that produces a bit more than the average guy. I have no problems with it.
LUBRICANT/SMELL/CLEANUP/TASTE:
This condom has a super slick and smooth, silicone lubricant. It is on the outside and inside, increasing friction that feels natural. It is plenty lubed up, so reapplication is unlikely.
But if you need to add more lubricant to these condoms, do NOT use oil-based products. I recommend using silicone lubricant, since that's the kind of lubricant these condoms are coated in.
Like almost all latex condoms, these do smell a little-bit, and the smell will rub off on your hands if you handle them a lot. The smell fades after washing your hands or using a wet wipe.
Also, I think that they are not suitable for oral sex due to their special surface.
OTHER:
They come in small (by Edenfantasys.com) and large (in general) orange-gold package which made from recycled materials. Condoms are in foil wrappers (colour is the same as the package) which are easy to open, also they are green-coloured.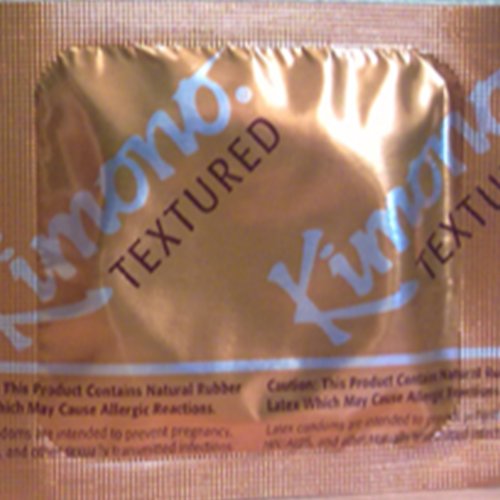 ATTENTION:
You should not use these condoms if you are allergic to latex.
VERDICT:
We (my girlfriend & I) love this brand and this special Ribbed condoms. Among the many types they are not an exception. There are very good things about this product as well: the condoms are very strong and there wasn't much of a latex smell after use. There is no flavor to the lube on the condoms and that makes things even better. Condoms are super-thin to allow great sensations, and the texture really adds to the experience.
Follow-up commentary
1 month after original review
For over 25 years Kimono brand condoms have defined "Thin Condoms."
It's really true! I continue to use this brand of condoms, which are a great alternative to others.
This content is the opinion of the submitting contributor and is not endorsed by EdenFantasys.com

Thank you for viewing
Kimono type E
– male condom review page!