Kimono type E...Ow!
I'm fond of texture, but these condoms felt like I was making love to sand. If you know you enjoy micro-textured nubs or your partner can use a tighter fit to last longer, then these might be just what you're looking for. If your partner's member is a bit on the thicker side you may want to consider something with more stretch for his comfort.
Published:
Pros:
Great packaging, texture feels fun on the tongue
Cons:
Tight fit for gents with more girth, texture was almost gritty and very painful in use
This was an interesting first experience with the Kimono brand condoms.
The packaging is a small, golden/orange, metallic box with three similarly colored foil wrapped condoms nestled inside with an information packet by Kimono. The info packet has your basic condom information: a blurb about the Kimono brand, correct usage, step by step pictures with text showing proper application, and a chart of pregnancy rates for various birth control methods all in English, French, and Spanish. Personally, I love the color of the box and the fact that all the condoms are individually cut packets.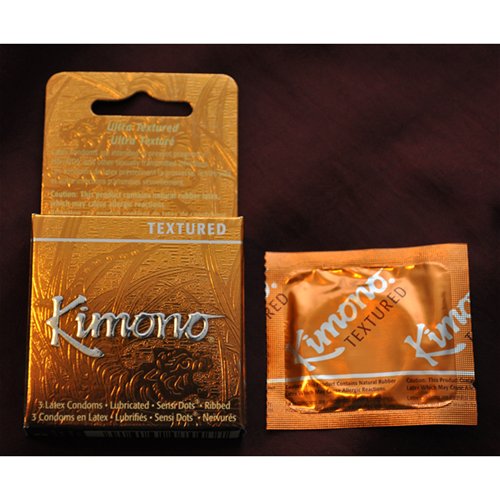 Within the foil there rests a green (yup, green) condom. It's a fun icy-lime sort of color that you wouldn't necessarily notice on your partner. It has a very light lubricant on it, to which I had to add some of my own water based lube and it slicked up just fine. The tip of the condom is followed by six rows of nubs, a brief smooth area, then six rows of ribbing. The rest of the length finishes off with the nubs. The texture feels subtle to the fingers, but takes on a completely different feel in use.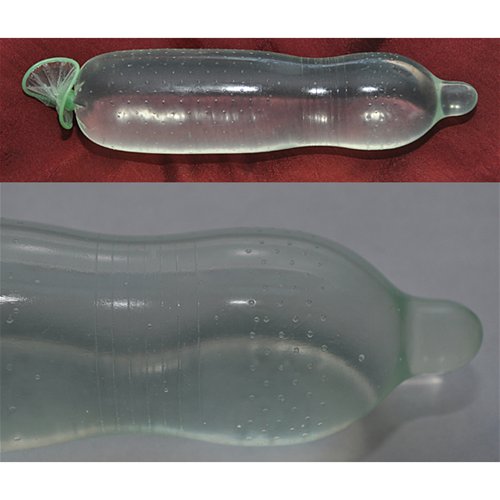 I have since decided not to use the rest of the condoms and as such have donated the extras to science. I cannot comment too specifically on the thickness; however, to my fingers, it felt like your standard condom: not grossly thick, but not delightfully thin either. My husband reported not having much feeling with it on, though this could have been a factor of its tightness. He's just about 2" in diameter so if your partner is around there or beyond, for his comfort try a different condom. I did take the liberty of filling one with water to its bursting point. I would have had a better placed picture, but when I tried to move it off the drain it exploded in a spectacular mess. That was fun.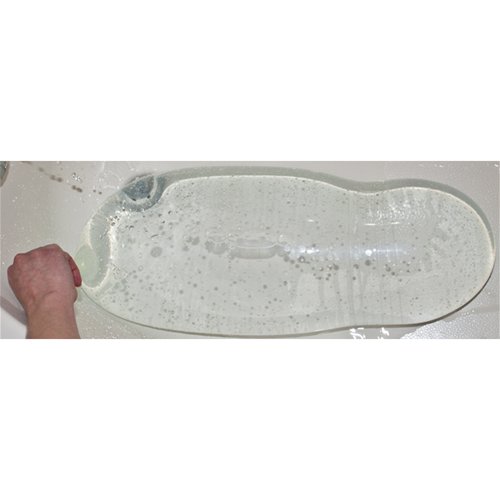 All in all, I would say these are good for anyone who KNOWS they enjoy nubby textures. If you are sensitive or this is your first condom experience I'd caution you against these, though you can always give them a whirl. Just go slowly.
Experience
My husband's and my experience was disconcerting. He rolled it on and his first words were, "This feels... tight." He has a bit of girth to him, so this wasn't completely surprising, but it is something to keep in mind. I took a moment to feel the texture while it was on him and overall it felt quite subtle. I enjoy texture (both in ribbed condoms and on toys) and honestly didn't think I'd notice this one. I was wrong, terribly wrong. He entered and wiggled around a bit. I asked him how it felt to which he responded, "I can't feel much. It's a bit too tight." Well, that's not great. The first few thrusts felt a bit grainy so I grabbed some water based lube and we tried again. Going slowly, everything was okay and the texture was pretty interesting. As he sped up his pace the texture quickly became painful; sandpaper is the first word that comes to mind. I not so gently asked him to stop, he removed the condom, and finished bare.

My husband was grateful to be out of the constricting confines of the condom and I felt incredibly raw. Cleaning myself up after use was torturous and I actually had to wait a bit to touch myself again. It will be a little while before I use another textured condom. I'm sad they're too tight on my husband; the textures feel really fun during oral (well, at least for me). Latex taste aside, the way they tickle my tongue is unique.
This product was provided free of charge to the reviewer. This review is in compliance with the FTC guidelines.

Thank you for viewing
Kimono type E
– male condom review page!