Noticably Thin Condom
While I am not a big fan of condoms, this is my go-to condom when I am in need. The thinner design makes sex more natural and comfortable that an average condom despite a bit of pinching because of the tapered end of the condom. These will fit most men, but are a tiny bit smaller than some other condoms Trojan sells.
Published:
Pros:
Thin
Lubricated
Cons:
Break sometimes
Tapered tip could cause pinching or redness.
Easy to store
I've used a lot of Trojan condoms, as they are the only condom brand I will use. I've had a couple pregnancy scares with other condoms and am a bit biased. I tend to believe that if you are going to use a condom, use a Trojan. However, once my girlfriend started using birth control we used condoms less and less. Truthfully, I hate wearing a condom, so be warned that I am a bit harsh in most condom reviews.
When my girlfriend told me that she bought 36 of these condoms I wasn't very excited because I would much rather not wear a condom at all, but I gave it a try and was impressed! Normally I experience a lot of discomfort and can't feel much pleasure with a condom on, and with many condoms my girlfriend will actually quit having sex with me because she can tell I am not enjoying it at all, but this was different. While I still have a few complaints, including fit and easy breakage, I prefer these over most condoms I have tried.
My issue with the fit is that the condom feels very tapered where it hits the head of my penis. You can see in the picture below (which is also featured on the back of the box the condoms come in) that the end of the condom reservoir is rounded. As the condom gets smaller, it tends to cling and squeeze the tip of my penis slightly. Sometimes this does not bother me, but often it causes redness and discomfort after intercourse. For men larger than me, note that my penis is about 7.5 inches, this will be a big concern, but for those a bit shorter this shouldn't be as big of an issue. If you believe you are too girthy or large for certain condoms, I wouldn't recommend these. They are quite a tight fit compared to the other Trojan brand condoms I have used.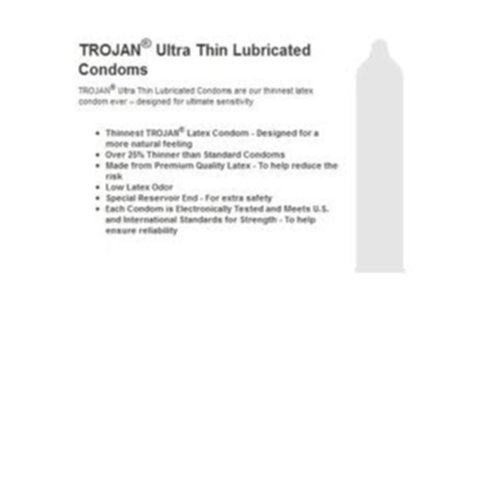 I found this picture on Google images, it is identical information to what you will find on the back of the Trojan Ultra Thin box.
The only other problem I have experienced with this brand of condoms is that they break every once in a while if you move too much during intercourse. Changing positions and wiggling around a lot causes these to break more often than a standard, thicker latex condom. According to the Trojan box, these are 25% thinner than the average condom. While I truly wish that condoms could really "feel like nothing's there", it seems like a fair trade for me. Protection can be a bit uncomfortable, but these condoms leave me feeling safe and I still get to enjoy sex nearly as much as I would without a condom.
As far as lubrication goes, it seems like a standard Trojan condom. It is slick and smooth, but sometimes it is not quite wet enough to get comfortably into my girlfriends vagina. We sometimes put a little extra water based lube on the condom if we are trying to be quick, but normally a little foreplay gets my girl wet enough to make the condom more lubricated going in.
To travel with this condom, you can easily slide it in your back pocket or a wallet. While you would assume that the foil wrapper of the condom is a square shape, when I measured it out the sides were not all equal, but they each measured out to about 2.5 inches, give or take a couple centimeters. Although the condom is compact enough to carry with you, its wrapper is not extremely durable. Sitting down and fumbling around with a condom in your pocket or wallet will cause wear and tear very quickly. Throwing one into a large purse will definitely break the wrapper open within a week or so, so if you must take a condom with you, be careful. Normally, if I am carrying a condom I will either use it the night I put it into my pocket or return it back to a safe place as soon as possible. Eden sells condom cubes that allow your condoms to be stored safely and discretely at home. If you don't want to invest in one, try saving the cardboard packaging as a back up or finding a storage unit similar to the condom cube. I have actually made my own out of baked clay and it is working well for now.
Experience
I have had good experiences with this kind of condom, but it is important to be sure that the condom does not break during intercourse. Sometimes it is hard to tell in the heat of the moment, but because these are thinner it is a reasonable concern. Also, foreplay is necessary for the most comfortable experience so that your partner is lubricated. Despite the fact that this condom tends to pinch and squeeze a little bit at the tip, its thinner design allows me to feel more during sex than I would in the average latex condom. I will definitely be buying these again because of the natural feel they provide.
This content is the opinion of the submitting contributor and is not endorsed by EdenFantasys.com

Thank you for viewing
Trojan ultra thin lubricated
– male condom review page!