Two of Three Isn't Bad
If you aren't allergic to latex and you're ready for some variety, the Durex Pleasure Pack packs a punch. They're super strong, they're made to have a more pleasant scent than other latex condoms, and the lady at the pharmacy case won't be rolling her eyes while you stare indecisively at the rows of condoms.
Published:
Pros:
Two out of three are great for the indecisive buyer, allows experimentation with sensations/scents.
Cons:
The Pleasuremax was uncomfortable, the lubricant was kind of greasy on the tropical-flavored condom.
First and foremost, I've seen reviews and it seems that the Durex Pleasure Pack often comes with different varieties of condoms based on the size of the package (3-pack vs 12-pack). I did not buy my Durex Pleasure Pack through Eden, but I will review the 3-pack I did buy because chances are that many individuals buy condoms in-store as well.
The Durex Pleasure Pack is the condom pack for the indecisive or shy condom buyer. Instead of standing in the aisle staring at rows and rows of bold claims or even worse, standing next to a grocery store clerk who has to open a pharmacy case in order for you to reach the condoms, you can grab this pack and go.
There are 3 kinds of condoms in this pack:
1. The extra sensitive Durex condom
2. The Pleasuremax Durex condom
3. The tropical flavors durex condom
Inside of the box, you will also find a small book of instructions stating things like:
* Instructions for putting the condom on
* This product contains latex and may cause allergic reactions
* How to dispose of the condom
* Store latex condoms in cool, dry places.
* These condoms may damage furniture due to the lubricant
* Pregnancy rates
* Do NOT use oil-based lubricants. Use water-based lubricants for extra lubrication.
These are just some of the basics of the booklet but they tend to run the same in about all latex condom types.
I've already done a review on the extra sensitive Durex condom, which I find to be ultra-thin, ultra-strong and non-irritating. This condom rocks my socks. I literally have tried a half-dozen sensitive condom types and this is my favorite. It has plenty of lubricant that doesn't feel greasy or take a lot of cleanup and it doesn't have a harsh scent.
I did not like the Pleasuremax Durex condom. This condom had both ribs and dots, which I found to be distracting and not particularly pleasurable. It also seems to have a stronger latex scent than the other 2 condoms in the pack. The taste is bad too. I can think of a dozen alternative condoms I would use before this condom.
Finally, the tropical flavors Durex condom in my package was strawberry (and red), which I already consider a plus. I don't really think of strawberry as tropical, but I do think it's a typical crowd-pleaser. There is a dull latex scent if you touch the condom and then smell your hand. The lubricant also seems a bit greasier than say the sensitive condom. I would suggest washing down with soap and water after, as I would suggest with any flavored product with lingering residue. The actual taste of the condom is my favorite of the flavored varieties I have tried. It's not particularly strong, does meet the standard strawberry flavoring taste, and there is no aftertaste. The easy-on shape with the tapered end was also positive, as was the strength of the condom.
The size of these condoms is very standard. If you have a large guy (probably over 7 inches) you want to go with a condom made for the better endowed. The same goes from someone who has excessive girth.
I apologize for not thinking to take pictures of all of the condoms, but here are a few of the tropical: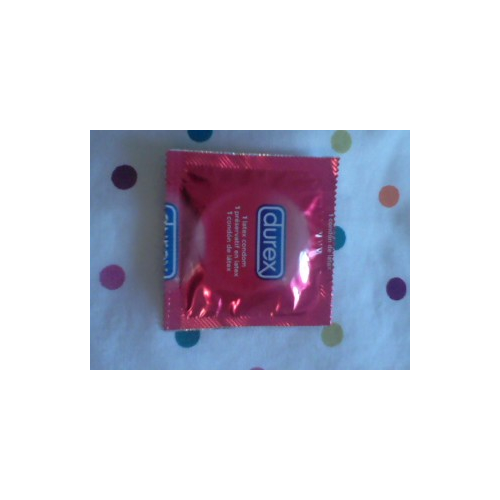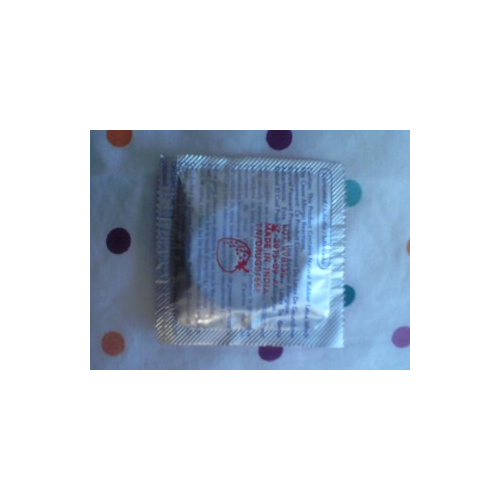 Experience
I decided to test the strength of these condoms by putting them through some shenanigans. I stretched them, blew them up, tried to poke through them with pressure from my finer, snapped them like rubber-bands, and none of these condoms had visible tears or breaks. While I don't suggest you experiment with these condoms before use, I did find it impressive how well they held up.
Follow-up commentary
6 days after original review
I would still recommend the pleasure pack as a starter pack if you don't know what you want, though I usually just buy the boxes of the Durex Extra Sensitive now. It's my favorite of the three, though if I started having oral sex with a new partner, I would definitely buy the Tropical Durex again. I'm really impressed by the almost unnoticeable scent of the Extra Sensitive and Tropical. The Extra Sensitive was rated all over other sites as feeling ultra thin, and I stand by that as well. As a matter of fact, I bought a brand new pack of them even though I had other condoms at home.

Many people might not be in monogamous relationships, or both partners may not have been tested or whatever. Just be smart, and use a condom if things might be risky.
This content is the opinion of the submitting contributor and is not endorsed by EdenFantasys.com

Thank you for viewing
Durex pleasure pack
– male condom review page!