(41" 3XL) Loving the Rodeo
The RodeoH is a comfortable, stylish, and easy to wear harness shaped like a pair of briefs. You can wear it under your clothes, with or without a packing dildo, or pull it on spur of the moment when you decide you want to be wearing a dick. The cons that it has all stem from it not being an actual harness. It's something new in the field of dildo-wearing-devices, and it performs beautifully.
Published:
Pros
Comfortable
Stylish
Easy to use
Can wear under clothing
Could be used for packing
Cons
Dildo size is limited
Vulva and anus of the wearer are covered
Can't adjust size
What is it?
The RodeoH "harness" isn't actually a harness at all, but it's convenient to refer to it as such rather than the more correct "dildo wearing device". It is a cotton and spandex brief with a built in O-ring. Once on, the wide elastic band of the brief supports the dildo and allows strap-on sex.
What does it look like?
It looks like a set of designer Y-front men's briefs. The elastic band is 1 5/8" wide in black with the RodeoH logo in light and dark grey woven in on the left side. The body is black with light grey trim around the centre panel and leg openings, and the inner lining is bright red. The centre front panel has an O-ring with a 1 5/8" opening sewn in. When there is no dildo in place, you can see the red lining, which is a striking appearance.
The inner lining is open at the top, and at the side from either leg opening, to allow for maximum ease in inserting the dildo of your choice.
What is the packaging like?
It comes in a fabric drawstring pouch, 4" x 8", with the RodeoH logo on it. You also get a cute RodeoH dogtag which pairs up well with my
Bullet-Proof camoflauge teddy
.
What is it made of, and how do you care for it?
The tag reads:
95% Cotton
5% Elastane/Spandex
Machine Wash Cold, Hang Dry, Do Not Bleach, Do Not Iron
I prefer to hand wash mine to give it the longest life possible.
How does it fit?
The measurements shown on Eden Fantasys are for the upper hip measurement, where the underwear band would fall, not the true waist. Other reviewers have recommended going down a size for maximum stability when using this for thrusting, and I agree. My upper hip measures 42", and my 41" RodeoH fits me comfortably. I suspect I could wear the 38" easily.
Measurements:
Waist band unstretched: 32 3/8"
Width of elastic band: 1 5/8"
Inside opening of O-ring: 1 5/8"
Centre front to top of O-ring: 3"
Inner lining top opening: 5"
Inner lining right leg opening: 3 1/2"
Inner lining left leg opening: 4"
Centre side to top of leg opening: 5 1/2"
Leg opening circumference: 24"
Crotch panel width: 2 5/8"
If you would like any further measurements for the 41" size, please ask in the comments or message me.
How well is it made?
The stitching is even and I didn't have to clip any dangling threads. The fabric feels like quality t-shirt fabric, and the elastic is very comfortable and sturdy. The only flaw I found was that the place where the front and back are stitched together at the crotch is not perfectly aligned. It's off by a couple of millimetres. This should not affect the functioning or the appearance of the product at all.
How does it perform in the bedroom?
It doesn't provide as much support as a traditional harness, but its comfort and convenience help make up for that. Too vigorous thrusting will put some strain on the elastic. Depending on how tight it is, it might pull away from the body somewhat. I find it works better for slow and sensual lovemaking rather than hard and fast. The latter can still be done - it just might require putting a hand down to assist.
It's so comfortable that it allows significant freedom of movement without the feel of straps digging in. Sometimes full intercourse isn't always wanted, but you still want to have a cock on. RodeoH is perfect for this, allowing cuddling and entangled limbs in perfect comfort.
What dildos does it fit?
The RodeoH claims to fit dildos from 1 1/2" to 2" in diameter. I have used the
Tantus O2 Mark
(1 3/8"), the
Vixen Creations Goodfella
(1 3/4"), and the
Tantus O2 Cush
(1 3/4") with this. I found the Cush quite a tight fit, as it is quite girthy throughout its length, so I'm a little unsure about whether a 2" dildo would fit. I don't anticipate ever owning a dildo that size, so it isn't a problem.
The Goodfella, a dildo with balls, requires the base to be squished and forced into the O-ring. It's somewhat fiddly, but once in, it works well. The weight of the balls seems to keep it from drooping too much. The Tantus O2 Mark fits easily.
Experience
What about packing?
I haven't used this as a packing brief, but it is suitable for this. The packing dildo can have the shaft can be threaded through the hole to be exposed, but if you put it completely between the inner and outer layers, you will probably want to jury-rig some sort of method to keep it in place. I've heard that it can be used with Stand-to-Pee devices, with some practice, though this is not something I have any experience with.
Do you have photos?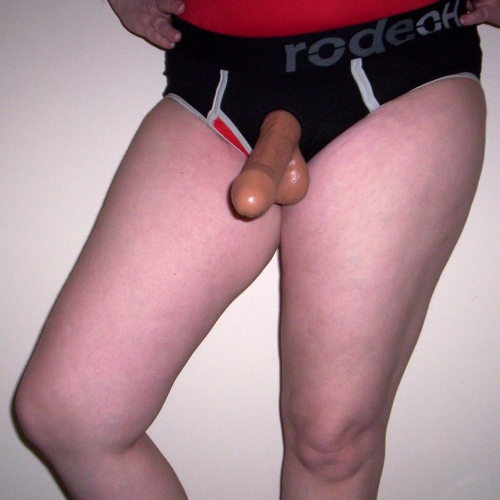 Ready to ride with the
Goodfella
!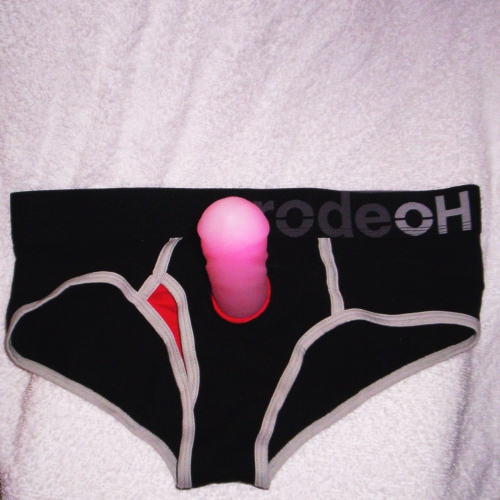 A tight fit with the
Cush
.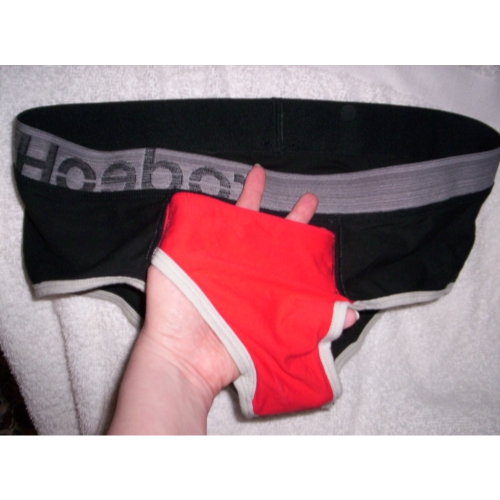 Inside out.
I've placed more photos (ten in all) on the
main product page
. Scroll to the bottom of the page.
What was your personal experience with it?
My boyfriend is crazy about this, and loves seeing me in it. Despite the fact that I'm somewhat covered when I have it on, it manages to feel intimate because it's simply a layer of cotton. It's no more restricting than any other pair of knickers would be. It allows for much more spontaneous gender play than would be available to us with a traditional harness, and I can keep it on for much longer in comfort. It especially works well with the Goodfella, because the cotton allows the balls to press right against my clit, without dulling the sensation at all. He can give my cock a blow job while still being able to reach inside and touch me directly if he chooses. Frottage works especially well with the RodeoH, and is probably the activity we indulge in the most. Even though my other harness, the
Sedeux Divine Diva
, works better for actual thrusting, we use the RodeoH more often. For me, wearing the RodeoH is the most natural way for me to wear a cock. It is so comfortable that it basically disappears from the picture and it just feels like I have a real cock.
What's your final verdict?
I love it. It isn't the perfect harness - if such a thing exists - but it's sexy and comfortable, and allows for a dildo to be worn spur of the moment without having to think about adjusting straps. It has the disadvantage that it will not last as long as a leather or nylon harness, and it can't be shared between partners unless you're the same size. However, the price is very reasonable, making it great as an entry-level harness for strap-on beginners or an affordable addition to a harness collection for those of us who are strap-on addicts. For the price you get a high quality product that is currently the only dildo harness of its kind. 5 stars.
This content is the opinion of the submitting contributor and is not endorsed by EdenFantasys.com
Thank you for viewing
Black and red harness
– panty harness discontinued review page!