(42") Mr Right in the bedroom. Mr Okay for full time packing.
I'm bedroom genderqueer, not trans, so take my experience with a grain of salt. This is a convenient and easy strap for displaying a packer dildo in the bedroom to give an almost-naked look. As a full-time packer strap, I can't recommend it. Anything worn at the crotch should be washable. Also, it doesn't feel to me like it would stay in place well enough for full-time use. If you want this for the bedroom, I highly recommend it. For full time packing, look elsewhere.
Published:
Pros:
Perfect fit for Mr Right
Easy to wear
Almost-nude look
Cons:
Doesn't hold Mr Limpy very well
The crotch is a silly place for leather
Not sturdy
What is it, and how is it made?
The Mr Right packing strap is a circle of elastic that goes around the hips with a dangling pouch at the centre front to hold your packing dildo.
The waist/hip strap is a 1 1/2" wide band of black elastic. The length for the 42" size is 39". It stretches up to 60", with effort, though I wouldn't recommend wearing it at the maximum stretch. All you do is step in and pull it up to where it's comfortable. For me, it's just below where my belly sags. That area measures 42", but I probably could have gone down a size and had a more secure fit.
The elastic joins in the front at the leather backing. This is an oval piece of leather, double layered so that there is a smooth side facing front and back. One piece of 3/4" elastic goes across the leather bit horizontally, while another piece goes from the bottom centre of the leather oval to meet the centre of the small elastic strap. This T shaped piece is what holds the balls of the packing dildo in place.
Incidentally, the only place where I found any quality issues was where the two pieces of elastic met. There were some loose threads that had to be snipped there. All the other elastic ends are stitched in place between the two layers of leather and do not show, and there were no stitching faults that I could find.
How does it perform in the bedroom?
When I purchased Mr Right, I decided to buy this strap to go with it so that I could wear it in the bedroom to let my limp dick be on display as much as possible. I was inspired by
PassionQT's excellent video
of the packing strap in use for this. For this purpose, my only complaint is that there are no skin tone colour options. It'd be nice if the strap came in the same three colours that Mr Right comes in, so that the strap will be as unobtrusive as possible. (Why don't harnesses in general come in skin tones, anyway?) Setting aside the colour, the Mr Right packing strap is great in the bedroom. It hides as little of the dildo as possible, and gives me the almost-nude look I wanted. If I was judging this only for bedroom use, I'd give it 5 stars.
How do you care for it?
Wipe down the leather with a damp cloth after every use, and hand wash the elastic when needed. Use saddle soap or leather wipes occasionally to keep the leather part from drying out. Leather is really not ideal for this purpose, so you'll have to treat it carefully.
What about full time packing?
As a full-time packer, I can't recommend this. I don't know what they were thinking when they designed this to have leather right against the crotch. It's just going to get sweaty and smelly and then you can't even properly wash it. Yuck! It also feels to me that it isn't quite sturdy enough to hold a packer in for hours at a time. This is just based on speculation, since I haven't tried it, so if you're considering it, please read some of the other reviews - particularly those by trans men.
What packers does it fit?
As might be guessed by the name, it fits the Mr Right packer perfectly. My other packer, the Mr Limpy small, does not work quite as well. Because it has a smaller set of balls, it doesn't have as much support, and the weight of the shaft makes it pull away a bit. For the bedroom, this won't be too much of a problem, but if you intend to pack full time with Mr Limpy small, you may want to jury-rig some sort of extra support to keep it from falling off at the wrong time.
Experience
Do you have photos?
I have lots of photos! I'll only put a few here, but there are more photos on the
main product page
.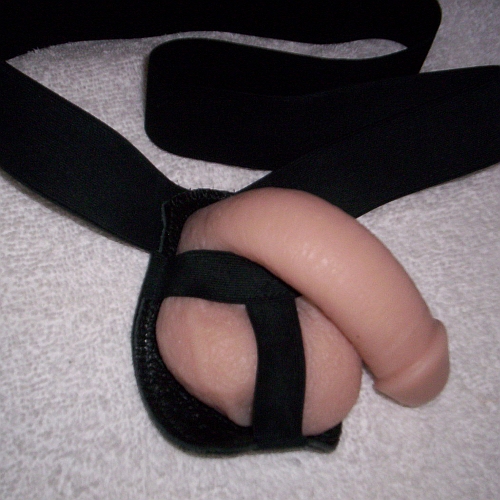 It fits Mr Right perfectly.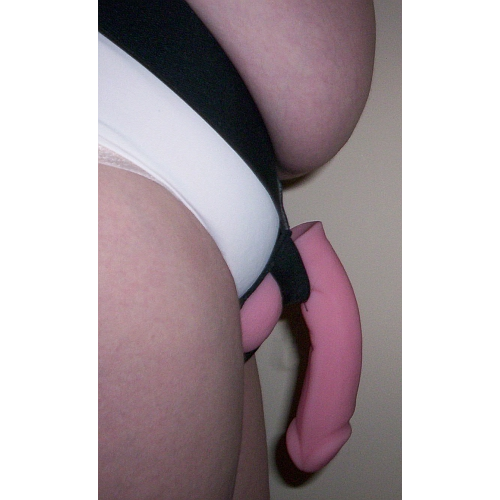 Mr Limpy Small sags away from the body in this strap.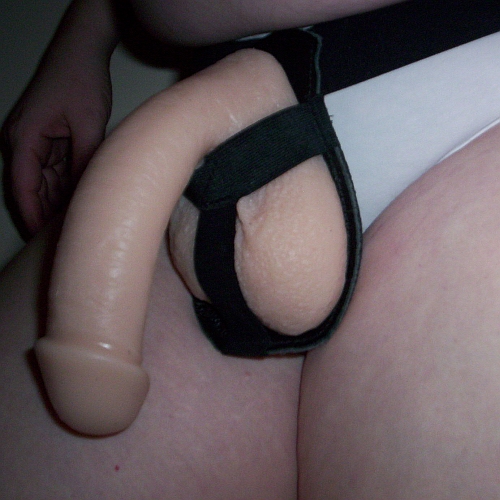 For the bedroom, this is my favourite look. Without the knickers, it looks almost like the real thing.
What if I want to make my own?
If you're at all handy with a sewing machine, you should find it easy to make your own. Elastic in various widths is available by the metre at your local fabric store. To make sure there is some firmness to the backing, you'll want to look for interfacing. This is a type of lining that is used between two layers of fabric to give it some stiffness, such as in dress shirt collars. It comes in various levels of stiffness and in sew-in and iron-on styles. By placing it between layers of washable fabrics, you'll have something with enough firmness to do the job as well as leather, but that can go in the wash. If you want to make it even simpler, you can scavenge a pair of old jeans and make the backing out of denim. Just make sure you stitch a zig-zag around the edge to keep it from ravelling.
What's your final verdict?
As a bedroom-only strap, I'd give it 5 stars. As a full-time packing strap, I'd give it 3 stars. So I'll average it out to 4.
This content is the opinion of the submitting contributor and is not endorsed by EdenFantasys.com

Thank you for viewing
Mr. Right packing strap
review page!