Bought it for fun... we get more without it
If you're a serious packer then this might still work for you. As a couple who are just fooling around with some bedroom gender play though, this falls short and was frankly a waste of money. The only consolation is that it didn't cost too much. For what we wanted, we found that regular underwear worked much better than this.
Published:
Pros:
Inexpensive, lighweight, well-made, easy to care for
Cons:
Doesn't fit all packing dildos, very basic design
Ok, first things first. Regardless of your sexuality and/or orientation, if you use packers for any reason other than to just have a bit of bedroom fun then this review almost certainly won't be helpful to you. I'm writing this from the perspective of a M/F couple dabbling in a little gender play. Please bear this in mind when you come to vote or comment. Thanks!
Right, onto the nitty gritty. If you've read some of our other reviews or know us from our profile, you'll know that we're a married M & F bi couple. We're far from wild & crazy but recently decided to dabble with a little gender play in the bedroom. Nothing too 'out there' though - just the usual kind of thing. Boy meets girl, boy takes girl to bed, boy finds girl has great boobs and a cock. You know how it is...
Since we didn't know anything about this kind of play and didn't want to spend a fortune, we decided to start at the less expensive end and bought both a
Mr Limpy Medium
and this Mr Right packing strap.
The strap arrived in a clear, resealable plastic bag. Since this was inexpensive we weren't expecting much, and we certainly had no plans to pass this on as a gift. But something a little better than the kind of bag you get your screws in from a hardware store would have been nice. The cheap packaging kind of helps to make the strap itself look cheaper, although it makes a handy place to store the strap when you're not using it and it's also convenient for travel. The small size means that this is easily thrown into a bag if you're going somewhere and don't want to wear it the whole time.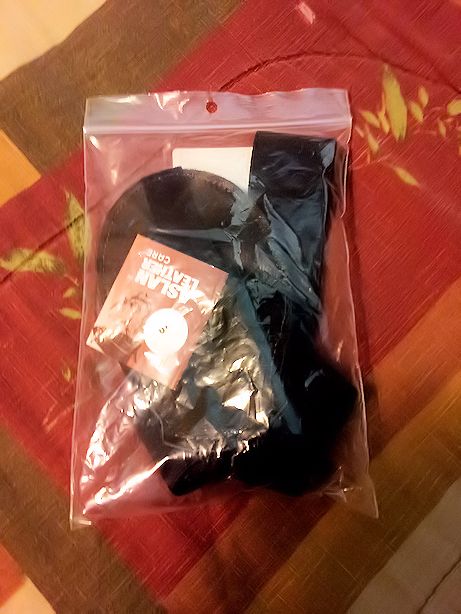 When we opened the bag we got another slight surprise. Aslan Leather has a great reputation (and rightly so), but this is definitely at the low end of their products. In fact the only leather part is the backing for your packer, everything else is black elastic. The waistband is nothing more than a 1 1/2" wide strip of elastic. It's not bad elastic - not particularly cheap, and will stretch well enough without digging into the wearer's sides. But there are no buckles, openings, fastenings or any type of bells and whistles. In fact if it weren't for the leather, this is something you could probably make for yourself in a few hours for a fraction of the price.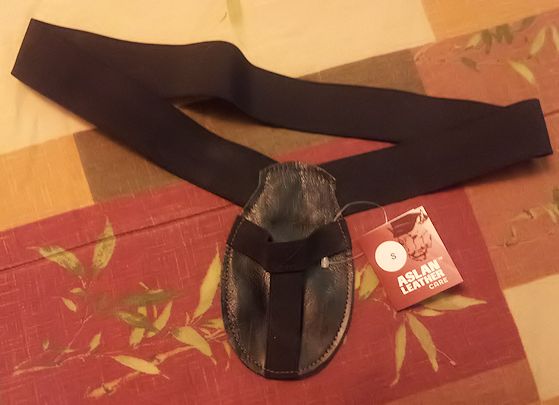 The leather portion measures 5 1/2" tall by 3 1/4" at its widest point. It's glove leather and is actually two thin pieces of leather stitched together, with the top being stitched over the elastic waistband. On the front of this leather fob is the part that holds your packer in place, and this is just a T or Y shaped elastic holder. Your dildo sits in this and is cradled by the balls. There is a small Aslan Leather care tag attached to the front, with instructions on how to clean and take care of the leather portion. These include using a moist cloth and a little soap to wipe the area to be cleaned. Clean off any excess then pat dry immediately. Always store your leather in a cool, dry place away from direct heat and light. It is also recommended to never submerge your leather item in water. This might have been inexpensive, but you're still going to want to take care of it if you're planning on using it more than once.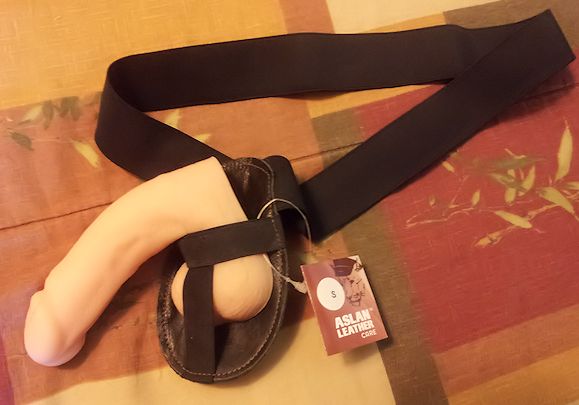 Now as a disclaimer, we're well aware that this is designed with the Mr Right packer in mind. We didn't use that so were expecting slightly different results. Even so, this really didn't impress. When we put the Mr Limpy in the front it felt (and looked) a little silly since it didn't fit too well. The strap itself felt comfortable, but didn't really offer much.
My wife ended up taking the strap off and putting on a pair of regular cotton bikini-style panties. Now THAT's where things kicked into gear and the Mr Limpy finally realistic. But more on that in another review. The long and short of it is that while this strap would undoubtedly work as a packing strap for everyday use, it falls short as something to dabble with. The consolation is that we didn't have to spend too much money on it.
This content is the opinion of the submitting contributor and is not endorsed by EdenFantasys.com

Thank you for viewing
Mr. Right packing strap
review page!