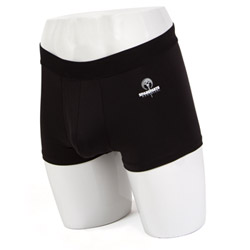 SpareParts Pete trunks packer
Packing strap by SpareParts
A Comfortable, Easy To Use Harness
This boxer brief harness is a great addition to the collection of any packer. It's solidly constructed and will hold your packer in place and won't let it move around unless you want it to. Wear them with another pair of underwear or wear them as underwear, but feel free to go ahead and wear them everywhere.
Published:
Pros:
Comfortable, easy to use, stretches well, soft packs quite well, sturdy.
Cons:
Maybe the price.
The packaging was pretty minimal in a good way; the harness came inside a plastic bag with a few cardboard inserts. The main bag is resealable, so you can either use it to store the harness or other things that might need such a bag. The inserts, while not discreet, are pretty classy. Yes you can tell it's a packing harness, but there's definitely nothing offensive either. The front gives you a rundown of all of the great selling points, and the back gives you sizing information, material information, and care instructions. The material and care instructions can also be found on the inside of the fold that would cover a packing dildo. Your harness is 88% Nylon and 12% Spandex Jersey and should be either hand or machine washed on cold in the delicate cycle, and laid flat to dry.
There is sizing information on the back of the packaging. I got a small which to Spareparts just says that I should have a waist of 28-30". I wear this more on the top of my hips which is about 34" around and while it does visibly dig in, I still found it to be comfortable to wear. Measuring around my butt is about 37", so while I'd probably fit into a medium better, the small did fit comfortably and if you're on the border, you should feel comfortable ordering a size down. If you prefer a looser fit, then you should go for the larger size.
The basic design is pretty simple; a pair of boxer briefs that will hold a packing dildo in place. It's about 8 1/4" from the top of the waistband to the bottom of the hem. The waistband is about 1 1/2" tall, stretchy, and made of a material that's soft yet durable. The rest of the trunks feel like athletic wear; smooth, silky, breathable, and almost always feel cool to the touch. Each of the legs is about 2" long and fits snugly around the thighs. My thighs are right around 23 1/2" around where the legs sat and there wasn't any digging in at all.
In the front there is a pouch that, like men's boxer briefs, is accessible from both the front and the back. In the front, it's sewn in such a manner that you can really only pull the dildo out from the side, but in the back you can reach right through. Unlike men's boxer briefs, there's only a hole for a dildo to pass through from the back to front, rather than it all being open. On the inside there's a double panel that houses the dildo. You'd peel back one side, and then the other going the other way, and now you can access where the dildo will sit. I would start by inserting the shaft of the packer through the hole and then gently pulling it the rest of the way through so that the base sits against the hole. There's an elastic strap that you can use to help hold your packer in place, but with the other flaps closed it stays in place decently well. You can even remove it if you want, but it does add some extra stability.
Everything about this harness screams "well made." There aren't any loose threads and all the seams are finished. Lots of tugging proved to do nothing at all.
I do believe that this harness could fit the
Mr. Right
packer, but depending on your build that will probably end up creating an unrealistic bulge. Same with the
Mr. Limpy small
, although I can attest that it does fit in the harness comfortably. I use the
Mr. Limpy Extra Small
the most with this harness, and it created a realistic bulge in proportion to the rest of my 5'2" frame. You can wear this harness with or without underwear, since it's designed to mimic underwear. If you'd like to use a stand to pee device or you want the back of the packer to be as close to you as possible, you'll probably want these as your undies. However if you'd like to prolong time between washings, you can wear a pair of smaller underwear underneath and these act more like shorts.
Here are a few pictures for you.
Without a packer:
With the Mr. Limpy XS: In these pictures you can also see how it fits on my 34" hips.
And me wearing it under some tighter jeans:
Experience
This is my very first packing harness, and I'm very proud to own it. I will admit that packing is not something I do often or know a lot about, but I can tell you that with little to no experience I was able to get this to work very well for me. I was most comfortable wearing it under a pair of looser athletic shorts, but under looser jeans it wasn't uncomfortable. I got some help from my husband to find the best place to have everything hang, and once I got it there (without much effort) everything looked pretty real. I do believe that this line of harnesses will work well for anybody who's looking to pack. This particular harness is really comfortable, even when worn for hours at a time. It's incredibly easy to use, and should last you a very long time.
This product was provided free of charge to the reviewer. This review is in compliance with the FTC guidelines.

Thank you for viewing
SpareParts Pete trunks packer
– packing strap review page!