Fantasy spot
The extras is what makes this toy a 5 star. Only reason I'm not in love with this toy is because of the stiffness of it. For g-spot or clitoral pressure it is perfect but the toy is not the right length to hit my g-spot perfectly making the stiffness almost painful.
Published:
Pros:
Silicone, waterproof, powerful, extras, soft
Cons:
slight seam, a little to stiff
Use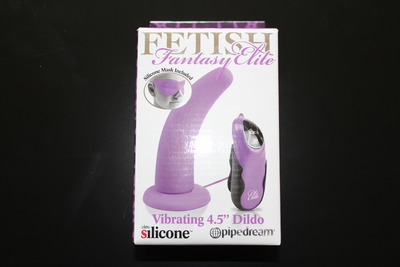 The 4.5" dildo is a vibrator that can be used for strap on sex, by using the suction cup base or using it with products like the liberator wing. It can be used by anyone who likes this style of product. It doesn't matter where you are in your experience with sex toys either, it is easy to learn how to use it. The Elite vibrating dildo can be used anywhere on the body, considering it has the flared base it can even be used anally. With how quiet it is, you can use it in any environment you are comfortable using it in. Being waterproof you can also use it in the bath or shower! Even suction it to the wall with it's strong suction cup base that I have had no problems with so far.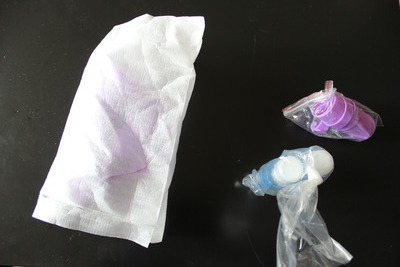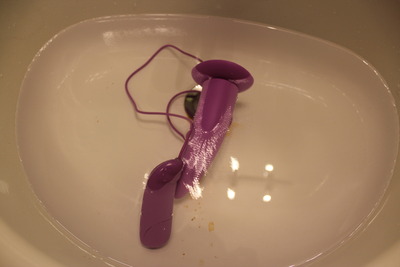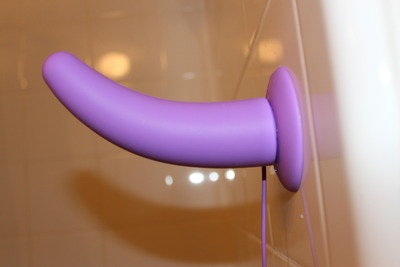 Material/Texture
The dildo is made of 100% silicone. Silicone is non-porous and repels dirt and bacteria. The toy is made from non-porous, hypo-allergenic 100% silicone. Silicone is odorless, tasteless and smooth in texture. It does have drag, so you may want to use lube. This silicone isn't to flexible so be careful as to how hard you thrust it. It does have a seam, but you can't feel it when inserted.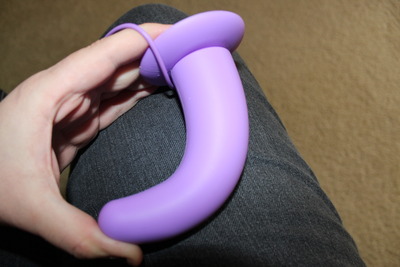 Design/Shape/Size
Including the suction cup base, the vibrator is 5 and 1/4" long. Not including the base it is about 4 1/2" as stated on the box.
Cord: 24 1/2"
Suction cup base: 2 5/8"
Base of dildo: 1 3/8"
Tip: 7/8"
Controller
Length: 3 1/8"
Width: 1 1/8"
The wire is long enough to use the included clip to have the controller at your waist for easy access.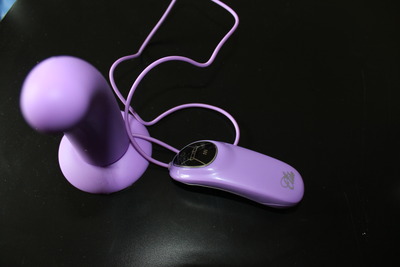 Functions/Performance/Controls
Like I said above, the controls are easy to use. It's a simple two button controller. One for power and one to cycle through the vibration patterns. I would consider the vibrations to be gentle enough on the lowest setting for those who are more sensitive, and the stronger settings to be enough or just right for most. If you need Hitachi strong vibrations then this toy won't be enough for you. The vibrations don't get dimmed when inserted or when under water.
Care and Maintenance
You should store this toy in the box or in something that will keep the dust off of it. The box isn't all that discrete, so if you don't want anyone knowing you have it I suggest storing it where people won't find it. I always store my toys with the batteries out, I suggest you do the same. Make sure you clean this toy before and after use. Cleaning is easy enough you can use warm water and antibacterial soap, toy cleaner or even a bleach solution. Don't store this silicone toy against any other silicone toy. Also don't use silicone based lubricant with this toy, use water based. You don't have to worry about anything but batteries when you first buy this toy. It comes with lube, toy cleaner and even a silicone mask. You'll need only two AAA batteries to get this toy working.
extras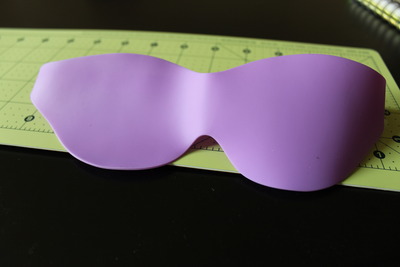 The silicone mask is 9 3/8" in length when stretched as shown above. It has plastic adjusting loops and clip. It only stretches slightly, so it's pretty much a hit or miss if it will work on you or your partner.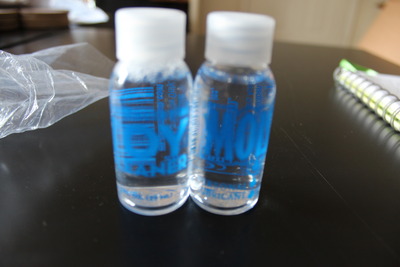 The lube and cleaner come in a sample size of 1 fl. oz. each. It's enough to last you about 10-30 uses depending on how much you uses or need to use. The tops are just simple screw on tops, so be careful opening and closing them so you don't spill it all over.
Experience
The vibrations worked just as I expected. They are deep throbby vibrations that can be felt all through the dildo. There three steady vibrations low, medium and high. Then there are 4 patterns.
Pattern 1: medium speed steady pulse
Pattern 2: escalating pulsation
Pattern 3: long steady pulses
Pattern 4: pulsation (short, short, short, long)

The batteries should last you about 6 hours of use or more. It depends on the batteries you use.

The patterns where quite enjoyable when keeping it still either externally or internally. Though I prefer steady vibrations when I'm moving the toy I'm using around, either externally or internally.
This product was provided free of charge to the reviewer. This review is in compliance with the FTC guidelines.

Thank you for viewing
Fetish Fantasy Elite vibrating 4.5" dildo
– g-spot vibrator review page!