Great Intro!
This is a great inexpensive introductory harness to help you figure out what type of harness that you like, it has opened up a whole new area for myself and my husband. There is no possibility of pegging but this may help for males who have erectile dysfunctions.
Published:
Pros:
Adjustable
Vegan
Can change O rings sizes
Sturdy
Cons:
Nylon can become uncomfortable
Bare as You Dare Harness By Sportsheets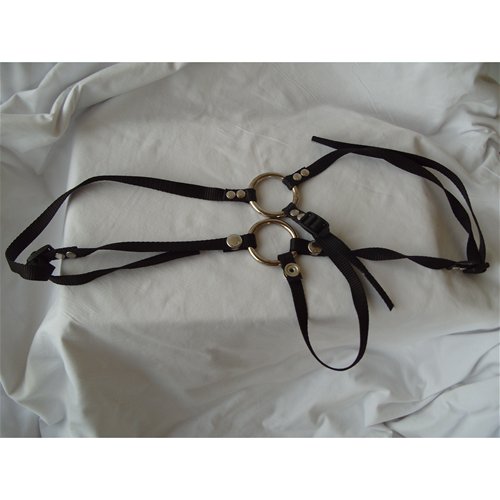 This has turned out to be one of the best purchases that I have made. I purchased it for one reason and then it ended up evolving and turning into a whole new adventure with great pleasure for me. Ok, I got it for taking pictures for my reviews, I figured that I could show that the dildo's were O ring compatible. Well when I got it I had to try it on and try it out. That went well, it looked pretty cool and felt very wild to have my own penis hook up.
Of course, I had to get caught, my husband was asking what the hell? So I showed him, he said that he would be willing to wear it. Say what? No there is no way in hell that he would ever allow me to PEG him. But, he stated that this could really enhance and make our lovemaking sessions last longer. Ummm. Ok, so we rigged it up for the O ring to sit above his penis and the crotch strap to sit to the right side of his balls. I will write more about that in the experience section.
This is a no frills very basic harness that has 2 - O rings. It can be used by females or males too. It works for pegging and for female penetration. It has a fully adjustable waist band and crotch strap. It is very beginner friendly and this will help you to assess if this is the type or style of harness that you would like to use. It is very inexpensive and a great starter.
Material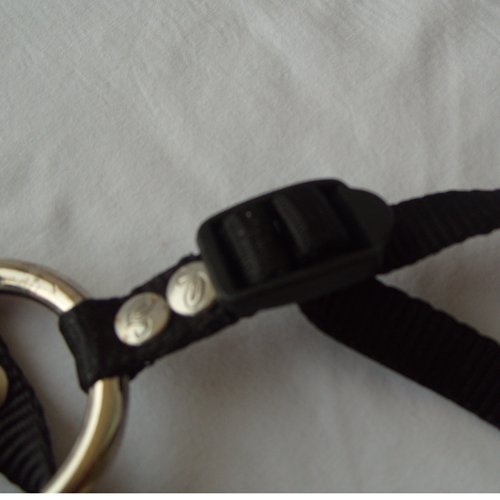 It is made from Nylon straps that are very sturdy and can be washed with soap and water. The nylon will resist absorbing oils and lubes and it really does clean up easily. It has heavy duty slide adjustments for each of the 3 straps. It has the 2 large O rings from stainless steel. There are steel rivets that connect the nylon straps to the O ring for the back. In the front the O ring nylon strap connection is make with super sturdy snaps. The nylon straps can be cut to what ever length you need so that you don't have the excess hanging down.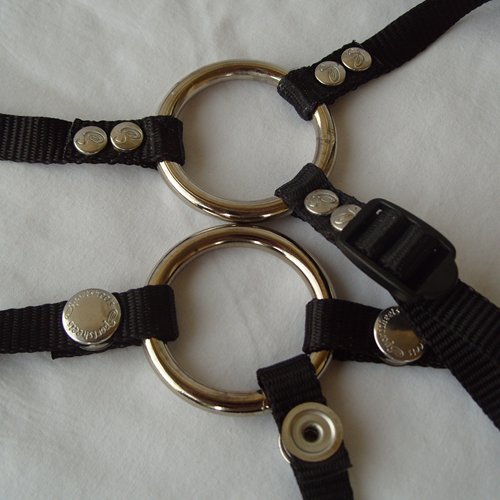 Size
The nylon straps are ½ inch wide and they are very thin. The waist band portion of the harness has two nylon straps that attach to the back O ring with the rivets and then snap to attach to the front. Each side of the nylons strap has it's own heavy plastic slide adjustment. You can expand each side to 27 inches which will give you a total waist band size of 53 inches. You can make it go as small as 20 inches total waist size. The reason you can only get it down to a 20 inch waist is that the fixed portion of the strap before the slide is 7 inches long. The center crotch strap has a longest length of 14 inches and a shortest of 3 inches. The O ring that comes with the harness holds up to 1 1/5 inch dildo's but this ring can be changed to smaller or larger ones depending on your needs.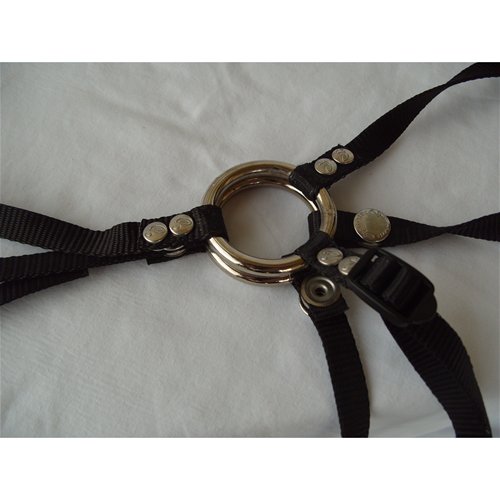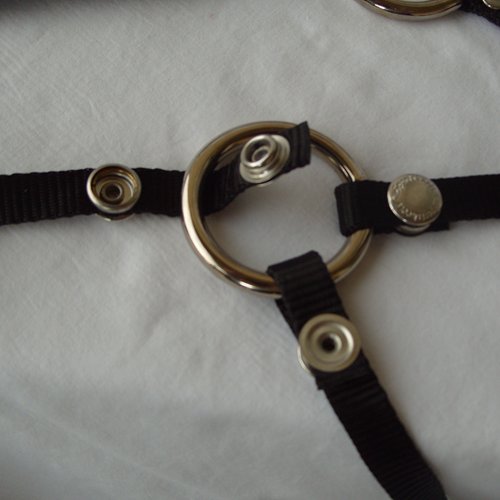 Care and Maintenance
The nylon straps clean up easily in soap and water, you can use a soft bristled brush to get any ickies out of the grooves if need be. The O rings wipe off easily. I only use antibacterial soaps and water to clean it. You really cannot place it in the wash machine because the back O ring is fixed and it would wreck havoc with your wash machine. I just wipe off the O rings with a wet wash cloth. It stores easily in your underwear drawer or a small make up style of bag.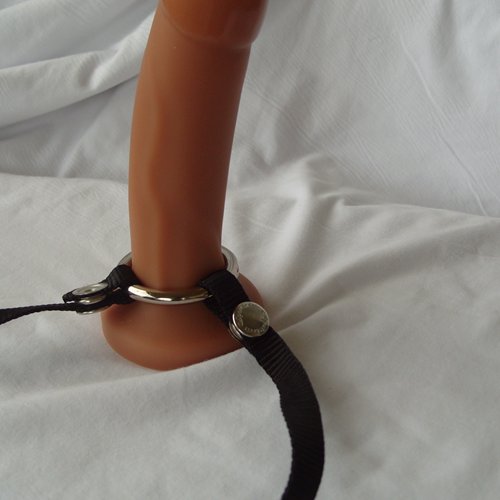 Packaging
The sport sheets box shows a female wearing the harness with basic product information on it. It shows how to tighten and loosen the straps.
Experience
Experience

This Harness is a step in style, loosen the side straps and step in with both legs pull it up and adjust the side slides. There are no release buckles. The crotch strap can be a pain so you may have to pull it up and down to adjust that one.

I found that when my husband wore this harness and then had the dildo perched above his penis was a very pleasurable experience. When the dildo was penetrating me he was hitting me in the perianal area and when he was penetrating me the dildo was rubbing my clitoris area. The same goes for doggy style except he was hitting my clitoris.

We haven't used this one for double penetration but it is completely possible. I do have to say that it is wild when I am all hot and pent up to have the dildo removed and my husband in place, and then when he backs out and places the dildo in. The one that has been out of the vagina cools down and it feels wild to have the cooled phallus placed into the steaming vagina. This has increased our ability to have longer lovemaking sessions which makes me very happy. When males have chronic illness it can affect their ability to last for periods of time. This has increased my husbands confidence and it makes him part of the lovemaking with full thrusting actions. He just doesn't get that will using toys on me.

This is a very basic beginner style that is inexpensive. I don't see this one being used for years but it did open a door for use and another one is on the way! You can also find out if you like the style of harness that has the one strap down the center or the jock style straps.
Follow-up commentary
2 months after original review
Now that I have moved up in to nicer harnesses this one doesn't measure up. But I have to say that if you don't know if you really want to use a harness and if you just want to try it out this is the one to purchase since it is so inexpensive.
This content is the opinion of the submitting contributor and is not endorsed by EdenFantasys.com

Forum
| Discussion | Posts | Last Update |
| --- | --- | --- |
| usage | 4 | |
Thank you for viewing
Bare as you dare harness
– g-string review page!