Is That A Banana Or Are You Just Happy To See Me?
I don't really think I can say anything bad, except that the logo could be placed somewhere else. The underwear are great to wear as briefs or if you want to insert a packer. They are also very well made, as I didn't see any bad manufacturing. The last great thing is that it comes with instructions on how to insert a packer or a STP! It is such a great pair of briefs if you are going to be packing.
Published:
Pros:
Great as briefs, perfect for packing, wonderful instructions with pictures, very well made
Cons:
Logo could be placed somewhere else
USE
I know the title might be a little off, as this isn't showing an erect penis. I still thought that it would go wonderfully with this product, since it does give you that bulge you're looking for. This would work well for anyone interested in packing. It will even work if you are just interested in wearing a pair of briefs. Using STP (stand to pee) packers are also optional for this toy. I even think this toy would probably work well for use with a dildo, as the hole and penis seem to be in the right spot. Also, a very important note is that there is a warning stating these briefs are not intended for use with an actual penis, so I don't recommend trying that.
Material
This packing harness is made from 88% Nylon and 12% Spandex. They have a very smooth feel and they are also very stretchy. They remind me pretty much of the normal brief underwear, of course just a different material. I didn't think the mesh on the inside was itchy or irritating to the skin. These briefs are also made very well; there's no bad stitching or anything that would give sign of poor manufacturing.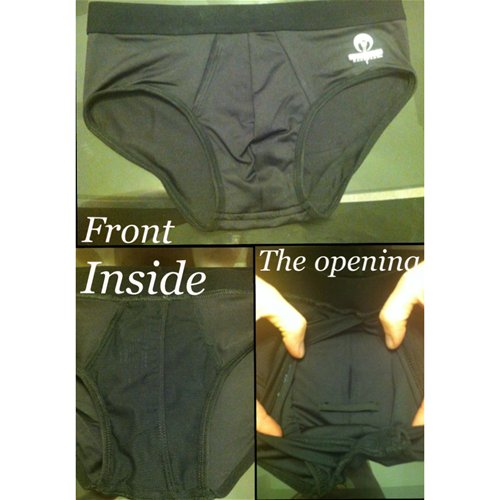 Design
The design is genius, as this works by using a packing dildo and inserting it into the underwear to create the look of a normal penis. There are instructions that come with this so you can properly insert you packing dildo or STP with no problem. The way to insert your packing dildo into your briefs is to start by inserting your packer into the plastic bag provided 3/4 of the way down, then wrap the plastic bag around the packer to form a point at the end, then guide the point of the plastic bag and packer through the black hole of the underwear. Next, guide the packer all the way in remove the plastic bag and cover the back of the packer up with the flaps to cover the back. There you have it! Your packer is fully inserted.
There are also optional steps to not cover up the back of the packer and also there are steps to properly insert a STP.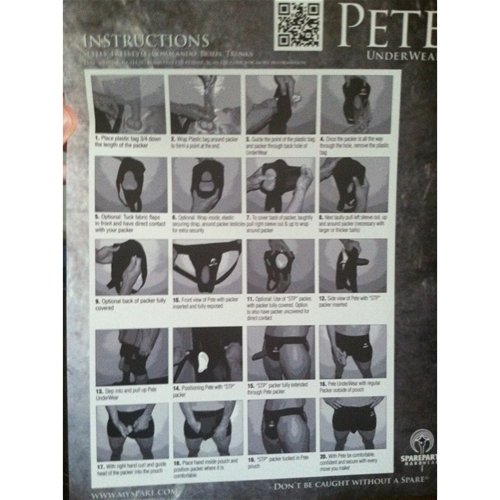 Size chart:
Sizes
Small|Medium|Large|Extra Large|2XL|3XL|
Waist In
28-30|32-34|36-38|40-42|44-46|48-50|
Waist Cm
71-76|81-86|91-96|101-106|111-116|122-127|
Product Measurements:
From top waist to bottom seam: 9 Inches
Waistband width: 1 1/2 Inches
Inside slit for packer: 1 Inch
I received the medium as that is what I normally wear for briefs or boxers. I would recommend buying the size that you would normally buy in the underwear you wear. The fit comfortable and they also stretch.
Packaging
The packaging is discreet from afar, but it looks just like any normal package you would buy containing underwear. There is a person on the front wearing the briefs and all it says is underwear briefs on the front, until you get close up and read the smaller print that talks about a packer. This package comes with the briefs, a bag to help you insert your packer or STP, and its all packed into a large plastic bag.
Care
These briefs are fairly simple to take care of and the instructions are in two different places. One of the instructions is on the package and the other on the briefs on the inside were you insert the packer.
The instructions state: hand or machine wash cold, delicate cycle separately, use mild soap, do not bleach, do not use fabric softener, do not tumble dry, line dry or flat dry, and no ironing.
Experience
I have worn this around the house for now, but I am definitely into wearing this out into town. For the experience I choose
Mr. Limpy
which for a beginner is a great choice. I enjoyed wearing this as just briefs and with the packer in. I also didn't have to worry about this coming out or moving since on the inside there is a strap that will hold your packer in. These are extremely comfortable to wear.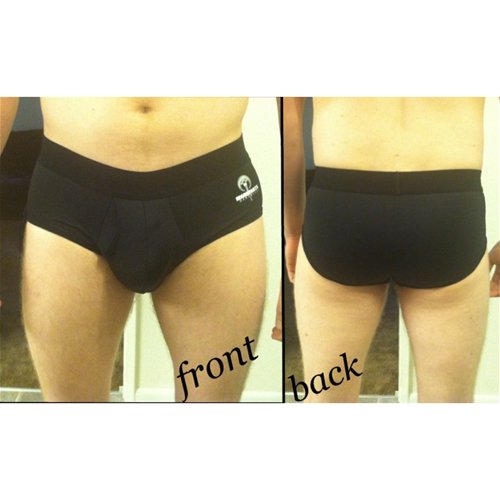 Follow-up commentary
3 months after original review
I still like this. It isn't something that I use on a daily basis, but is definitely a great pair of packing briefs. Highly recommended. Price is just the only thing that gets me very expensive for a set of briefs.
This product was provided free of charge to the reviewer. This review is in compliance with the FTC guidelines.

Thank you for viewing
Pete briefs packer
– packing strap review page!