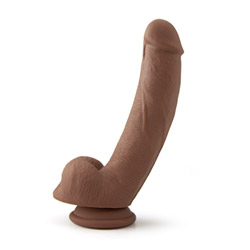 Pathfinder
Realistic dildo with suction cup
by EdenFantasys
Path to euphoria
This is the perfect sized toy if you're looking for something to use frequently without pushing the boundaries. It's made of body safe silicone, has a pleasant texture, and a suction cup which makes it a versatile toy.
Published:
Pros:
Body safe silicone, suction cup
Cons:
Not travel friendly
Material:
The pathfinder is made of a safe silicone material. There are a few reasons why silicone is a safe material for sex toys. First, it's non-porous, so it doesn't absorb body fluids, toy cleaners, or lube. It also doesn't break down when exposed to constant friction. Please note that only WATER based lubes should be used with silicone toys. The reason for this is because silicone lube can bind with your precious silicone toy and make it into a not so hot, sticky, un-useable mess.
For more information on sex toy materials, please visit the sex toy material safety index: [www.edenfantasys.com/sex-guides-and-tips/guides/materials/?tag=c2a6c006-d762-b0a6-7fc1-7cb0382fe7fe&pnid=2230897|Material Safety Index]

Cleaning:
Silicone can be fully disinfected by boiling it for 3 minutes or by putting the toy in the top rack of your dishwasher. Toys can also be cleaned with toy wipes or with soap and warm water. View this helpful guide on how to store and care for your toys, even if you think you already know how to. I thought I was storing my toys correctly, but it turns out that I wasn't. Knowledge is power, so just read the article ;) [www.edenfantasys.com/info/sex-toy-cleaning-guide?tag=c2a6c006-d762-b0a6-7fc1-7cb0382fe7fe&pnid=2230897|Guide to Sex Toy Storage, Care, and Cleaning].

Size:
The size of the pathfinder is 6 inches insertable length with a girth of 5 1/4 inches. Personally, I found this toy to be the perfect size. However, everyone has a different level of experience and has different size preferences.

Shape:
The shape of this toy has a slight curve upwards or downwards, depending on how you want to use it. I personally used it with the balls facing upward and downward and found it to be quite enjoyable either way. For a little extra kick, try throwing a vibrating cock ring onto this guy – it feels amazing!

Texture:
The texture of the pathfinder reminds me of saffiano leather. It has delicate ridges all the way down the shaft.

Flexibility:
The pathfinder is flexible and can be bent in half. It also feels solid in the hand with a slight squish, but the toy is dense which gives it a nice structure.

Travel:
I would imagine that traveling with this toy would not be very discreet, especially if going through airport security.
Experience
I used the pathfinder for vaginal use only. It can be used in the shower and pretty much where ever a suction cup will stick. I prefer using this toy for solo use, but I also had my hubby use it on me. When I received the toy, it was packed in a plain brown box and was wrapped in a sealed plastic bag. I was a little bummed to find out that it doesn't come with its own storage bag. I took the toy out of the plastic bag and cleaned it with soap, warm water, and dried it with paper towel. I first lubed the toy up with a [www.edenfantasys.com/sex-essentials/lubricants/jo-agape?tag=c2a6c006-d762-b0a6-7fc1-7cb0382fe7fe&pnid=2230897|water based lubricant] and spread it all over the toy. Once inside, the first thing I noticed was the texture of the toy; the delicate ridges provide a nice interesting and stimulating feeling. The head of the pathfinder doesn't feel realistic, isn't overly large or bulbous, and it transitions nicely into the shaft. I first used the toy with the balls facing down but thought it would feel better if I turned it around so the balls were facing upward. I was right, when the balls are facing upward it can be used like a G-spot dildo, and it feels SO good. It felt even better when I added a vibrating cock ring to it. It was phenomenal!!! I love everything about this toy. The size, shape, texture, and the versatility. It has quickly become my favorite toy to date.
This product was provided free of charge to the reviewer. This review is in compliance with the FTC guidelines.

Thank you for viewing
Pathfinder
– realistic dildo with suction cup review page!