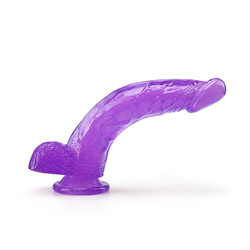 Mr. Pleaser
Realistic dildo with suction cup
by EdenFantasys
Purple Pleasure
If you're looking to try out a larger sized dildo, this is the toy for you! Perfect width, perfect length. The curved shaft is perfect for g-spot stimulation.
Published:
Pros:
Wonderful size
Nice color
Suction cup feature
Cons:
Didn't like texture/material
Not too crazy about the curve
This beautiful purple dildo has many different uses. One of my favorite ways to use it is by utilizing the suction cup feature. I love using my suction cup dildos in the tub. It can be used on the shower wall, edge of the tub, or even the floor of the shower/tub! Besides using it suctioned to a surface, you can also use this during solo or couple play. I've only ever used this by myself so I can't speak for a couple, but it's great when you want to use a dildo plus a clitoral vibe. I also think this would be great for use with a strap-on. It has a somewhat basic sized shape, and with the suctioning base, I think you would have no issues getting this attached. The balls at the base create a flared effect making it great for both vaginal and anal use.

The material is TPR (thermoplastic rubber), so while it isn't the safest of materials (a 7/10 on the Eden scale of safety), it's still safe to use. It has a slightly rubbery feel, but it's nothing uncomfortable, and it has NO smell which is a HUGE bonus. It is recommended to use a condom when sharing, as this material is porous. If you feel the need to use lube, it is suggested that you use silicone or water-based lubricants.

Texture wise this toy is PERFECT for me. I love a good textured toy. The veins on this bad boy are amazing. They're fairly realistic and give the best sensations. This particular dildo has a larger head, which gives amazing sensations. Mix that with the curved shaft, and it will hit your g-spot just right.

Purple is the only color option, and there is only one size. Measuring at 8" long and 1.5" wide, this is pretty comparable to an "above average" penis size. The insertable length of 7 3/4" is great for more experienced users. Not saying a beginner can't use this, but due to its larger size, it may cause some discomfort.
It's slightly flexible and weighs right at half a pound, so it's not overly large. It has a nice weight to it, nothing unmanageable when using alone.

I love the design of this toy. The head is just the right size and sticks out just enough from the shaft to give you a lifelike feeling. The look is very realistic, and the veiny texture helps achieve that. Like I mentioned, this toy has an enlarged tip which feels so nice against your g-spot. The curved shaft ensures g-spot stimulation as well. The best feature of this toy, to me, is definitely the suction cup. It opens up a whole new world of positions and possibilities.

While isn't the least bit discreet, you could easily hide it to be suitable for travel. I would recommend keeping it in some sort of toy case so that it's protected and kept clean due to the material it is made of.
Another bonus of this toy is that it can be used alone or with another toy. One of my favorite toys to accompany a standard dildo is some form of vibrating item (bullet, cock ring, etc.). Once again, this gives you more variations for use.

Because the material is TPR (thermoplastic rubber), it has a porous surface which means that you need to take a little extra precaution when sharing. Porous just means that it has tiny little holes where liquid may seep into, so to protect yourself and others it's best to use a condom, and/or clean very well between uses.
Cleaning it is easy; it's recommended to wash with mild soap and water. One of my favorite mild soaps is the Dial Gold soap. It is NOT recommended to boil the toy to clean or disinfect it -- again, this has to do with its porous property. I personally use a toy cleaner spray but also have used toy cleaner wipes which work just as good. A clean toy is a safe toy!

Packaging was somewhat basic - just the dildo in a plastic covering. Upon opening it, I didn't notice any type of smell, which is a bonus. If I open a toy with a prominent smell, it turns me off from using it completely. The packaging was NOT discreet. EF ships their items discreetly, but once you open the shipping box, your items are very clearly showcased in their true form.

Overall, I was very pleased with this item. While TPR isn't my favorite material, I still enjoyed the time spent with this item. It has a nice size, gorgeous color, and endless possibilities with use.
Experience
This was my first ever dildo, and boy I am glad I chose this one. The size was perfect, the versatility was amazing, and the texture was spot-on. I highly recommend to those who are wanting to try a dildo and want something that not only can be used alone but also can be used with other people or other toys.
This product was provided free of charge to the reviewer. This review is in compliance with the FTC guidelines.
Thank you for viewing
Mr. Pleaser
– realistic dildo with suction cup review page!