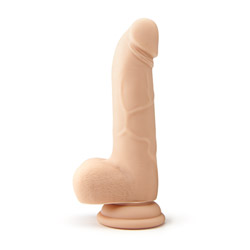 Realistic G-spotter
Realistic dildo with suction cup by EdenFantasys
Versatile Joe Handyman
If I were brand new to sex toys, I would definitely purchase this dildo as my first. It's the closest thing I've ever owned to a real cock and will be a staple of our play for a very long time thanks to the high quality. While some may want a larger, more filling toy, I am perfectly content with all the Realistic G-spotter has to offer. Treat yourself to the cock down the block.
Published:
Pros:
Ultra-realistic, silicone, non-porous, perfect size for all. Sturdy suction cup.
Cons:
Not firm enough for G-spot stimulation.
Right out of the shipping box, I was amazed at the beautiful detail and construction of the Realistic G-spotter. Realistic is exactly the term to best describe this delicious dildo. From the well thought out slightly upturned head to the pronounced veins and subtly wrinkled balls, Eden nailed the design.
The length at 5 1/2" is not ridiculously large, and the 1 1/2" width is perfect for beginners or advanced players alike. Including the testicles this toy measures in at a total of 7" long. It very much simulates the average male appendage visually and quite honestly is strangely reminiscent of my husband's cock. Apparently, he may have been doing some modeling on the side without my knowledge!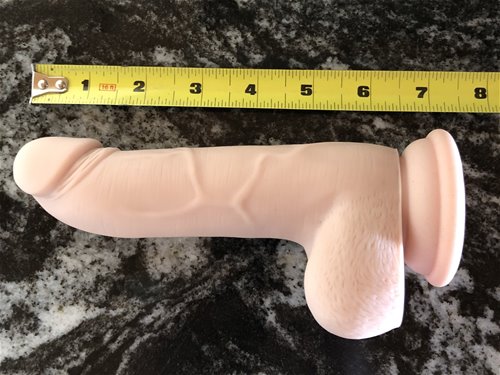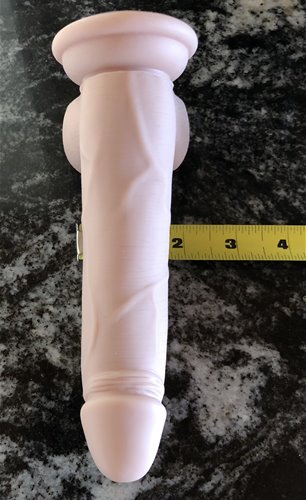 The silicone construction material is exactly what sex toys should be made from. It's soft yet firm, allowing some bend in the shaft while still not wildly flopping around during playtime. Cleaning is also an absolute breeze as it can be boiled, bleached or tossed in the dishwasher. Sharing between friends is possible as silicone is non-porous. The texture is silky, and water-based lube lasts forever, keeping your adventures rolling without the need to stop to reapply. Don't ever use silicone lube on any silicone toy, including the Realistic G-spotter, or you could end up with a sticky partially dissolved Franken-toy. Storage away from other toy materials is recommended, or the same unfortunate situation may arise. We just use ziplock bags for each of our toys as it's easy and helps keep lint away.
Also impressive is the holding power of the suction cup base. We've had some other dildos of this style that had hardly any holding power, but this toy sticks to any flat surface and just keeps staying put, especially if the ring of the cup is moist. The base fits nicely in harnesses with an o-ring style, while the firm shaft gives plenty of control.
Seam lines from the molding process are non-existent, which is another plus and adds to the quality appeal of this product. If you're looking to be stuffed, you'll probably want to look elsewhere for bigger insertables; but if you want a good ride from the average male cock, you will have trouble distinguishing it from the real thing.
My only complaint is that I haven't been able to have a G-spot orgasm with this toy. Even with the slightly upturned head, it just doesn't stimulate the right area, and I think it could be that it's simply not rigid enough. I find I have better luck with very hard dildos that don't flex such as glass wands.
Experience
Both my hubby and I have been enjoying the Realistic G-spotter since we got it over a month ago. In that time it's been put to the test in quite a few different scenarios. I enjoy sticking it to things and going for a vigorous hands-free ride. The shower wall has been a personal favorite as well as the top of a toilet seat. I really like pounding down on this dildo while squatting over it as it leaves my hands able to rub my clitoris or give my nipples some pinching. Sometimes I'll pair it up with a vibrator used externally if I'm in the mood for more sensations. Anally it's quite easy to accommodate, and I've been double penetrated by my husband and this toy. It's the next best thing to having another real cock in the room!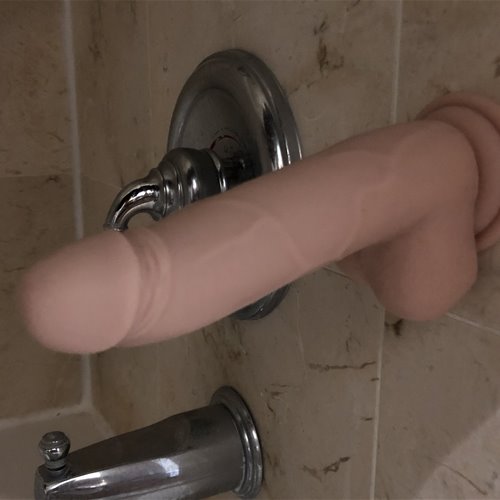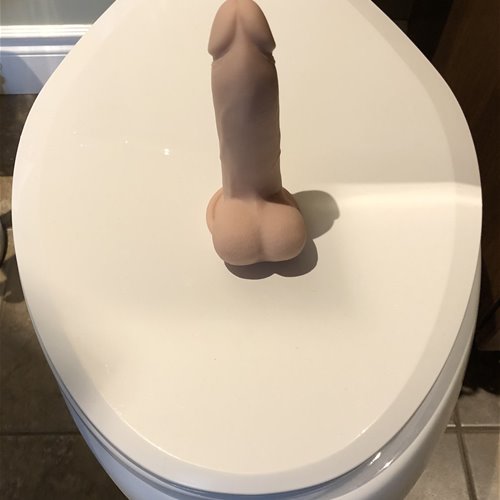 My man enjoys using it on me while eating my pussy and loves watching me squirm at the sensations. He has taken this product multiple times in his ass with me, pegging him missionary style while giving a slick handjob. Hubby also admitted to riding this dildo stuck to the toilet seat while jerking off. That explained the sticky floor in the bathroom when I got home!
We are both looking forward to more exciting and creative times with our everyday 'dick next door'.
This product was provided free of charge to the reviewer. This review is in compliance with the FTC guidelines.

Thank you for viewing
Realistic G-spotter
– realistic dildo review page!