A Happy Medium
The Toy Five medium is a great, average-sized, non-realistic dildo that's perfect for use in an o-ring harness. While designed with queer women in mind, this is also an awesome toy for hetero pegging times or solo use. This is also great for double penetration, or for warming up before using larger toys. Though it doesn't provide much in the way of g-spot or p-spot stimulation, the smooth shape makes this great for thrusting.
Published:
Pros:
Silicone, easy insertion, queer-friendly design and packaging, harness-compatible
Cons:
May be too small/bland for some, toy may spin during use, no direct g- or p-spot stimulation
I'll be honest. I admit that I wasn't
that
excited to be reviewing the Toy Five medium, a non-realistic dildo by Wet for Her. Their tagline is "designed by women for women" and while that is very excellent, I'm a woman who is a little bored by traditional, straight-line dildos. The Toy Five line's non-realistic shapes were designed specifically for lesbians, bi-sexual and/or queer folk and I don't fit that bill, so I understand that I may not be the target market. That said, I didn't really buy this toy with my own personal use in mind. After dutifully giving it a go or three, I sterilized it and handed it over to my boyfriend. And that, my friends, is where the Toy Five medium found a home where it will be loved and treasured forever.
The Toy Five medium is made of matte, super-silky silicone. Silicone is body-safe and non-porous, making this a great, high-quality choice for an insertable toy. The silicone is very smooth, and while it has a bit of drag, it manages to not pick up much lint. The black colour never seems perfectly black; you know when you touch a blackboard and it leaves a faint mark? Or run your nail down a length of velvet? If you scratch this, it has the same effect. There seems to always be faint marks on the Toy Five, even when it's been freshly cleaned. There is a seam that runs down the length of the toy, but it can't be felt during use. The matte silicone also seems to need extra lube more than more shiny toys, so be prepared to reapply.
While it's traditionally advised that silicone lubes should be avoided when using silicone toys, none of the lubes I patch-tested this with (Pjur Med Premium Glide, Wet Platinum Silicone, System JO Premium Cool) brought about any adverse reactions. Patch-test with your silicone lube of choice if you like, or stick with water-based to be sure of compatibility.
The toy has an extremely faint plasticy smell right out of the package, but that fades after a wash or two. It also doesn't retain other smells – after boiling to sterilize the Toy Five to switch orifices/users, we found that there was no tell-tale scent giving away that it had been used anally. For general cleaning, warm water and soap will do the trick before and after use. The packaging states that this is microwave safe, but that seems a little weird to me. If you want to warm this up (or cool it down) I recommend just soaking it in warm or cool water before use.
The most innovative feature of this toy is the wide, triangular base. The cone shape of the base gives it extra stability and control in a harness, and makes for an easy hand-hold when the toy is being used solo. The base also makes this completely safe for anal use.
The shaft of the toy is actually completely straight from the base to 2½" up the shaft. At that point, there's a slight bend and the remaining 3" of the toy follow that angle. It's not a gradual curve, as with other toys like the Sedeux Please.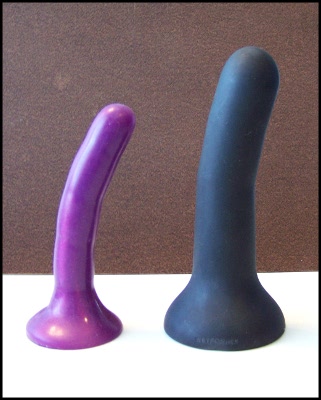 This gentle bend does subtly nice things to my g-spot, but the Toy Five medium really just shines as a thrusting dildo. Its shape makes for super smooth, easy insertion, and thrusting with this is some serious gliding action. Because the curve is so subtle, I wasn't able to tell if the toy was turning around while inserted, and it does tend to spin. This is pretty annoying. A couple times I actually pulled it to make sure the curve was still facing my g-spot because I just couldn't tell. My boyfriend said he could hardly feel the curve at all, and so also had no idea whether the Toy Five was twisting around or not. If you're looking for intense g- or p-spot stimulation, this isn't going to provide it. It is slightly more interesting than a completely straight toy, though, I'll give it that.
Experience
As you'd expect from the "medium" title, this is a satisfying size that doesn't provide any stretching feeling vaginally for me, at least – at 4" in circumference, 'filling and adequate' would be my best description. I personally find this best as a warm-up vaginally because I favour larger and more intensely shaped toys. By the end of session with this, I found myself trying to go super deep with it because the girth left me wanting once I was nicely warmed up, but at 5" insertable there's only so deep you can go. I did find that it was enjoyable to use this in conjunction with another toy for DP. The size made everything sort of fit better, rather than the uncomfortable sensation I sometimes get from trying to accommodate two larger toys at once. Though we haven't used this for DP yet as a couple, I foresee it being a successful endeavour, especially once we own a male harness. It was enjoyable for me anally, but I didn't have quite the immediately-in-love experience that my boyfriend did with this toy.

This is a beginner-intermediate toy for anal use. I ordered this toy with pegging in mind, but we haven't gotten around to using this in a harness quite yet (I'll write about it in the follow-up when we eventually do). The lack of any realistic detailing is a must for my man's toys, and this fit the bill perfectly. This is one of the girthiest toy he's used to date, and he was very happy with the increase in size from the Sedeux Please. He reported that it was, comparatively, much easier to insert the Toy Five because it's a lot less bendy. There is still a lot of flexibility (you can bend the toy right in half if you want) but the Toy Five's silicone is much firmer than the Please's and the larger girth lends it more stability. It's firm enough to insert, but with enough give to be comfortable.

Being fairly new to anal play, my boyfriend found it helpful to use smaller toys for a bit of warm-up and to take it a bit slow, but the smooth shape made insertion a breeze once he was relaxed. Although the curve didn't do anything spectacular in the way of prostate stimulation, thrusting was very enjoyable and easy. His overall feeling was that the experience was very intense and awesome, and his orgasm built up extremely quickly and powerfully. The immediate reaction when I talked to him after he used it for the first time was, "Is this my toy now? I'll pay you for it," which pretty much speaks for itself.
This product was provided free of charge to the reviewer. This review is in compliance with the FTC guidelines.

Thank you for viewing
Toy Five medium
– strap-on dildo review page!