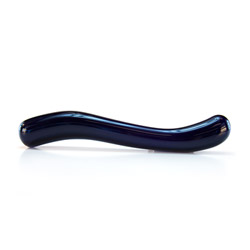 Pleasure wave glass wand
Glass G-spot dildo by EdenFantasys
A Wave of Pleasure
The Pleasure Wave Glass Wand is an ergonomic, aesthetically pleasing glass toy. Its size does not leave one wanting more, and it provides pleasurable g-spotting in use. Let's just say that it provides a "wave" of pleasure every time.
Published:
Pros:
Pleasurable shape, hits the right spots, made of sterile glass, great price.
Cons:
Can be cold if not warmed up.
While the shape of the Pleasure Wave Glass Wand is nothing new on the market, its curves and price point do not disappoint. Before getting into the specifics of the Pleasure Wave Glass Wand, I'll note that this toy is incredibly easy to travel with (I took it on a camping trip as well as to a hotel), and its curved design makes it very accommodating for any type of anatomy. It's very similar to the curve of nJoy's Fun Wand, though the Fun Wand is substantially larger (this is like the Fun Wand's little brother, except it is glass and doesn't have a beaded end, so I suppose that makes it more like its cousin).

The Pleasure Wave Glass Wand starts with a downward curve on one end and ends with an upward curve on the other, just like a wave. It is a deep, dark blue, almost as if emulating the depth of the ocean in its design. Forgetting the fact that it is a sex toy, the Pleasure Wave Glass Wand is a work of glass art. That being said, I wouldn't personally put it on my mantel as a display piece, though if I did, I'm sure it would be quite the conversation starter. It's more the type of art that is better appreciated when it's sliding in more pleasurable places.

Because of the shape, it can be moved very easily when using it on a partner vaginally or when using it on oneself. Each of its ends is an ever-so-slightly different size, meaning that you can work up to the larger end or ride the waves from the get-go. The curve of the Pleasure Wave Glass Wand is very much like a Japanese spoon, and this ergonomic design is quite g-spot friendly. The ends are both rounded off, making them softer on sensitive areas. My girl says that it makes her "come really fast."

Its size is very manageable at 8" in length, 1 1/8" at its largest diameter, and 7/8" at its smallest. The insertable portion, from either end, is about 5 3/4" long. For us, the Pleasure Wave Glass Wand was a satisfying size, but others may feel that it's too small. I doubt that it could be too big, but it gives a filling feeling if you enjoy toys that are within its size range.

Glass is an incredibly smooth material, making it slippery when wet. If you prefer more drag in your toys, then glass probably isn't the material for you; but if you like the sensation something sliding with ease, then glass is one of the best materials for that, next to steel and some plastics. Glass can be sanitized and used between partners, and I would say that it can be used between orifices after sanitation, but again, I don't recommend using it anally.

Glass can be a cold material, so make sure to warm it up before using it in sensitive places. Unless, of course, you want a bit of a chill.

No matter what lubricant is your favorite, you can use it with the Pleasure Wave Glass Wand. Oil-, water-, and silicone-based lubricants are all safe to use without damaging the toy in any way. Simply clean it after use with hot water and soap, or sanitize it by boiling it for three minutes or putting it in the dishwasher's top rack without soap.

The toy comes packaged in a red, velvet-like drawstring toy bag, with a small tag that only has its barcode on side. No instructions come with the Pleasure Wave Glass Wand, though it's pretty self-explanatory what it's for. Even without having padding in the box, the toy came perfectly intact and without any dings or marks.

We're both incredibly pleased with the Pleasure Wave Glass Wand because it's given my girl some hard orgasms. she says that she honestly had no negative comments regarding the toy; it's one of her favorites of my many toys because of its shape, texture, and size. We have fun using it for manual stimulation and it's also a great warm-up for us before PIV. Compared to other glass toys that sometimes are too textured or too pointy at the end, the Pleasure Wave Glass Wand is a perfect choice for a collection that needs a bit of the sea in it.
Experience
We've loved this toy and it actually sits on my nightstand constantly ever since we received it. It has given my girl some incredibly intense orgasms, though she says that it sometimes presses up a bit too painfully when I'm using it (harder materials are sometimes better used solo than on a partner because of things like this).
This product was provided free of charge to the reviewer. This review is in compliance with the FTC guidelines.

Thank you for viewing
Pleasure wave glass wand
– glass g-spot dildo review page!