Are you looking for a stinky dong???
I bought this dong simply to test out some girth play. It did that job well, but because of the material it is made from, the stinky nature of it, and lack of "finishing" around the veins, it is not something I'd feel comfortable in recommending.
Published:
Pros:
An ok and cheap introduction to girth play
Cons:
STINKY!!!! The veins can hurt
Made from rubber, and approximately 9inches insertable and a diameter of 1¾ inches, it was what started all the girth play I am keen on. He's ridiculously veiney with oodles of texture.


Pro's: I do like all the texture, I cannot feel every vein, but it is like when you take one of those plastic octopus' for a massage tool, you cannot feel each arm when it's moving, but it still feels ok enough! His thickness is a nice added touch, but for some reason the Raging Hard on does not feel as filling as Fun Factory's The Big Boss, or the Crystal Jellies Royal. Nor does it feel as good.


Con's: Even though all the veins add in some nice texture, you have to be careful. Some of the veins feel quite sharp, and it looks like it wasn't filed down or the ends (the finishing) were not removed at the factory. The material I have to say scares me a little as it is VERY porous. I can actually see what looks like finger print marks in the material of the toy. When I go to clean my Toy Box of rarely used toys, I pick him up and he looks like he has oil on him. This toy MUST be cleaned before using it and that just makes me more than a little weary of using it as it is a lint magnet and not just for lint. But for dust, hair, and every little piece of dirt that really was not there before. I would strongly suggest using this toy with a condom and as a gag gift only. If you toss your toys in together because someone just popped up unexpectedly, and you forget about them for a day, when you return, he might be stained. I know my Crystal Jellies Royal stained parts of the Raging Hard On pink. So be careful!!! Another con of this toy is HE REEKS!!! And he sucks in all the scents of other toys so he reeks even more.


Use: Vaginal. I'd not suggest anal at all as he's no flared base for added safety, and he'd become a living object with all the bacteria that he could grow.


Cleaning: Because made from rubber the Raging Hard On is extremely porous, it is suggested to extend his life, use a condom every time. But for a toy that is ten dollars? He'll last you for a little while.


Lube: Water, silicone play.

Packaging/Storage: He came in a cheap plastic container with the dong very visible through the display window. I store him in the bottom of the Toy Box for toys I rarely use. He looks like a cock that got Hulk-a-fied with all the veins. If you leave him out there is no question as to what his purpose is, and because he reeks so terribly bad, if you left him out, your air fresheners would not work. Store him in a sock so he doesn't leach colour from any of your other toys.


Level of play: Do you think it is possible to say no one? I think this toy would be ok for anyone who is interested in getting a toy that is a little girthier than the average 1 1/5 inches in circumference, but be aware, this is not a long lasting toy.

Would I recommend it? Nope. It is one toy that really just lives in the bottom of the Toy Box for rarely used toys. He is also the only flesh coloured toy I own. And probably the last flesh coloured toy I'll own.
Experience
My experience with the Raging Hard On has not been positive. There are so many better toys out there. BUT as I said, if you are keen to start increasing the girth of your toys and want to test out on something cheap before buying something of good quality, this is where I would suggest starting. A toy that is cheap, lower quality that you can just toss out after a few uses.
Because of his scent, the sharpness of his veins, I am only going to give him a one star rating.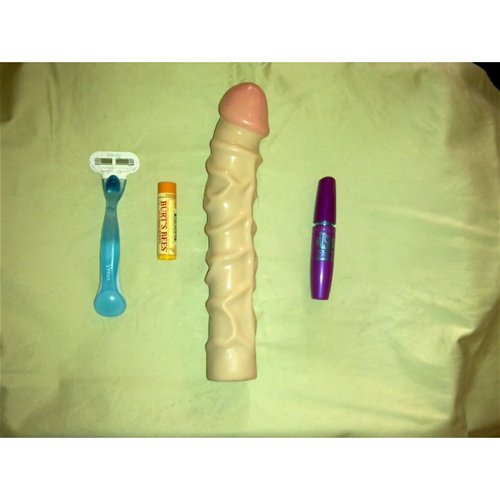 From left to right, Venus Razor with an original head, Burt's Bee's Lip Balm, Raging Hard On Dong, Maybeline's Falsies Mascara.
Follow-up commentary
1 day after original review
I had all my toys around me, trying to figure out which ones to write reviews on, cleaning them and putting them away. After careful thought and consideration, I sent the Raging Hard-On Dong to the landfill. It's not worth keeping him around when all he does is stink up my Toy Box and stink up my apartment each cleaning day. It's just not worth it keeping him around. There are other toys that are much more worry-free to play with.

After many months... adios stinky dong!!!
This content is the opinion of the submitting contributor and is not endorsed by EdenFantasys.com

Thank you for viewing
Raging hard-ons dong
– sex toy review page!