As They Say...It's Wonderful!
Savanna's spiral wrapped G-spot wonder..is ..well..wonderful as they claim. This toy is fantastic for temperature play, and the double ends give you two different forms of stimulation in one toy! You couldn't ask for a better toy, it hits the G-Spot wonderfully, and it's exceptional for anal play. It's worth every penny; I would buy it again in a heartbeat!
Published:
Pros:
Very Easy to Clean, Great for Anal, Two Different Ends, Hits G-Spot Great, Gorgeous, Durable
Cons:
Slight defects in spiral, Pouch not Padded.
The Savanna's Spiral Wrapped G-spot Wonder is really a wonderful toy. It has a large variety of uses, and it's one of my absolute favorites. It's hand made by Phallix Glass so each toy may differ slightly. Mine is a slightly lighter shade of blue and the spirals extend slightly farther down the shaft (I prefer mine over the one pictured). Keep in mind these are all hand made so there are a few imperfections in the spiraling such as small bubbles and slightly wobbly lines. However, none of these imperfections seem to effect sanitation.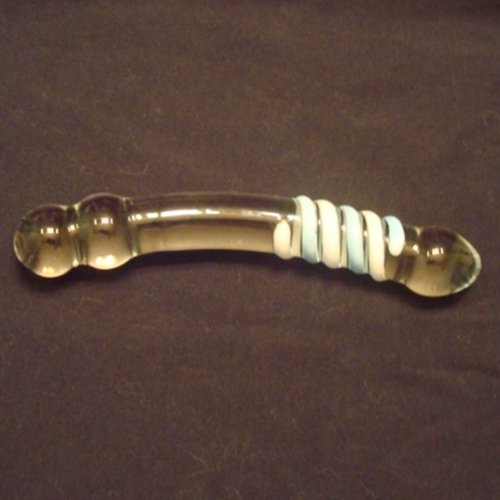 Use:
I just love the slight curve and spirals on this dildo! Both ends can be used to penetrate vaginally or anally depending on your mood. The spiraled end is slightly more curved for awesome G-spot stimulation while the bulbous end is a bit straighter which can make for a good handle as well as great penetration! The Pyrex glass also allows for extra smooth penetration so not much lube or moisture is require for easy penetration!
Material/Design:
Pyrex glass is less dense than normal glass so it is much more durable and able to withstand breaking or shattering. Instead of shattering or cracking, it is more likely to break into large chunks. I've dropped mine from a few feet onto a hard surface, and it still hasn't broken! Even though it's glass, you definitly don't have to worry about it breaking easily.
Temperature play can be fantastic as Pyrex glass can withstand temperature changes very well without causing any sort of damage to the dildo. I love putting this dildo in the freezer for awhile and letting my partner tease me with it! It will usually stay cold for a few minutes before adjusting to your natural body heat. Going back and forth between the icy cold dildo to your partners warm mouth can be a fantastic experience!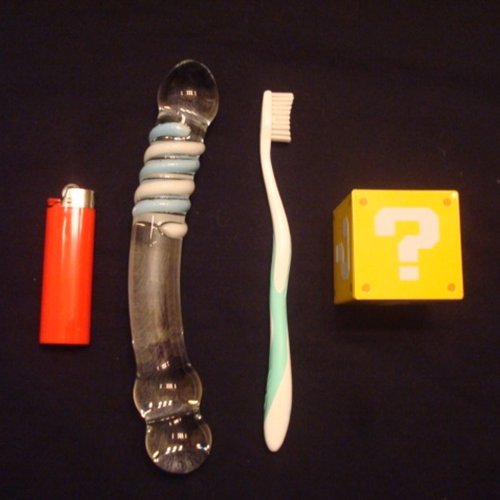 The entire length of the dildo is about 8" long from end to end. The majority of the shaft is 3 3/4" in Circumference, while the ends are larger. The spiraled end is about 3 1/2" long from the tip of the head to the last swirl. However, because these are each hand made, the exact measurements may differ slightly from each other. The bulbous end is about 2" from from the start of the first head to end of the last.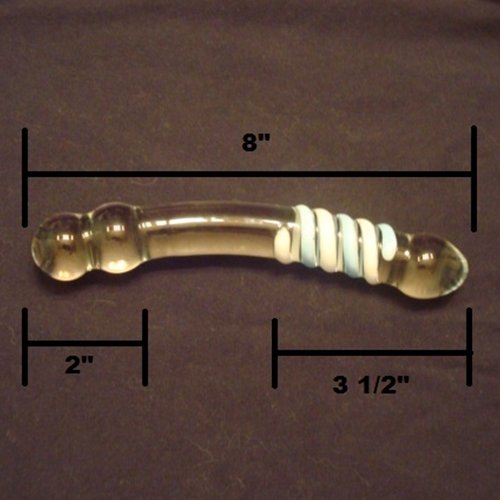 The spiraled end is made of 2 blue and white spirals. The spirals are raised approximately 1-2mm and last for about 2 3/4" down the shaft. The head of this end of the shaft is about 1 3/4" long and 4" in circumference. I found the texture of the swirls to be fantastic for both vaginal or anal use, or you can rub them along your clit for added stimulation as well. The texture isn't irritating for me in any way, and I doubt it would be too strong texturally for those sensitive to texture.
If you look closely, you can see a few imperfections in the spirals. The blue spiral is also slightly lighter than the one pictured.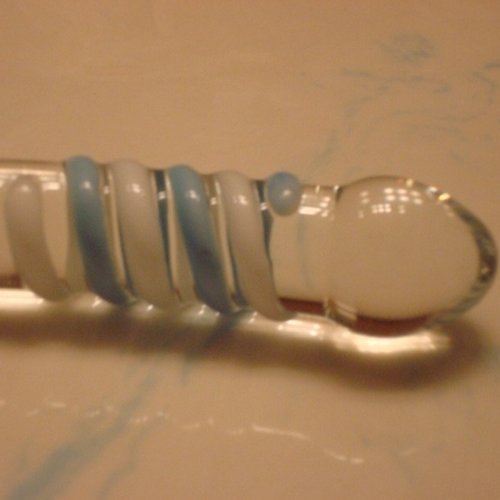 The bulbous end is made up of two smooth bulbs right next to each other. Each bulb is approximately 1" long and 4" in circumference. This end is much more filling as this dildo is relatively slim everywhere else. This end can also make for an easier to hold handle.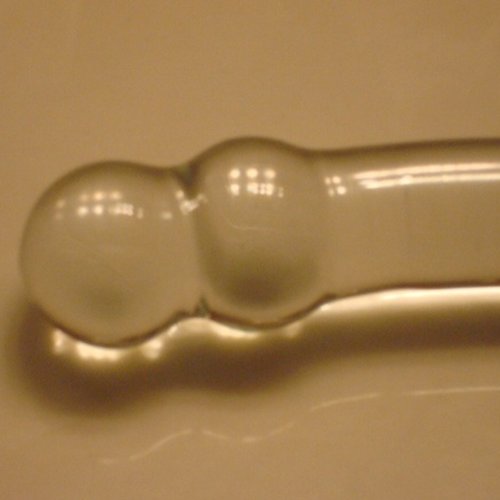 This isn't a great dildo for those who prefer more girth, but because this material is very hard I tend to prefer the slimmer size over one with more girth.
I tend to use the spiral end more vaginally as it has a better curve to hit my G-spot, and the texture is amazing! The bulbous end I tend to use more anally; however, everybody's different so this may differ for women with a shallow G-spot.
This dildo fit well in my hand as well! Even though it can get a little slippery during play, I usually don't have any issues holding onto it. The bulbous end makes a great handle that is much easier to hold on to when things get slippery!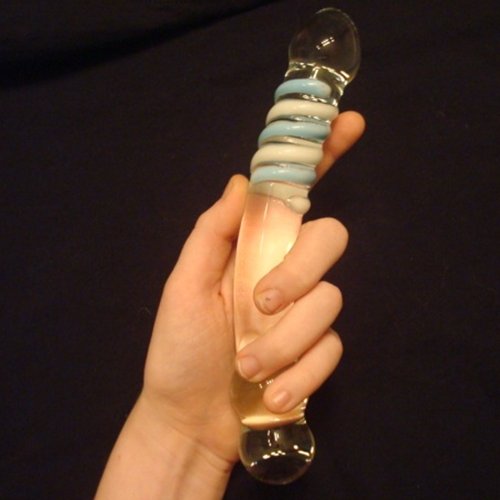 Experience
This was my first glass toy, and all I can say is WOW! I was so impressed by the shape, feel and its overall abilities! I really just love everything about it; even if it is a little on the pricey side, it's absolutely worth it! I doubt I'll ever have to buy it again because it's also pretty durable. I've dropped it from a few feet onto a hard surface multiple times, and it still hasn't broken, cracked, chipped or anything!

Care/Maintenance:

You could not find a toy with less maintenance! Cleaning is incredibly easy! Glass is smooth and nonporous so it can't house bacteria! You can clean this toy with antibacterial soap and warm water, toy cleaners, or toy wipes. If you wish to sterilize it between vaginal and anal use, or between partners you can safely boil it in water or soak in a 10% bleach solution. You can even put them in the dishwasher; it doesn't get much easier than that!

Be sure to avoid using any abrasive materials to prevent scratches in the glass. While cleaning or use be sure to check for any chips or scratches, or hazardous imperfections in the glass. Discontinue use right away if you happen to find any!

Packaging:

The packaging is nothing really worth mentioning. It comes in a large plastic case with the usual pictures of naked women. It also comes with a small instruction manual and a small light pink pouch with a drawstring, so the toy won't fall out. The pouch is made out of a soft velvety material; however, it is not padded so you may want to add some newspaper or something for added protection. I wasn't really a fan of the pouch it came with so I used one of my own.
Follow-up commentary
5 months after original review
I still absolutely love my Savanna. It has held up great over the months, it hasn't broken or gotten any scratches. It's a shame it was discontinued for the time being because I would love to buy another one just in case. Out of all my glass toys this one is my favorite by far!
This content is the opinion of the submitting contributor and is not endorsed by EdenFantasys.com

Thank you for viewing
Savanna's spiral wrapped G-spot wonder
– glass g-spot shaft review page!