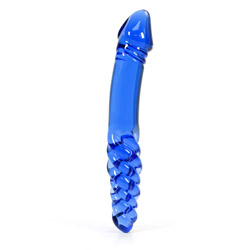 Love thunder
Glass double ended wand
by EdenFantasys
BBW -- Big Blue Wonder
Want girth and glass? You can have it with this dildo. It's both fantastic and realistic. The two ends make it versatile, offering unique sensations, but it comes with minimal packaging and lackluster storage, so you may want to invest in your own storage solution.
Published:
Pros:
Blue!, girthy, two different ends, G-spot stimulation
Cons:
Too large for some, just comes in storage pouch, thin pouch
The most disappointing part of this toy is definitely the packaging, so I'll start there. This is a bit hunk of glass that comes wrapped in a couple flimsy layers of bubble wrap, and that's all put into a velour bag. There's paper or other wrapper material around this in your EF box, but it didn't feel as secure to me as it could have. The manufacturer might be small or some outsourcing might be happening, but I'd rather spend more money for more a little reassurance.
However, it's quickly to forget that once you look at the toy. This double-ended dildo is big, beautiful and BLUE. There's no photoshopping going on in the product photos. It's as gorgeous in person as it is in pictures. It's vibrant and translucent. The blue is the same, even hue throughout the entire dildo, and it gleams in your hand.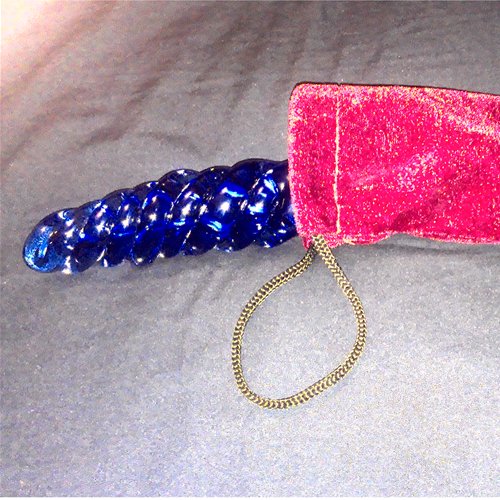 The color isn't the only thing you can't help but notice. With two usable ends, this is 8.5" long. The 1.5" diameter is middle-of-the-road when there's give, but the rigid glass means it just seems like a very large toy. The velvet storage pouch that comes with it doesn't seem to offer much protection, big enough to comfortably fit it, or pretty enough to use with this toy. I will probably swap out one of my EF storage bags, which are sadly no longer available on the site. Anyway, the toy feels hefty.
But it's slick as you would expect from glass, and the shape is unique. One end is mostly smooth and the same circumference the entire length except for a contoured head. The ridge around this head is the largest part with the 1.5" diameter. The rest of the toy is a little over 1-inch wide. While this isn't huge, I felt that the head made it feel much larger.
There's a few "wrinkles" beneath the head. They're inspired by reality but the rigidity of glass means this feels nothing at all like a real penis. The contoured head offers some G-spot stimulation and potential clitoral stimulation if you like the rounded glass feel. However, the shaft isn't really curved, and might seem a little bulky or awkward during solo use. I think this could be a good toy to use with a partner, though. Personally, the size and rigidity felt a little abrasive with me. It's good for G-spot stimulation, and the other end provides an excellent grip, but it was a little awkward for me.
The other end reminds me of wrapped taffy, with several strands that wrap "around" the shaft. The wrapped end gets a little thinner toward the end, with the widest part being the smooth part of the shaft toward the center. It almost looks like a rattlesnake tail. This is the slightly shorter end of the toy. The smooth glass on the other side takes up about 70% of the shaft, so there's less swirls. I didn't find this to interrupt play, however. I only needed to insert a few inches.
This end isn't intended to provide extreme G-spot stimulation, but it will provide unique sensations that you can't ignore. I can't always feel texture on toys, but glass is the exception. The spirals are much larger than the ridges you would normally find on glass dildos. I really enjoyed this externally. With a little lube, it was great to rub against my vulva. While I didn't expect it to do much internally, the texture was easy to feel and I was gushing within seconds.
Plus, this end is slightly more tapered, which makes it the easier end to start with. It grows to 1.25" from a diameter around 1/2". The rest of the shaft remains pretty consistent at a 1.25-inch diameter, save for the head. Of course, the firmness makes it feel larger.
It's January, so the glass was very cold after sitting in my nightstand. You can warm it with warm water or cool it during the summer. Glass is easy to clean with a wipe, which is one of the reasons that I love it. Just be sure to get in between all the ridges, and you're good to go. You can also boil, wipe with a bleach or alcohol solution or pop it in the top drawer of your dishwasher. Glass retains no smells, either. You could potentially use this for anal stimulation, but it's not compatible with a strapon and you must be careful to keep quite the grip on it.
Unlike soft materials, this one won't bleed or stick to other toys, but you should be careful not to drop it. Glass is strong, but might not be strong enough to deal with bathroom tile. I wouldn't use it in the shower for this reason.
This product was provided free of charge to the reviewer. This review is in compliance with the FTC guidelines.

Forum
| Discussion | Posts | Last Update |
| --- | --- | --- |
| feeling | 5 | |
Thank you for viewing
Love thunder
– glass double ended wand review page!