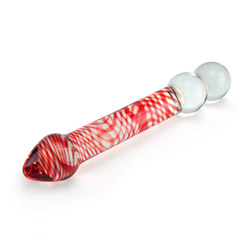 Candy swirls
Classic glass dildo
by EdenFantasys
Candy Cane Jane
This is certainly a pretty toy, and as a first toy it would be a great introduction to glass. It can be used for a variety of purposes, and by either gender. If you have a lot of basic glass toys already, or know you need texture or a curve to love a toy, this won't be your favorite. If you're figuring out what you like, want to try glass, or are looking for a basic glass toy that will give you lots of options, this one is a winner.
Published:
Pros
Quite Pretty
Versatile
Cons
Lacks a Curve and Texture
I own lots and lots of glass, but oddly enough, I don't have any with a white base. When I opened the package I was blown away by the visual impression the deep red swirls make on the crisp white of the Candy Swirls. True, the shape is fairly basic, but it's so pretty that I forgive it.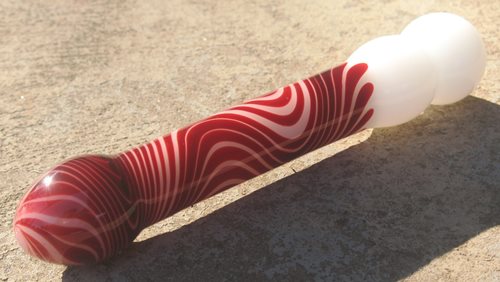 The total length of my particular toy is right around 7 1/8", but I expect some variation among glass toys. It's large enough to make it's presence known, and felt, but not so large as to scare anyone away from trying it. It's quite smooth all over, so lovers of texture won't get much here, but it's a great first glass toy. It would allow you to get used to the new, very firm, material, and will work for a wide range of users, while still providing a bit of variety in sensation.
There are two sides to the Candy Swirls. The first side has a bulbed head, with a maximum of 1 3/16", that narrows to a shaft. That shaft has a uniform diameter, which is right around 3/4". There is no curve to the Candy Swirls, so it's tricky but not impossible to G-spot with this. I can make it work for G-spot pressure, but you certainly feel the pressure of the bottom of the toy while you angle it that way and that takes away some of the joy of it. One great thing, there is no pronounced ridge at the base of the bulb, so while thrusting you don't catch on your pubic bone. With such a hard material, I'm glad to not have to worry about that while a partner is using the Candy Swirls on me. With all glass toys, communication is key, as thrusting too deeply or vigorously can bruise sensitive internal tissue.
Although primarily for vaginal use, this end could use used for anal play if done carefully. The stacked balls on the other end would act as a place to get a firm grip. I wouldn't rely on the other end as a base without also holding on.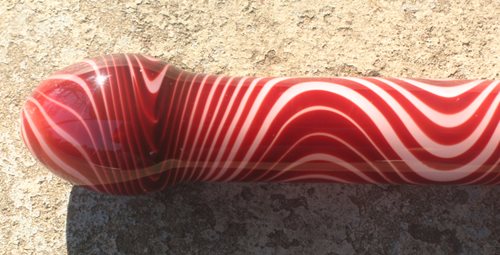 The other side of Candy Swirls consists of two white bulbs, which then narrow to a uniform shaft. The bulbs are nearly the same size. The first one is 1 3/16", and the second is a tad smaller at 1 1/8". This is only place I could see those who love texture getting what they want. Those two bulbs do give you a bit of variation while you thrust.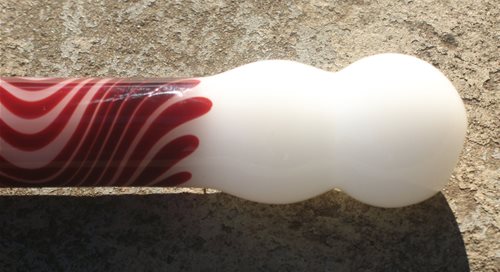 Candy Swirls is made of borosilicate glass, which is non-porous, hypoallergenic, non-toxic, latex-free and phthalate-free. It has no smell or taste. Borosilicate glass is better known as Pyrex, the bakeware and dishes popular in kitchens the world over. It is designed to break into large chunks instead of tiny slivers if it would happen to shatter. It's glass, so it has no bend or flex, but that rigidity allows you to get some amazing sensations and pinpoint pressure. You can use the Candy Swirls for temperature play, if that is something you enjoy. Simply place the toy in warm water or cold water for a minute or so, and it will hold that temperature for a bit. Be careful not to get the toy too hot or too cold, to avoid injury.
Cleaning Candy Swirls is simple. You can wash the toy with soap and water, or you can use your favorite toy cleaner. It can be sterilized by placing it in boiling water for three minutes, or washing it in your dishwasher. Because it is a glass toy, you can use any lube you like. It does not tend to collect lint or hair. You could share the Candy Swirls after cleaning, as it can be sterilized.
It comes packaged with the standard red pouch that is common with glass toys ordered from Eden. It provides a fair amount of protection, but I wouldn't throw it in a purse or overnight bag without wrapping it in some other cloth.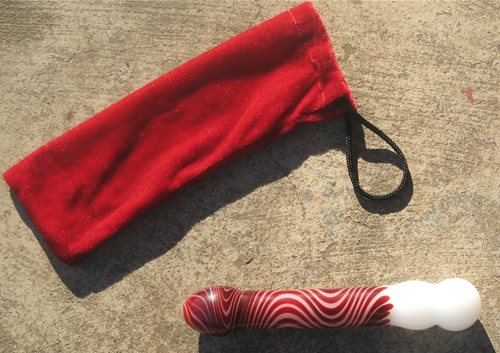 Experience
The Candy Swirls catches the eye. It could easily be used for some sort of theme night. It could be used for holiday play, either Christmas or Valentine's Day. It could be used by a sexy nurse or a "candy striper" for some fun medical role playing. Or, it could just be used on a Tuesday.
I always hold glass toys against my skin for a bit to warm them, usually against my thigh or behind my back. Although I like temperature play, if that's not what's on the menu that night, I like my toy pleasantly warm.

Overall, my experience with Candy Swirls was a positive one. When paired with a clitoral vibe, or my hand, It's a nice gentle thrust that I can really manipulate well to reach where I want it to reach. On the days when I don't crave texture, and something quick and comfortable is the best choice, this is a great toy to reach for. Each end provides a different sensation when used vaginally, but they aren't worlds away from each other. My overall impression is that this is a lovely toy that has quite a number of great ways to use it, but if you already have something similar I don't know that you need this one also. That being said, if you don't have something like this in your toy box, you can't go wrong with Candy Swirls.
Follow-up commentary
2 months after original review
This a great beginner glass toy, and the color scheme is too lovely to just reserve this as a holiday toy. It's eye catching, for sure!
This product was provided free of charge to the reviewer. This review is in compliance with the FTC guidelines.
Thank you for viewing
Candy swirls
– classic glass dildo review page!