Coco a-go-go!
Looking for a pure silicone, realistic dildo to use with your harness? Would you like the dildo to accommodate a bullet? Would you also like the dildo to be compatible with the Tantus suction cup system? Would you also like the dildo to work hands-on? Then your wishes are Coco's commands. Coco will fill all these needs and more. Hand-made by artists right here in the USA, in a variety of fun colors, Vamp Silicone offers you a "Coco of all trades" in this classic dildo!
Published:
Pros:
100% silicone, harness compatible, bullet compatible, mid-sized, made in the USA.
Cons:
Size may not work for all users.
Vamp Silicone is a woman-owned company based in Chicago, IL. Each dildo is handmade right here in the USA, and they pride themselves on using the best material (100% premium platinum-cured silicone) and on being a green company. Vamp considers each toy a unique work of art, so no two will ever be exactly alike. They have two different lines of dildos: Regular Skin and Softskin. This Vamp Silicone Coco dildo is labeled Regular Skin.
*Use
Vamp Silicone dildos are purposely designed for use in a harness. They have sturdy, wide bases, making them O-ring compatible. Safe for vaginal or anal penetration, Coco really is a dildo of all trades. As such, feel free to also use your Coco hands-on, if no harness is readily available.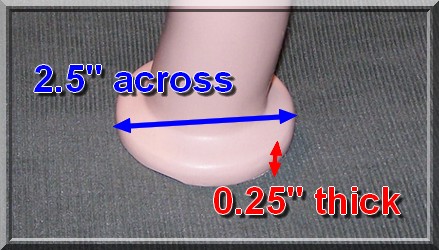 *Material/Texture
The silicone used in Vamp's Coco dildo has absolutely no odor or taste.
Silicone
gets a safety rating of 10 here at Eden, so you can feel safe using it. Vamp's Regular Skin silicone has a matte finish and is velvety smooth, if just a little tacky. Coco would do well to be rinsed before use.
It is completely smooth, except for a nice ridge around the head which gives Coco a lovely mushroom tip. The pronounced head definitely makes Coco fall into the realistic dildo category.
Anyone who appreciates a smooth, non-textured toy with some realism to it is likely to appreciate both the material and the texture of Coco.
*Design/Shape/Size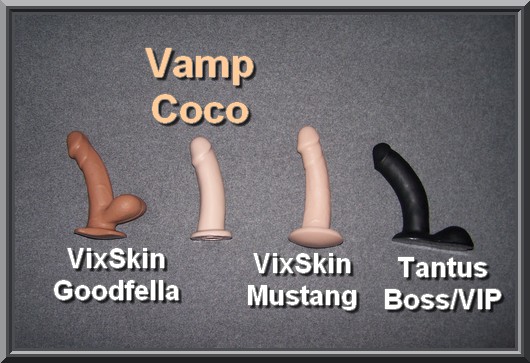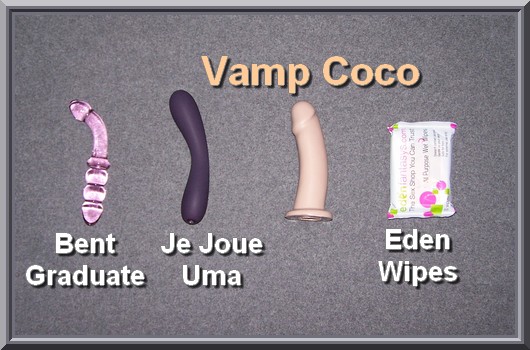 Coco is a small, compact dildo and will likely suit the needs of many "middle-of-the-road" users. Not too big, not too small, Coco may be your Goldilocks of dildos!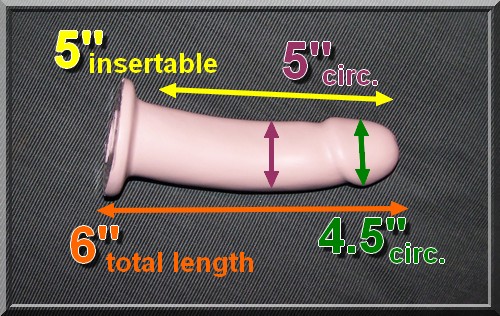 With its slight curve, Coco will do a fine job of stimulating the G-spot vaginally, along with the P-spot for male-bodied recipients. Love a good mid-sized dildo? You'll probably enjoy using Coco.
The Regular Skin silicone is also fairly firm. Not quite as hard as Tantus's silicone, but not nearly as squishy as VixSkin, it will likely appeal to many users. Those who enjoy a firm toy with very little give will find Coco suits them perfectly.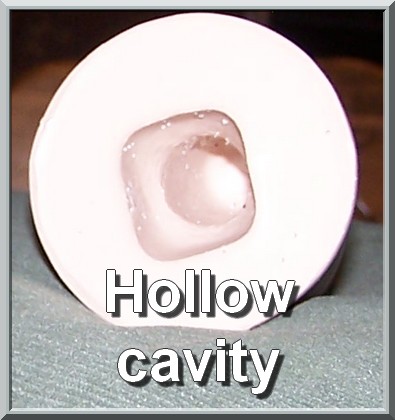 A notable feature on Coco is the hollow cavity in its base. Measuring 2" deep and 0.5" wide, you can slide your favorite bullet in to create a vibrator. It's also compatible with the Tantus suction cup, opening up a whole new world of possibilities for the user!
Vamp Silicone Regular Skin dildos come in a wide variety of colors, though I'm not sure why Red Glitter is listed twice… maybe it's twice as nice?

1. Red Glitter
2. Purple/Silver Marble
3. Silver
4. Blue/White Marble
5. White Wedding
6. Red/White Marble
7. Black/Silver Marble
8. Black Pearl
9. Silver Glitter
10. Ruby Red
11. Red Glitter (aka The Color So Nice They Named It Twice!)
You'll notice after looking at the pictures of my Coco that it is a flesh tone, and that flesh tone isn't on the color list.
*Care & Maintenance
Coco will thrive on a bare minimum of care. For everyday cleaning, use warm water and your favorite soap or toy cleaner. For a deeper cleaning or to sanitize Coco, Vamp instructs users to dip the dildo into boiling water for 1-2 minutes or cycle it through the dishwasher. A general rule of thumb with silicone is that it can also be sanitized in a 10% bleach solution. If you choose to cycle it through the dishwasher, you will need to set the dishwasher to the "sanitize" cycle in order to sanitize the toy.
Silicone toys are compatible with both water- and oil-based lubricants. Pure silicone is an inert material, and that means it can be stored safely right alongside other inert materials such as other 100% pure silicone toys, or toys made of glass, ceramic, metal, wood, etc. It cannot safely be stored alongside compound materials such as rubber, jelly, TPR, TPE, etc.
*Packaging
Coco arrives in a hard, clear plastic cylindrical canister that is ideal for storage. The lid removes very easily. While not exactly discreet, the packaging seems to be good quality and definitely worthy of gift-giving.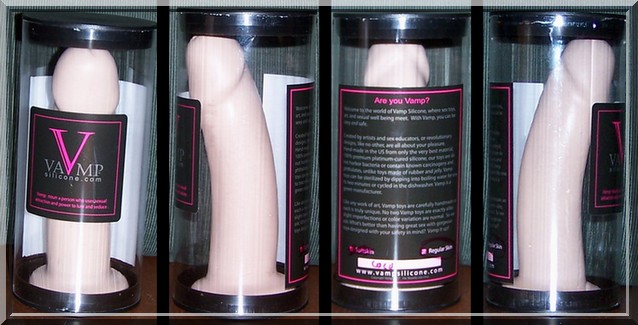 Experience
Coco is a very nice, very high-quality dildo. There is really nothing negative to say about its design or craftsmanship. I even really like the storage tube it comes packaged in. It's so easy to open and close! I also like the fact that you can give Coco a little soak in warm water before use and enjoy a little temperature play that way.

The only issues I had with Coco are issues of personal taste. First, let me say that my favorite dildo currently is the VixSkin Goodfella. VixSkin is a dual density silicone, with a firm silione core and a plush, squishy outer layer of silicone. It feels pretty realistic, and the squishy outer layer makes it super comfortable during use. Users may find that with VixSkin toys, it is easier to use a larger than normal girth toy because of the yielding nature of the silicone. Vamp's Coco is not very squishy or yielding; it is pretty hard and firm. Because of that, it feels bigger than it actually is when inserted. It actually felt more like a 1.75" diameter toy. So be aware of that - if you prefer thinner toys, you may want to look elsewhere. You may also need to use a little extra lube with it, if you aren't used to toys of this girth and firmness.

My only other issue with Coco is that it is really hard to hold onto during manual use. There is no real handle, so thrusting it by hand presents a bit of a challenge. The best way I found to hold it is to insert a finger into the open cavity in the bottom, and then hold onto the wide base with the rest of my hand. I found that a bit awkward, and pretty tiring to my arm and hand over time. While Coco can be used by hand, it seems that it really will work better in an O-ring harness. It doesn't need a handle to be wielded by someone wearing it!
This product was provided free of charge to the reviewer. This review is in compliance with the FTC guidelines.

Thank you for viewing
Coco
review page!