Curiosity sated
For those looking for a realistic experience without the need to wine and dine, the Ultra Realistic Cock and Ass may just be for you. An average size cock complete with veins and balls, a tight anus and large base all come together in one rather large package.
Published:
Pros:
Great detailing, Heavy base for hands free use.
Cons:
Cock could be firmer, Coloring fades, No texture in anal canal.
To be perfectly honest with y'all, the Ultra Realistic Cock and Ass (URCA) is not something I thought I would ever buy. I have had it on my wish list for some time though, I wanted it mainly to use as a prop for video's and workshops. For toys like cock rings and prostate massagers, I figured it would be a great aid to have. Although, once it was in front of me it was not long before I had to give it a try. I have always wondered what it would feel like to get a real penis in my ass, but I have no desire to actually have a guy do it. So what better way to find out than with the URCA? Fantasy fulfilled!
So, what do you get for the rather large chunk of change? Well, a rather large chunk of
Supersoft
molded to look like a cock, anus and part of the buttocks and legs. When I say large, I'm talking about SEVEN AND A HALF pounds of material! This comes in handy, it does not move even during heavy use, it will tire your arms if you try and hold it though. When you pick up the box from EF be prepared, it comes as a shock the first time you pick it up. Over all, the base measures 10" X 10" and is 4" thick at the thickest point. By far the biggest toy in my closet. And one of the smelliest, while it does not say it, I am sure that Sil-A-Gel is added to it or something similar. Even after having it for three weeks the smell is still there.
Let's start with the cock, shall we? From tip to balls you get 6 1/2" of insertable cock with another 2" of balls. The cock is 5 1/2" in circumference at the base with the head measuring about 4 1/2" circumference. The head is painted pink and the shaft has raised veins painted blue. The balls have wrinkles and are in a "Sucked up" position. The detailing is rather nice, there is even little folds of skin under the Glans. It has an upward curve (Towards the body) and it also curves to the right. There is a firmer core inside the Supersoft to give it a "Hard" feel. Frankly, based on my real cock, the core should be a LOT firmer. I did not have too much problems inserting it though, so it does work.
Next up we head down past the balls and follow the
Perineal Raphe
to the anus. Here we find the same great detailing. The entrance is 1/4" wide, this opens up to 1/2" or so. The passage is 7" long and exits out the top/front of the base. Other than a nub (I think this is where the core of the cock was held during the molding process) there is no texture to it. Due to the material it is not overly tight and did little for me during use.
As you can imagine, the packaging is bigger than the toy. It is designed to hang from a hook and is of the clam shell variety. Inside you get a care/instruction booklet, a small bottle of Doc Johnson water based lube along with a squeeze bottle of
powdered lubricant.
I am going to say the powdered lubricant is for dusting the Supersoft. While I did not try it on the URCA, I did use some on a Fleshlight with good results. That is, it worked like cornstarch and kept it from being sticky.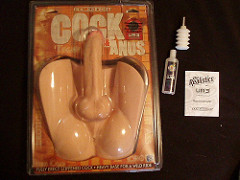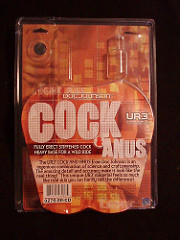 For cleaning, use an anti-bacterial soap and warm water before and after use. Since the material is porous a condom should be use if sharing. Water based lube only with the URCA as other bases can cause damage.
For storage I recommend keeping the original packaging as it works about the best to keep is clean. This also allows you to toss it anywhere it will fit, without worrying about it contacting other materials. Keep in a cool, dark place.
Experience
I was hoping the wife would give it a ride so I could give y'all a woman's view point on it but, sadly, she would not. Seems that a portion of a man's body is a little freaky for her.

I found the cock to be a good size and the texture was noticeable even through a condom. It does take two hands to get it started but after that it is hands free; just don't let it come out to far. The best way to use it is to ride it in the cowboy/girl position. It also worked OK in a spooning position where I was on my back with it under my butt. While it was stimulating to my anus, it did nothing for the prostate. This leads me to think it may not good for G-spot stimulation either, I could be wrong though.

A smooth texture does nothing for me, so the anus will not get much use from me. Just a plug or P-spot massager every now and then.

In conclusion, I have my prop for picture, video's and work shops. If the cock was a bit firmer or the anus had some texture, it would get more use (And a five star rating). I will suggest it to the wife every now and then to see if she bites; it would be great for some threesome type play.
This product was provided free of charge to the reviewer. This review is in compliance with the FTC guidelines.

Thank you for viewing
Ultra realistic cock with ass
– realistic dildo review page!