Functionality has never been more beautiful.
This guy is pretty expensive, but worth the price for the detailed design and sheer loveliness of it. This probably wouldn't be the best option for someone sensitive in the negative respect to bumps and lumps on toys or someone who requires pinpoint g-spot stimulation. But for me and ladies who enjoy temperature play and extra bumps on their g-spot toys, this is just the ticket.
Published:
Pros:
Easy to clean, Perfect angle, Pleasing to the eye, Upraised bumps for extra sensation, Cute pouch
Cons:
Side bumps look a bit awkward, Stickers hard to get off.
Basic Toy Overview
The G-spot Wonder from Phallix is a lovely toy that is as pleasing to the eye as it is to the vagina. The uses of this toy are fairly vast. While it's main intended use is to be a g-spot dildo (which it does well), the upraised bumps on the inside of the curve can also be quite pleasing when rubbing against the clitoris. The two balls of the opposing end are also awesome for this purpose. One of my favorite uses is temperature play. Glass can maintain pretty extreme temperatures which can vary sensation in the bedroom, on any erogenous zone on your body (nipples, clitoris, penis head, etc). Due to the two balls at the end opposing the head's size, I believe this toy could even be used safely anally. I recommend highly against inserting even the first of the balls and even more highly recommend against sitting on the toy.
Material, Cleaning, and Lubes
Since the G-Spot Wonder is made of glass, it is an extremely safe toy, and even has a safety ranking of 10 on the Eden safety scale. This toy is latex free, hypo-allergenic, phthalates free, and completely non-porous. If you have a sensitive vagina, pyrex glass is sensitive to your needs! This toy is exceptionally easy to clean, all it requires is warm water and antibacterial soap! You can also use the 90% water 10% bleach solution or your favorite toy cleaner. Another perk to a glass toy is that it is safe to use any kind of lubricant on. Oil, water, and silicone based lubes are all totally safe to use. The only precaution I recommend is using a condom when sharing with a partner, just to be on the safe side.
But how does it feel?
The feel of this toy is utterly smooth, with no texture at all, save the 7 little lumps on this toy. There are 5 on the inside of the curve starting just below the head of the toy and coming down to a little over midway on the shaft. There is also one lump on each side just below the head of the toy. While when using the bumps on the inside of the curve can be felt grazing your g-spot, the two on the side do not, and are, in my opinion, quite useless. This toy is 7' long in total, and has a diameter of 1 1/2" without the bumps.
Curve Facing Us: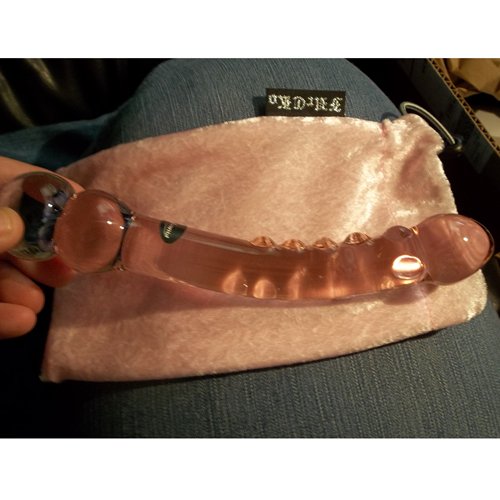 Curve Facing Away: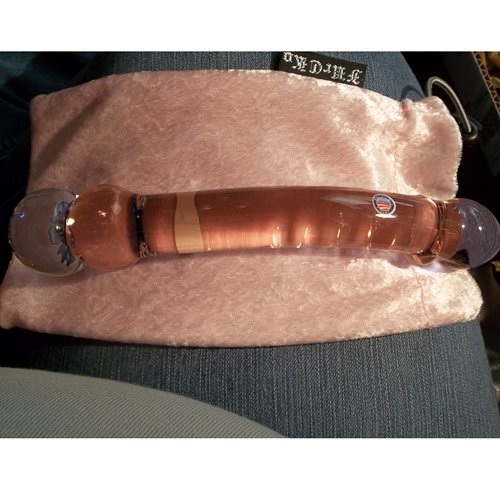 Close-up of Bumps/Lumps: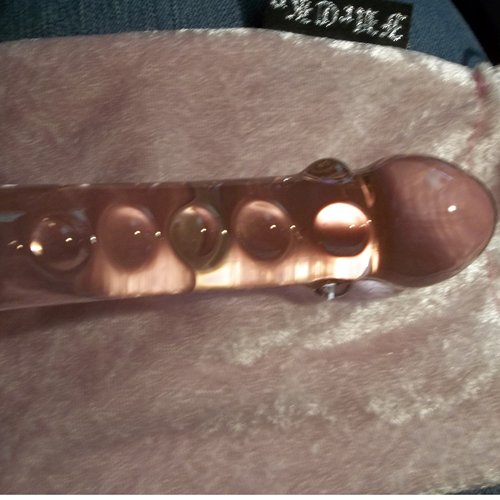 How does the packaging look?
G-Spot Wonder's packaging is not in the least discreet. It comes to you in a long plastic container holding your toy, a pink plush pouch(similar, but a bit thicker than the red ones that come with most glass toys on Eden), and a booklet with a naked lady on the cover and many other expensive toys made by Phallix. While the bag it comes with is a perfect fit for the toy, it is not very thick and will not protect the toy from clanging against other glass toys and possibly cracking your toy. I recommend storing separately, with softer toys, or in a thicker pouch.
Front view of the Packaging: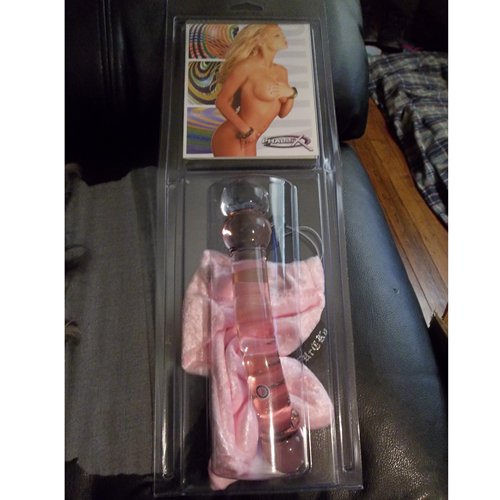 Rear View of the Packaging: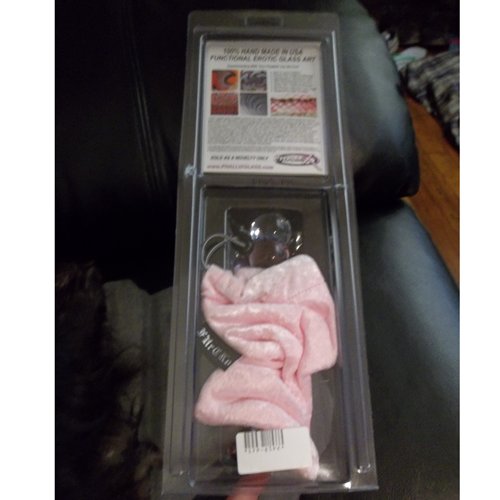 Close-up of the Rear View: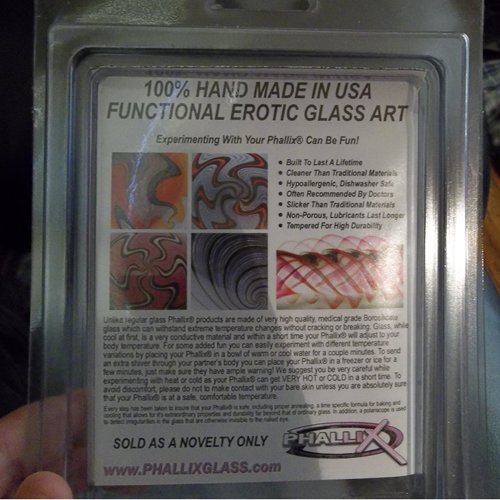 Random Stickers?
When this toy first comes to you, it has two stickers on the toy itself---one stating the name brand "Phallix" and another smaller one stating "America's Best" with an imager very similar to Obama's campaign image from 2008. After removing these, you will have a bit of sticker gunk left on the toy (gross right?), this is fairly easy to get off by using rubbing alcohol on a cotton ball.
"America's best" sticker, I know it cannot be read---it was too small, but I did want to show the similarity of the image of the '08 Obama logo.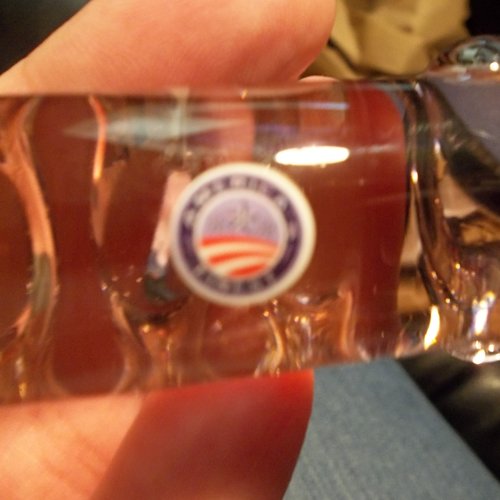 Phallix Sticker: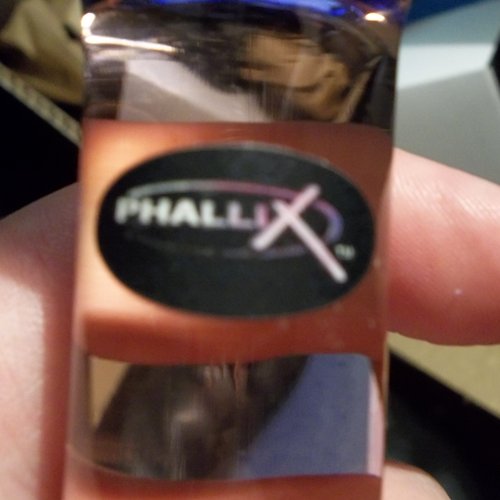 Experience
When I first saw this toy, I was smitten by it. I am a lover of glass and bumps and lumps on toys, so it seemed like a great choice. I have yet to find a glass toy I disliked and already own a few so I knew I would be pleased with the texture and feeling, but I sincerely wanted this toy for its beauty. I loved that it was a simple, solid colored toy with a bit of character near the head and just a flare of elegance at the base in the bottom ball. Inside the ball is a lovely orange flower in the pictures on Eden, and the clear pink is well set off by this by being enclosed in a singular clear ball. Mine came with an even more lovely blue, white, and green flower inside. I personally had not tried anything from Phallix before, but after being so pleasantly pleased, I would definitely buy something else from them.
Personally, I have always been a girth kind of girl and always looked for the "full" sensation. This toy did not give me that, but did give me a few awesome g-spot orgasms. I personally could see this being great for a beginner due to the lack of intimidation about its look, as well as the relatively small size. This toy has an excellent curve for g-spotting, or at least it did for my body, and I could see this being a helpful tool for a girl seeking her internal bliss button.
The image on the Eden product page shows the dildo as having a mostly orange flower on the end, which can be viewed through the last ball. Mine however, came with a blue flower inside.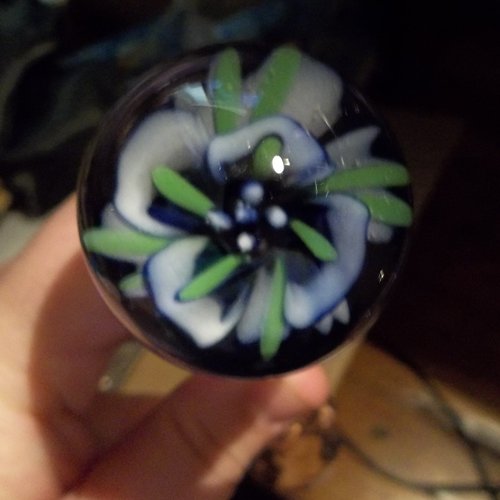 When I initailly saw the orange flower on the website, I loved it, but when I saw the blue flower that it came with, I was IN love. I actually prefer it with the blue flower, go figure.
I see this toy being a good friend of mine for quite sometime. I would recommend this toy to anyone, from beginners to g-spot veterans.
Follow-up commentary
3 months after original review
I am still pretty in love with this beautiful toy. This is the most lovely glass dildo in my collection, in my opinion. I think the flower in the bulb at the end really gives this toy character.

As for use, it is as awesome as any other glass dildo. I feel that the bumps along the shaft really do add to the G-spot stimulation. If you are looking to explore the possibilities of your G-spot, this glass dildo is an awesome option for you.
This product was provided free of charge to the reviewer. This review is in compliance with the FTC guidelines.

Thank you for viewing
G-spot wonder with flower
– glass g-spot shaft review page!