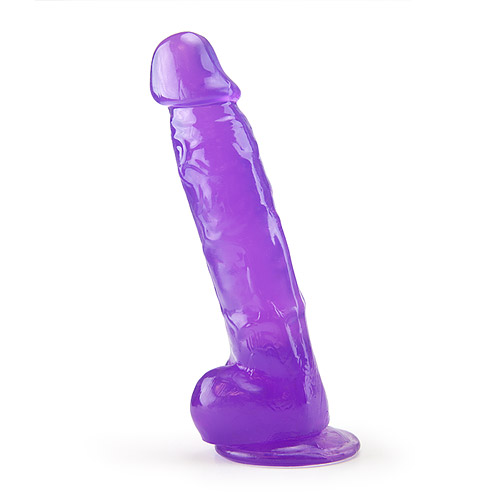 Gentle giant 9.8"
Oversized realistic dildo with balls
by EdenFantasys
Gentle for your pleasure
The Gentle Giant does the job eventually. I t works best for experienced users & with other toys added to the mix. This toy is very soft & flexible allowing it to bend into place gently for a softer thrill. If you are newer at using larger toys for experienced users than this is a good option for you.
Published:
Pros
Soft
flexible
Easily cleaned
Cons
may not be for beginners
may be too soft for some
I took a really long time to review this toy, "Champion" and the "Gentle Giant". I'll be honest, I wasn't entirely thrilled with the idea of another boring old dildo at first. When I got them, I was thinking I really wanted one that vibrated as well. I was actually impressed by how well they did the job without all the thrills that I thought I wanted. So, with 2 perfectly good brand new dildos to try, I figured I would try them both out & compare them as best I could to see which one I preferred.
I received both toys in a plain shipping box. When I opened the box, both were in a plastic cover to keep them clean. The did have a slight smell, but that was more from the box sitting in the AZ sun for a little while than the toy. They didn't melt or deform, which is amazing in Arizona. It smelled of hot plastic, but a few minutes in the A/C they cooled down & there hasn't been a smell since.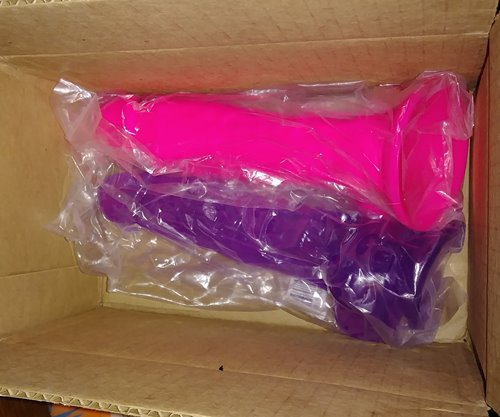 The first thing about the toys itself that I noticed was their bright colors,
The Champion
being bright pink color in color and The Gentle Giant being purple. I was just sure that the pink was bright enough to be seen in the dark even, but I was being a little dramatic it seems. While it is bright, it doesn't glow or anything. In fact, the bright pink color helps to find it in my toy box when the lights are low, and the hubby & I are enjoying a little bedroom fun time. The Gentle Giant, I have a harder time locating in the low light because it blends with all the other dark toys in my box. I almost always grab the Champion just because it is easier to see...and It's my favorite, but more on that later.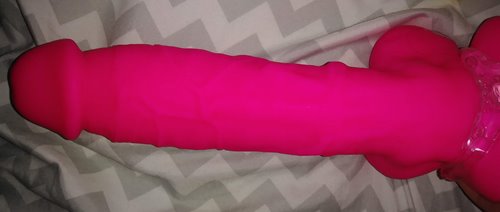 Next, I noticed the texture of the two dildos. The Champion has a rather hard/firm shaft made out of what feels like hard silicone. I honestly thought "Omg, it feels like a piece of stiff concrete. I doubt I'll enjoy it." The Gentle Giant is much softer & flimsier being made out of TPR. As it turns out, the firmness of the Champion isn't all that bad after all, in fact, it is a huge benefit in my opinion. It makes it much easier to insert & maneuver as it gives it some real structure. Whereas, The Gentle Giant tends to bend & move anywhere but where you are trying to put it. *Be sure to use lube with both! The Champion has a hard veiny, realistic texture. The Gentle Giant also has veins that are less pronounced.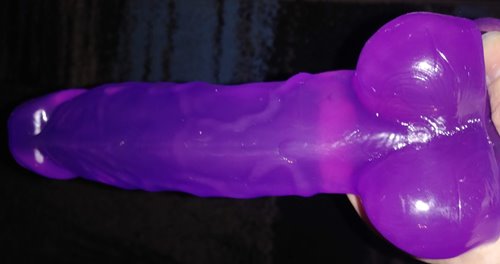 The suction cup on both are strong & will hold nicely to any smooth surface. Mirrors work great I discovered! If there is any flaw or texture on the surface, the suction cup doesn't hold as well. I personally find trying to use it while suction cupped to something is more awkward & more difficult than simply holding it.
When my hubby joins in the playtime, he can help thrust it in & out as slowly or quickly as desired. We discovered that while manipulating it alone was fun, especially from his viewpoint, his helping to thrust it in & out of me like a real penis would is a guaranteed 'BIG O' in no time at all. This, of course, worked best with the Champion. The Gentle Giant was a little less stimulating, so it took me longer to work up to it. I found I prefer the Gentle Giant if there will be more than 1 toy added to the mix because it is softer and more flexible. Whereas, The Champion stays firm & I ended up getting pinched in places that I didn't know could get pinched. So choose carefully when picking your play toys!
Both are very easy to clean up when your energy is spent & it's not needed anymore. I simply spray it with my never-ending supply of Edens toy cleaner & let it sit for a few minutes while I finish cleaning up. Then after a few minutes, I take a baby wipe or wet towel and wipe it down. The wipe probably isn't necessary, but I'm sensitive to many ingredients & so it just makes me feel better. Plus it helps to make sure that all the little crevices created by the vein texture on the Champion & under the realistic tips of both are good & clean. It's very easy to miss something hiding in these areas only to realize when you pull it out to use it next time & discover you need to clean it again.
Experience
The Gentle Giant, while not my favorite does well enough when needed. Not having any batteries to worry about changing or charging makes for less worry during your play time. There is nothing worse than having a toy crap out from dead batteries mid climax right!?!
The Gentle Giant is on the larger size which can be too much for some beginners. It is flexible & soft however which allows it to bend and move very easily. This also means it isn't the most travel friendly & may be too large for some toy hiding places when not in use.
I found this toy to be more difficult to use due to it's soft, flexible, jelly like material (TPR) that seems to droop & bend more than stand erect. When inserting it tends to bend around like a snake making inserting more difficult most of the time. When inserted the veins on the surface are barely noticeable. I found that trying to thrust it in & out is not a good option as it doesn't hold erect enough & moves around too easily for my taste. This however, might work better for someone who needs a softer feeling dildo. I did find that it does work well if you insert it & leave it while using other toys in the other erotic areas.
If you are very sensitive then this dildo is the one you need. If you need more stimulation then go with it's counter part 'The Champion'
This product was provided free of charge to the reviewer. This review is in compliance with the FTC guidelines.
Thank you for viewing
Gentle giant 9.8"
– oversized realistic dildo with balls review page!