Get Hot With Mr. Goldenrod
A beautifully rendered glass creation by Phallix. This time with orange racing flames! Sure to rev you up! Great for thrusting and G-Spot stimulation as well as temperature play. Recommended for those who like a smaller, slightly textured glass dildo. A disappointment of sorts to me, but may be more suitable for someone else. Mr. Goldenrod won't be seeing much action from me sadly.
Published:
Pros:
Pretty Racing Flames
High Quality Glass
Temperature Play
Cons:
Gold infusion seems cheaply painted on top
Expensive and seems cheap to me
Disappointing
Mr. Goldenrod by Phallix is a beautiful glass dildo meant for vaginal G-Spot stimulation. This dildo could be used for both couples play and solo play. Temperature play is now an essential for me! The V lines on the head feel wonderful on the clitoris to get you heated up. I love to do Kegel exercises with my glass toys as well. It does have a small base of 1" past the shaft, but I don't recommend this for anal use as that base is just too small.
The whole toy in general seems to be too small compared to the pictures on site. Maybe it's just that I'm used to bigger shafts with more texture.
It is supposedly "gold fumed" but does not have that classy "gold fumed" look I am used to seeing in Phallix toys. The coloring seems to be more painted on the surface rather than infused deeply into the glass. It is more of an orange color, which is cool and in keeping with the whole "flame" scenario.
Showing the painted on look

The head of Mr. Goldenrod is bulbous shaped with 2 deeply etched lines in a V shape on one side that are felt on the G-Spot and clitoris if rubbed with that side of the head. If you don't like that, the other side of the head is smooth. Other textures on the head include a penis hole at the tip which is deeply indented but not felt during insertion. I found the head had no taper to it and was hard to insert. The head is slightly tilted atop a very slightly curved shaft.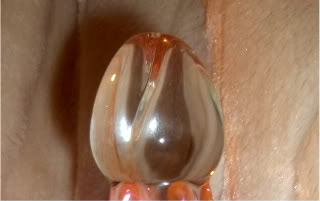 The shaft has 3 sets of pinkish/orange flames rising from the top of the base to the bottom of the head. The flames are slightly raised and add a nice non-intimidating texture to the dildo. They can be felt during insertion, but not in an intrusive way. Feels very nice. Besides being slightly textured, the glass is sleek and slick.


The total length of the dildo is 6 1/2", the 1/2" thickness of the base will cut you off at 6" insertable. The base is nice to hold onto while thrusting.
The head is the largest portion of the dildo at 4 1/2" circumference and 1 1/4" diameter. The head gives a nice pop to the experience since it's bigger than the shaft. The shaft is 3 1/2" in circumference and 1" in diameter.
As far as sizing and texture goes; anyone could use this toy and really enjoy it. Beginners will enjoy the slight texture and modest sizing. I think most advanced users would like a bit more girth to their dildo, but it is pretty for a collector like myself as well. The base holds the dildo up nicely for display. The novelty of the racing stripes is bold and exciting.
Hangin' with the Gold Ribbed Love wand and Gold Fumed Rocky Road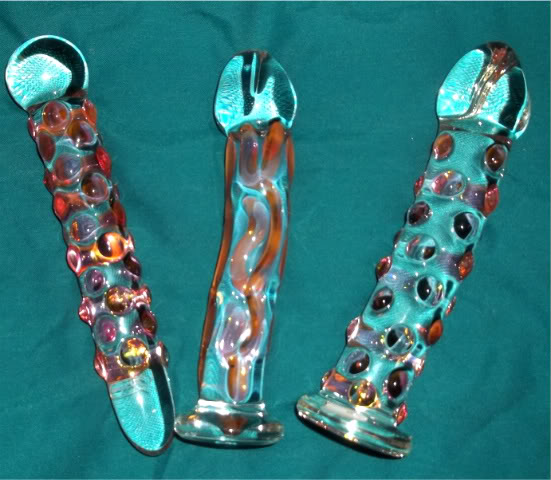 Made with the finest medical grade borosilicate glass, which can withstand extreme temperature changes without damage is great for experimenting in temperature play. For cold play, set the dildo in ice for a few moments; for warm play, set into hot water for a few moments. This glass is very conductive to temperatures and will be at your desired temperature very fast. Please, make sure not to expose the sensitive tissues and membranes of your vagina to unsafe temperatures. A little hot or cold goes a long way.
Being made of borosilicate glass also makes the glass almost indestructible. It would take brute force to break it and it will definitely not break inside you. If it ever does break, it will be in larger chunks, not shattered pieces like regular glass. To be absolutely safe, I always inspect my glass toys before insertion to be sure they are still intact. Never had a breakage yet!
You may use any type of lube you like, so use your favorite. You won't have to use very much, as glass doesn't soak any lube up like some other materials. It's all for you!
Borosilicate glass is phthalates and latex free, non-porous and hypo-allergenic. One of the best and safest sex toy materials around.
Always remember, glass is a very hard unyielding material; get to know the dimensions of both your body and the toy so you won't bruise yourself while using. If using with a partner, be sure the partner is aware and thrusts accordingly.
Experience
I can't with all honesty say I really enjoyed using Mr. Goldenrod. I want to blame it on slim girth and lack of prominent texture, but that's not the total of it because I have other slim toys that are entirely smooth and I enjoy them. The texture was actually pretty nice. I know I don't like the head, but could that make my dissatisfaction in the whole toy?
I know I was disappointed at first sight with the cheaply painted on flame look and cheap packaging. There's more, but I can't quite put my finger on it. As expensive as Mr. Goldenrod is...he's just not worth it to me. Someone out there may enjoy him, but I won't be using him. He's strictly for display sadly.
Mr. Goldenrod was packaged in a cheap, clear plastic container with a booklet and a cheap satin pouch. If you prefer a padded pouch you must purchase it separately.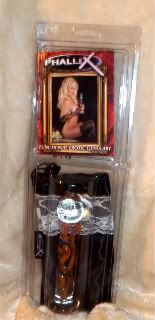 This seems outrageous to me, that Phallix will not provide a padded bag with their quite expensive toys. That they chose to present their beautiful toys in cheap plastic instead of a nicely padded bag. Someone over there in marketing needs to change this back to the way they used to package their toys; simply and with quality...in a padded bag!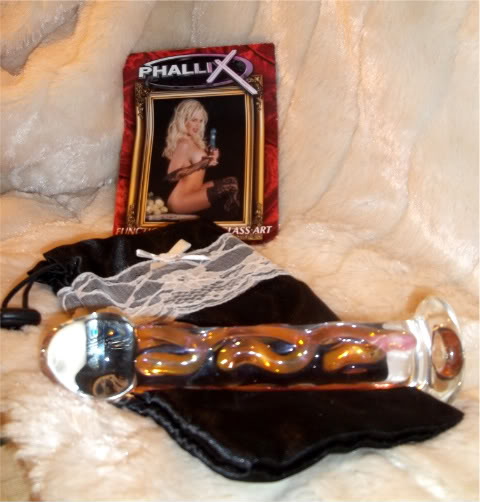 Follow-up commentary
3 months after original review
Mr. Goldenrod has not seen much action from me. He has been permanently placed on display with some other glass toys and is dusted off every once in a while. Definitely not worth his price tag, but worthy of display if you have already bought him. A disappointment for sure.
This content is the opinion of the submitting contributor and is not endorsed by EdenFantasys.com

Thank you for viewing
Mr. Goldenrod
– glass g-spot shaft review page!