Glitter In The Air
XHale has truly outdone themselves. This dildo has everything in it that a glass dildo should. It is thin enough to be non threatening to beginners, and it has multiple features that should keep any advanced user satisfied (except for maybe size queens/kings). The quality is simply breathtaking, and it is worth every darn penny. I have never been a fan of gold, but after this experience I could definitely go for some more. I give this dildo a Gold Medal in the Dildo Olympics!
Published:
Pros:
Gorgeous colors & design, Perfect for beginners to glass, Two different heads, Texture, Padded pouch
Cons:
For me-none
For others-Not enough curve for G-spot stimulation, Too thin
I just can't seem to get enough glass lately! Since a lot of people know that glass is indeed my favorite material, this should not surprise anyone. When it came time to choose my next assignment, I immediately wanted another glass piece to add to my ever growing collection. I have glass toys from SSA Glass, Don Wands, Joyful Pleasures, Phallix, Luxotiq, and most recently Pipedream. I had something from everyone...at least that is what I thought. I unknowingly had left out one of the best. I had never tried a glass piece from XHale Glass! Just like my glass butt plug problem, I had to immediately rectify this issue. So TA DA! The great people from Eden have graciously sent me the Double Head Fantasy Deluxe glass dildo from XHale Glass to review! Follow me on the amazing adventure.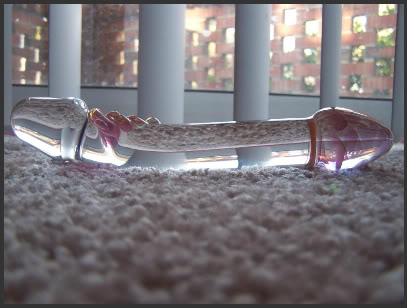 Material/Use:
This dildo is a G-spot's dream come true. With two different heads, the option of some texture or no texture at all, and the fact that it is made out of the great Pyrex glass makes this a dildo to be reckoned with. While this lacks a safe flared base, one of the heads could act as a base of sorts. I use the larger,bulbous end for anal play. I only insert it a couple of inches though, because I want to keep my toy and my bum safe. If you are going to use this anally, I suggest always keeping a firm grip, and to never ever try to insert it all the way. Your greedy butt will not hesitate to suck this toy in. Because there is a curve, I think this could definitely be used to massage the prostate. Speaking of the curve, keep in mind that it will not fit everyone's body the same. Some need a more extreme curve, and some barely need a curve at all.
Glass is easily one of the greatest materials for sex toys. It is non porous, it is great for temperature play, it does not take a lot to lube it up, and it provides the G-spot pressure that some people need. Glass will not soak up and harbor any bacteria, and it can be disinfected by bleaching or boiling. Any type of lube can be used with this glass beauty. Even though this dildo is made out of a non porous material, I do suggest using a condom to cover if you are sharing with a partner. The same goes if you plan to switch between vaginal and anal penetration. Do you like to play with temperatures, or have you always wanted to but never knew how to do go about it? Here is what I do. I fill a bowl with water of the desired temperature (never boiling hot as this can burn delicate tissues), and then I let the toy soak in the water for about 3-5 minutes.
The bulbous head and the four ribs are layered inside with 24 karat gold glass. They do this by using a process called fuming. You never have to worry about the gold and peach colors rubbing off, because it is inside the toy. This is a piece of gorgeous glass that is built to last a lifetime. The color changes between a bright peachy/gold color to a light pink. It really depends on the lighting.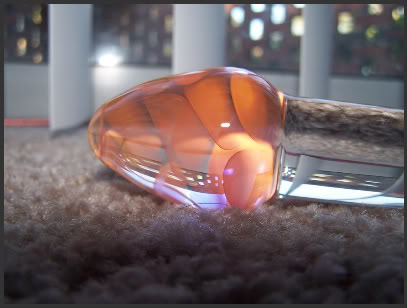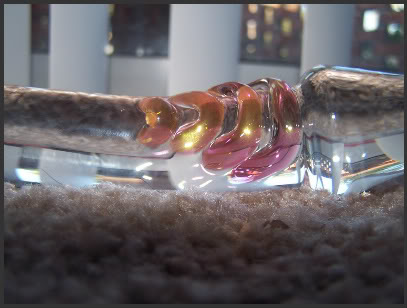 The Heads/Texture:
This toy a double ended dildo, which means it has two ends or heads. The heads are pretty different from each other, and the shafts are too.
The first head is large and bulbous. There are gold infused petals all throughout the head. It tapers in just a little before melting into the shaft. It creates a little bit of that popping sensation, but not enough to really be pleasurable. This end of the shaft is completely smooth.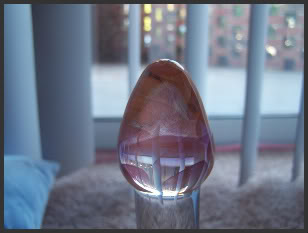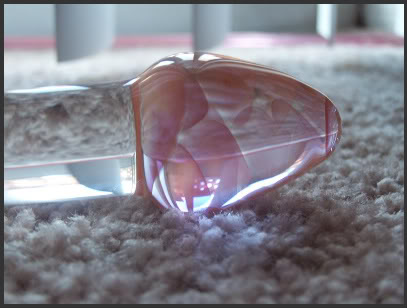 The second head is much more mushroom or arrowhead shaped. Unlike the first head, this one is made of completely clear glass! There are no imperfection or bubbles in any part of this dildo. This head is much more pronounced, and it really creates that nice pop. It creates an awesome pop when using it anally. Right underneath the head are four gold infused ribs. Each one gradually feels more raised than the previous one. The very last little rib is very raised. The texture plus the curve is the perfect equation for an explosive G-spot orgasm.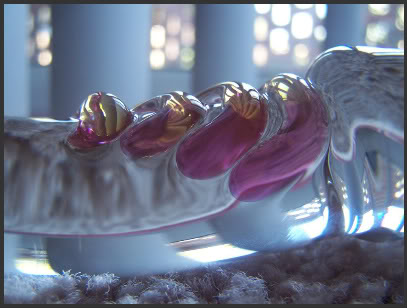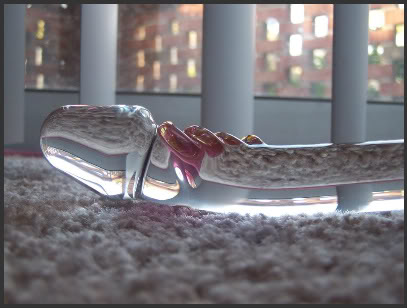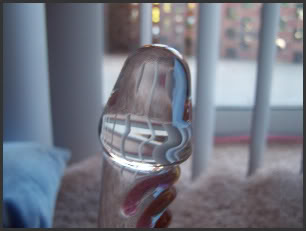 Experience
Packaging:
I was really surprised with XHale's packaging. It arrived in a heavily padded blue pouch. That was it! The pouch reminds me of the pouches that come with the Don Wands toys. The simplistic packaging also remind me of SSA Glass packaging, only instead of a paper thin pouch you get a really nice pouch that ensures your toy's safety. The pouch has a drawstring with a closing device. This helps keep the bag closed, and prevents your toy from slipping out.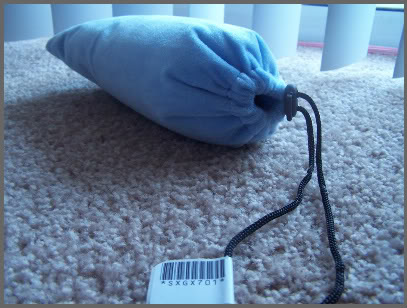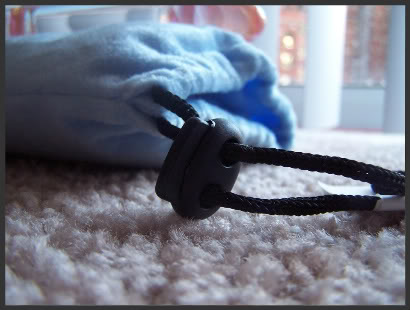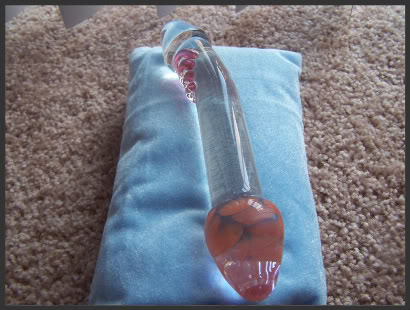 Size/Performance:
This dildo would make the perfect first glass toy for a beginner. It is slim, has the option of a little texture, and has two different shaped heads. I cannot think of a better beginner glass dildo.
It also works for the more advanced as well. Even though I have a ton of toys, mostly glass, I have had so much fun with this one. It is just like 5 glass dildos combined into one Superman dildo! This toy is my G-spot new best friend. I am able to just lie back and have orgasm after squirting orgasm. The texture has never become uncomfortable or too much. When thrusting, please issue some caution as glass can bruise the cervix and walls of the vagina or anus.
The measurements are as follows:
Total Length-7 1/2"
Weight-1 lb
Diameter-(
Head #1
) 1 1/2", (
Head #2
) 1 1/4", (
Shaft
) 1"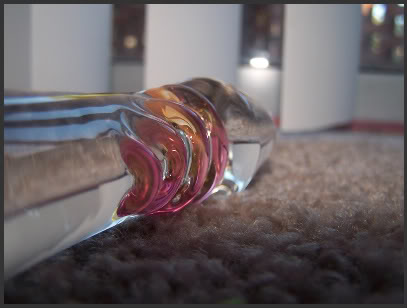 Care/Maintenance:
Before you even think about inserting any glass toys, always be sure to check for chip or cracks. If you find any, do not attempt to still use it. Be sure you lube up before playing.
When it comes to cleaning, you can use warm water and soap or your favorite toy cleaner. If you want to take it a step further, you can always wipe the toy down with a 10% bleach solution or boil the toy for 3-5 minutes. Both of these options give your toy a deep clean, and it also sanitizes your toy. While you are cleaning, pay extra attention to the areas between the ribs. Lube and other natural fluids like to get trapped in there.
After cleaning, I suggest drying it off with a soft towel. Do not clean or dry with any abrasive materials. This will cause scratches.
For storing, I highly suggest you put it in the padded pouch it comes with.
This product was provided free of charge to the reviewer. This review is in compliance with the FTC guidelines.

Thank you for viewing
Double head fantasy deluxe
– glass dildo review page!