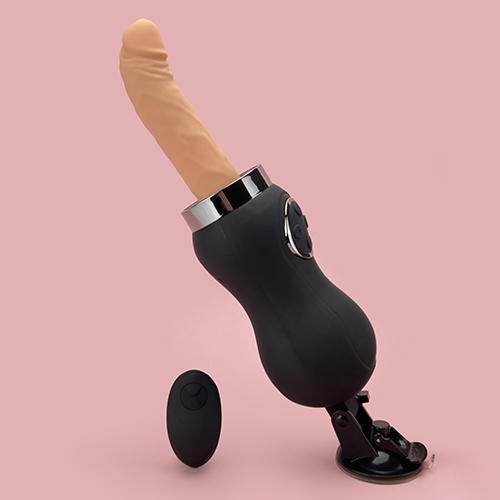 G-spot lover sex machine
Thrusting vibrator with suction cup
by EdenFantasys
I can ride my vibe with no handlebars
The G-Spot Love Machine brings added excitement to solo play or with a partner, it may likely be your first sex machine, and that itself enhances the overall experience. If you're looking for a realistic feel, lifelike thrusting, and a hands-free experience, then look no further. This sex machine provides intense vibration and thrusting with the ability to try several different positions. Suitable for both vaginal and anal penetration with a luxurious and realistic feeling attachment.
Published:
Pros
Body Safe Silicone Attachment, Rechargeable and Long Battery, Remote Control, Waterproof
Cons
Takes Time to Adjust the Unit Position, Loud
The G-Spot Lover Sex Machine arrived in a plain black box, inside was a dildo attachment, black power unit, remote control, USB charging cord, and small instruction booklet. The dildo is silicone with a veiny texture for a realistic feel; the tip is curved for g-spot stimulation and provides a 7 1/2" insertable length. The feature I was most excited to experience was the warming that heats the shaft to 122 degrees. There are 10 vibration/10 thrusting modes, which can all be controlled with wireless remote control. The power unit can be adjusted up to a 165 degree angle, plus there is the added bonus that the unit is waterproof. There are 4 buttons on the unit, a power button in the bottom center, vibration and warming to the left and right, and thrusting in the top center it seems like these would be easy to access, but there is a reason this unit comes with remote control. The unit itself is easy to assemble, the dildo attachment twists into the base, and the suction cup is sturdy once latched in place. The unit is rechargeable, and the power unit blinks while charging turns solid when complete - I charged the unit while I finished my workday, I think it took about an hour and a half to come to a full charge.

While I've used a variety of toys through the years, this is my first sex machine, and I was a little intimidated but excited to experience something completely new. I spent some time flicking through the vibration and thrusting settings to get an idea of the power this machine provided; I also used this time to turn on the warming feature and try out the remote control. After I tested each vibration and thrusting pattern, I tested out the suction cup on various surfaces to see how sturdy the toy would hold. Once I felt confident in the settings, I decided it was time to lube it up…there's a first time for everything, and I was ready for some hands-free fun. I inserted the dildo to get a feel for the curve/firmness of the shaft. After a few minutes, I attached the dildo to the unit, and it took a couple of tries to get the angle right - I turned facing away from the machine and inserted it from behind while bent slightly forward. It took a few tries to get the vibration and thrusting just right; on the lower setting, I noticed that the toy would hesitate slightly while thrusting in and out. I settled on an escalating vibration pattern and what I think was a mid-level thrust, but it was hard to tell. After a few minutes, I realized the shaft and head of the toy were feeling a bit too warm and turned the warming feature off, which required a bit of maneuvering, and I decided it might be easiest to try a different position.

I moved the unit lower so that I could mount it while on my knees to simulate the cowgirl position. This time with my body facing toward the unit, I was provided easy access to the control buttons, and I could have easily adjusted the vibration and thrusting on the machine rather than using the remote control. I found this position more comfortable, I was able to control the depth of each thrust easily, and the vibrations felt stronger. I turned up both the vibration and thrusting and rode the machine hands-free for about 20 minutes. I did have to gather up some confidence before I was really able to enjoy the machine, but once I felt comfortable, I was able to concentrate on how incredible the g-spot stimulation felt and when I came…I came HARD. I felt my orgasm throughout my entire body, my legs were shaking, and I even felt a little lightheaded - my favorite type of orgasm.

When I finished, I set out on a quest throughout the house to find a new surface and try a new position. I have a large full-length mirror that rests at floor level, and it was the perfect place to try this toy lying down. I suctioned the machine to the mirror, grabbed a wedge, and positioned myself with my legs spread and my feet flat on the floor, I wiggled forward until I was able to gently slide the dildo inside. From this position, I was not able to reach the buttons on the machine, so I relied on the remote control to adjust the vibration and thrusting. This was the most comfortable of the positions I tried; if it hadn't been for the noise from the machine, this position provided the most realistic feel of simulated sex with a partner with the added bonus of vibration.
Experience
I took a break from the machine for a couple of days but decided to give it another try to see if the pleasure I felt was from the excitement of trying something new or if this sex machine was just that good. Like the first time, I tried out a few different angles but ultimately settled on the machine suctioned to the floor and me on my hands and knees as close as I could get to doggy style without an actual partner. This tends to be my go-to sex position, and I wanted to see how the machine compared, and while it was pleasurable, nothing beats the real thing. Nevertheless, I let the machine thrust from behind for about 15 minutes while my orgasm built slowly - this time, I started to get a little impatient, and I ended up sliding off the dildo and grabbing a clitoral stimulator. I came very quickly between the two toys, but the feeling wasn't as intense as my first experience with this machine.

Overall, the machine far exceeded my expectations and was a lot of fun to use. My partner and I are on opposite schedules, and sometimes solo play doesn't provide the rough feeling of thrusting that I really enjoy; this toy is a great addition to spice things up when the real thing isn't an option. My partner and I discussed using this toy together, he seemed willing but a little apprehensive - I think we will slowly introduce this toy and maybe start out with him watching me enjoy it before participating. That said, this toy could absolutely be used for vaginal or anal penetration. Because the dildo attachment is silicone, I recommend a water-based lubricant.

The G-Spot Love Sex Machine would likely be best enjoyed by someone with a bit of experience with toys, but that's not to say a beginner wouldn't have a great experience as well. My best recommendation is to thoroughly test the vibration and thrusting settings in advance, become comfortable with the remote control, and find a position that is comfortable before inserting the toy and turning the machine on. A lot of my excitement from this toy was that it was completely new to me, and I think that added thrill makes it even more enjoyable, so if you're open-minded and like to try new things, this would likely be a great addition to your personal collection.
This product was provided at a discounted price in exchange for an unbiased review. This review is in compliance with the FTC guidelines.
Thank you for viewing
G-spot lover sex machine
– thrusting vibrator with suction cup review page!