I'm one happy Doggy with this Bone
A very reasonably priced, uniquely designed coloured- glass that comes wonderfully presented in a red velvet bag. The perfect sex toy to give as a gift. Just don't expect it to be an intense g-spot stimulator.
Published:
Pros:
Beautiful blue coloured glass and unique design, retains temperature, base is easy to grip.
Cons:
Could maybe do with slightly more of a curve.
Already owning several options of glass dildo including one that quite new and petite like this one, I wasn't exactly on the lookout for a new glass toy to add to my collection. However, after spotting the Love Bone, it's beautiful blue colour and unusual shape I fell in love with the thought of it and just had to have one, luckily for me with this being an impulse buy thrown in with an already big order, the Love Bone is also incredibly reasonable in price!

-Packaging-

The Love Bone arrives wrapped up in a small sheet of bubble wrap within a red velvet bag making this a wonderful item to present to someone as a gift. I ordered mine for myself but I know how impressed I would have been if my partner had presented me with such a beautiful glass dildo that arrives in a red velvet bag! The red velvet bag fits the Love Bone perfectly, there's no tight squeeze to slid it into the bag but no great excess of material either. The bag has a black drawstring at the top which is easily pulled closed. I love else than a sheet of bubble wrap to keep the toy safe during shipping, there is no wasteful packaging involved with the Love Bone. I love that the bag is red too as it gives a more luxurious feel compared to the usual black velvet drawstring bag that you get more often.

-First Impression

Once removed from its velvet bag, I was struck by the Love Bones transparent blue beauty. The base of the Bone looks as much like the top of a heart as a bone and along the length of the toy it gently tapers down to a rounded point. The Bone is heavy for a toy of his petite size but fits comfortably in the hand. The love heart shaped base is easily gripped by placing your thumb on the top of the base and you middle finger on the bottom while placing your index between the groove in the middle, or for heavier thrusting it can be held with your thumb on one side of the base with you bent index finger on the other side gripping it comfortably.

In person the Love Bone is about the size that I would have expected it to be, laid out in my hand it is roughly the same length as it.

-Measurements

Total Length: 5 ¼ Inches

Insertable Length: 4 Inches

Circumference: Around 1 ½ Inches at the tip, 4 ¼ inches at it's widest insertable point

-Material

The Love Bone is made of Pyrex glass which is an extremely smooth and safe, non-porous material. Being non-porous and smooth, it is very easily cleaned with warm soapy water or specialized toy wipes or spray. It is Non-porous , food-grade material, hypo-allergenic and both Latex free and Phthalates free. Pyrex glass is quite resistant to shattering and breaking and if somehow a Pyrex toy breaks it will not shatter or splinter into tiny pieces but will snap or break in large pieces instead. Pyrex also retains temperature very well meaning it is great for sitting in warm water before use or just warming up in the hands before use. Silicone, water, and oil based lubricants are all safe to use with the Love bone.
Experience
-Use/Experience
Being a fan of particularly petite toys I was eager to use the Love Bone for the first time. Not being a fan of cold toys, I decided to warm it between my hands first, with just a few short minutes holding it, it was up to a reasonable temperature for me. With its slim pointed head, it is easy and comfortable to insert and would definitely be a great option for someone wanting to try their first glass toy. I found that just the smallest amount of lube goes quite far with the Bone, lasting the length of a decent self loving session, feeling slippery the whole time.
Once inserted its curved shape and solid build has no troubling finding the g-spot. I would say it provides light g-spot stimulation and could do with being a little more curved if you are specifically looking for s-spot stimulation from the Bone. The shape of the bone is different from other toys, though it is rounded for roughly half the total length of the toy, the last couple inches of insertable length become flattened at the sides creating a different sensation than other toys and like, for me it feels like a pleasant stretch, leaving me feeling more full than a toy of this size would usually. One of my favourite ways of using my Love Bone is in the shower so I can run it under warm water from time to time. One more great thing about this dildo is that it works well for those into puppy petplay.
-Overall Impression
The Love Bone is a well priced, beautiful blue coloured glass dildo, petite and unique in design. Perfect as a beginners first glass toy or for those into petite toys or teasing. It works well as a couples toy and even feels great when used on the back during massage! The love Bone is a definite worthwhile investment.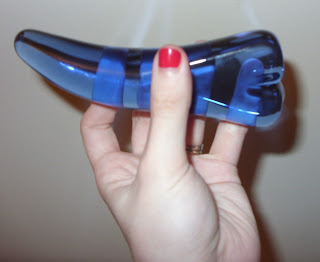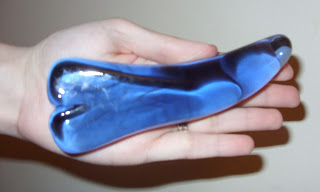 This content is the opinion of the submitting contributor and is not endorsed by EdenFantasys.com

Thank you for viewing
Love bone
– dildo review page!