I've Got The Sapphire Down Below!
I absolutely love this toy! Everything about it from head to base is perfect! The texture is unique and thrilling without being overwhelming, the size could make anyone happy with that texture! The design is great for both G and P-Spotting. Scene: Me, soaking in a hot tub, a glass of Riesling wine, Chris Issak on the stereo, and the Crystal Cut G slowly slipping rhythmically inside me. My holidays are made! Now, to get Chris in here too...
Published:
Pros:
Unique Design and Texture,
Makes For Soaking Wet Orgasms
Quality Glass, Brilliant Color
Cons:
None at all
Worth every penny
The Crystal Cut G-Spot glass shaft by Phallix is a wonder unto itself. I have many differently textured glass shafts and this is one of the most unique and special textures I've experienced to date. Besides its glorious texture, it's colored a beautiful shade of sapphire blue that shows up brilliantly under lighting, but looks a darker shade of deep navy blue, almost black, until you turn the shaft and catch a glimpse of the jewel tones in the texture while in use. Sapphire blue is my favorite color and is also my birthstone.
The curved shaft is best used for and excels in vaginal joy. Vaginal penetration, G-Spot and clitoral stimulation. However, it also has a substantial flared base on it that will ensure pleasure to the anal user as well.
The head atop the shaft is of a rounded out triangular shape with 2 long, deep lines in the shape of a V on one side. I find these V-shaped lines to be very useful in clitoral play; they gently tickle the clitoris with their texture. If texture is not wanted or needed the other side of the head is smooth.
Below the head is a 1/2" bulged collar band, there is another such 1/2" band at the bottom of the shaft meeting the thick 2" wide base. The top band is felt during insertion and adds some pleasant texture to G-Spotting.
The dimensions of the glass shaft are pleasing as well; the total length is 7 1/2"; 6 1/2" being insertable. The widest portion of the head (the bottom) is 4 1/2" in circumference, 1 1/2" in diameter and tapers up to a nicely rounded point for easy insertion. The shaft is a modest 4" in circumference. I usually prefer more girth, but this baby just melted me like butter! I believe the size and texture of this one would be great for anyone who doesn't need to have mighty girth all the time and isn't too overly sensitive to texture. The texture is not as overpowering as nubs or bumps are. Not abrasive and with a more subtle, natural feeling. It's a whole different texture ball game, which I will try my best to describe.
The shaft itself is indeed crystal cut to perfection.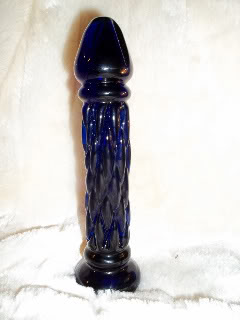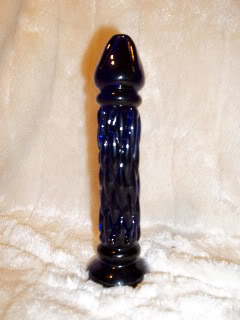 While admiring the texture of the shaft from a small distance, it appears to made up of intricately cut dragon scales. Closer up, it looks like braided strands of raised glass forming diamond like shapes with pretty deep grooves around each at the top and bottom of the shaft, while the middle has a more shallow score to it. When inserted, these braids feel best with long, slow, luxurious thrusting. A slow hand. Play yourself like a musical instrument with this fine, piece of dildo/art. Never have I felt such a great texture! It is so unlike the nubs, swirls, and bumps of my other toys; mainly (I think) because the length of the braided textures run the full length of the shaft; long and lean, being raised up from the hollow negative texture of the grooves. Subtle yet intense. Turning the dildo round and round inside feels incredibly sensual and makes the texture feel even more intense. If only I was mechanically inclined...I'd have this baby rotating on my mixer!
There is nothing I've yet felt to compare with the feeling of an orgasm with glass! The muscles of the vaginal walls grip the unyielding glass and the resulting convulsions are pure sex! Your pussy's got something to hold onto tight!
The wonderful braid like texture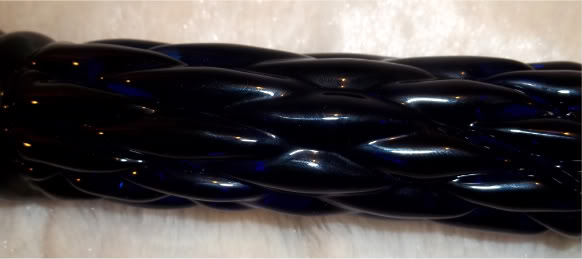 The base is sturdy and easy to hold onto during penetration. It's also handy in holding the piece of art up to display the fineness of its design and richness of color.
Trying to show the sapphire color through a light


Made of only the finest medical grade Borosilicate glass, this erotic glass art/dildo is built to last a lifetime, Phallix is very specific that every step is taken to insure each of its toys is safe, including proper annealing; a time specific formula for baking and cooling of the glass that allows for its extraordinary durability, far beyond that of ordinary glass. In addition, a Polariscope is used to detect irregularities in the glass that are invisible to the naked eye. This assurance makes me feel really safe using their toys.
Glass is a very conductive material and is excellent for temperature play. For some added fun, experiment with different temperature variations. Place your toy into a bowl of warm or cold water for a few minutes, it doesn't take long for the glass to take on your desired temperature. Just be careful not to freeze or burn sensitive private parts by testing the temperature before applying or inserting.
Experience
Curve of Shaft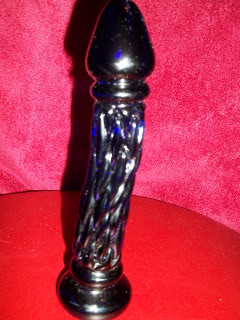 Glass and is cleaner and slicker than traditional sex toy materials. It is phthalate and latex free, hypoallergenic, and hygienic. There are no funky smells or tastes, and it's so darn attractive and sexy!
It is non-porous and doesn't soak up any lubrication, so playtime will be slippery much longer without any repeated lube ups. Any lube may be used with glass, so use your favorite, but only a dab is needed. Your natural lubrication will take care of the rest!
Glass is so easy to clean; wash with warm soap and water. To disinfect, it may be boiled for 3 minutes or washed with a 10% bleach solution, rinsed and dried. Since the grooves are so deep at the top and bottom of the shaft, it's going to need some detail work in those areas. I recommend only the softest of brushes to clean into those grooves as not to scratch up the finish of the glass.
I love the Crystal G-Spot so much that I won't go into my usual rant about the cheap packaging and thin satin bag. I'll just show it to you and say "For Shame, Phallix"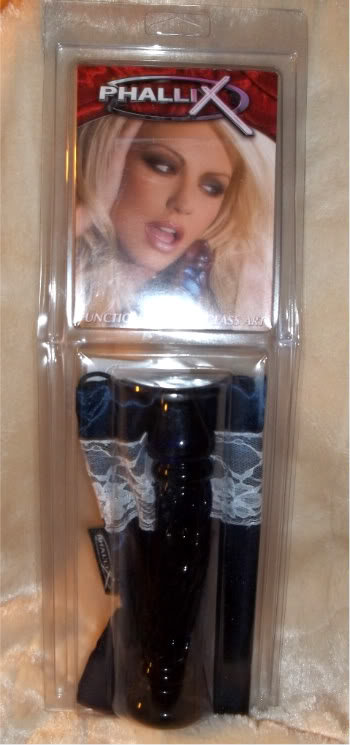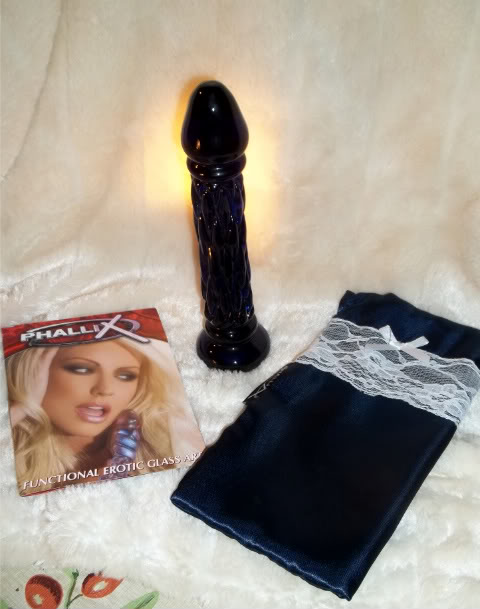 I'd definitely get a nice luxurious padded bag for this one! Or put it on display and show off your beautiful glass.
In addition, here is a sampling of other erotic glass toys from Phallix I thought you might enjoy seeing. Some pretty amazing looking textures here I've never tried...yet!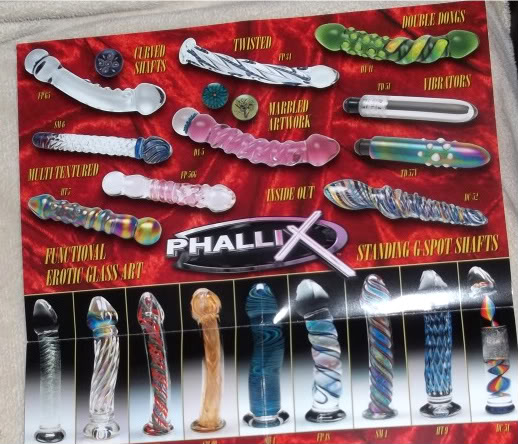 Follow-up commentary
8 months after original review
This toy has to be in my top 5 favorite glass toys! It is perfect for me in size and texture. The beauty of this toy pleases me as well. It has held up very well and will most certainly out live me since it is so durable. I recommend this toy to anyone who loves glass, texture, and beauty. This one is exquisite! I love it more as time goes on.
This content is the opinion of the submitting contributor and is not endorsed by EdenFantasys.com

Thank you for viewing
Crystal cut G-spot
– glass g-spot shaft review page!