Jupiter has Rings? Why, Yes it Does!
The Jupiter is one of my very favorite glass dildoes. I am a big fan of texture and this rubs me in just the right way, whether it's used anally or vaginally, and I love making it warmer or cooler before use. Its clear glass is simple but beautiful, and you can't get a safer, easier to clean material than glass.
Published:
Pros:
Variety of textures
Variety of uses
Beautiful
Safe material
Cons:
Texture will be too much for some
It could be longer for better grip
Jupiter is a glass dildo with a whole lotta' texture going on! I'm a texture fan. If you're not, you won't be interested in this toy. I normally like glass toys that are interesting colors, or that have pretty touches like swirls or flowers. But the Jupiter is beautiful even though it's clear because the rings and bulges distort the background and the light, making interesting and pretty reflections, much like a crystal ball (or a string of crystal balls in this case). I find it uniquely beautiful.

This toy came packaged in bubble wrap inside a red velvet bag. I keep it stored in the bag, which doesn't give it much protection but since it's in my toy box and not much movement is allowed, it stays safe. If it was kept somewhere that wasn't so enclosed, you would want to keep the bubble wrap to wrap it in before storing it in its bag.
It is handmade of borosilicate glass, which is strong, tempered glass that is made to not shatter, and doesn't break easily. Have no fear that it will break while inside you. If you were to drop it on a hard floor it might not survive, so treat it carefully, but you needn't worry about it breaking during normal use. Glass is rated 10 on
Eden's material safety guide
, and it's non-porous and hypoallergenic.
The Jupiter is a double-ended toy, but at 8 inches long, you'll be using one end or the other, not both at once (unless you are very creative).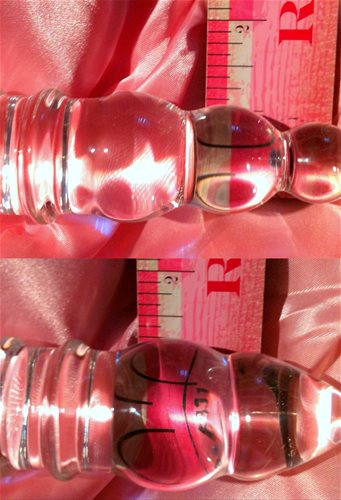 It has three different distinct sections of texture. Starting at one end and going in about 3 1/2" toward the middle, there is a series of four balls. Their circumferences are 1 1/2" (3/4" diameter), 1 3/4" (7/8" diameter), 3 1/2" (1 1/4" diameter), and 4 1/4" (1 3/8" diameter). The center 2" of the dildo is a series of three rings, which are 4 1/2" in circumference and 1 1/2" in diameter. The final 2 1/2" is a ball that is 4 3/4" in circumference and 1 5/8" in diameter, and a pointed head that starts at 1 1/4" diameter and narrows to 1 1/4" diameter at the gently pointed tip.

The end with the balls makes it an excellent toy for anal play. The rings in the middle and the large bulge that follow them are, in my experience, enough to keep the toy from sliding in too far, but use your best judgment and keep a hand on the toy when using it this way. Another option would be to use
Vibrator Enhancers
which provide a nice base for any toy to be used anally. The other, tapered end works as an anal dildo for someone who likes a little more girth, or as a vaginal toy. I love the feeling of this end inside me, with the three center rings rubbing against the entrance to my vagina. The rings add wonderful stimulation while the pointed end can be manipulated gently to hit my G-spot. Like a lot of glass dildoes, this one has the benefit of being able to be used in different ways; I always love that in a toy. It's great for temperature play; heat it up gently or cool it down and experiment! It's also perfect for use for insertion in conjunction with an external clit vibrator, or an anal vibrator, for extra stimulation. Since glass is so rigid and doesn't give at all, be careful when thrusting this toy so you don't end up with a bruised cervix or vagina. Communication with your partner is very important if they are in control of this toy.
You can use any lube with the Jupiter. It does get really slippery to hold onto after using lube, so just use a little, and be careful with anal use. Sometimes we will wrap a small washcloth around the end that is being held onto, to provide more control for thrusting and movement while it's lubed up, and that works really well.
The Jupiter can be cleaned in any way you choose. It can be washed with hot water & soap, disinfected with bleach solution, boiled, or put through a hot dishwasher cycle.
This content is the opinion of the submitting contributor and is not endorsed by EdenFantasys.com
Thank you for viewing
Jupiter
– glass probe review page!