Large and in Charge
Even with my issues with the girth of this toy I do recommend it to those that can comfortably use it. The toy's perks (at least for me) outweigh its cons. It's very life like for those that like that or who are curious about what sleeping with an uncircumcised male feels like. The only way it could be more realistic is if the foreskin moved. However, that would most likely make the toy more fragile and way more expensive, so I think this is just about perfect as far as realism goes.
Published:
Pros:
Realistic
May provide G-spot stim
Suction cup
Antibacterial material
Cons:
Not silicone
May be a bit girthy for some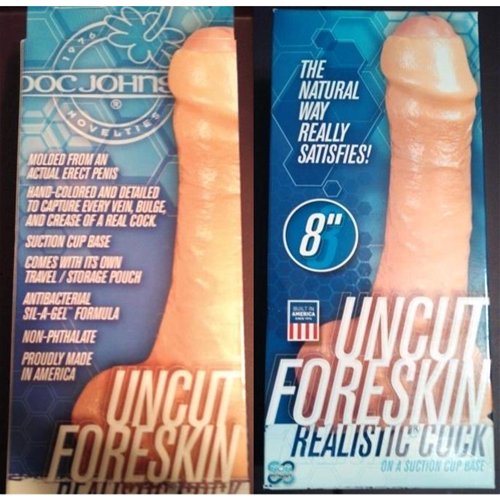 This dildo, from what I have read, was molded from an actual uncircumcised penis and with the amount of detail I believe it. You can see the veins running along the shaft, which have been hand painted a faint blue. The texture of the dildo's scrotum mimics that of a bonafide male and you can see the clear transition from it to the shaft, which is baby smooth.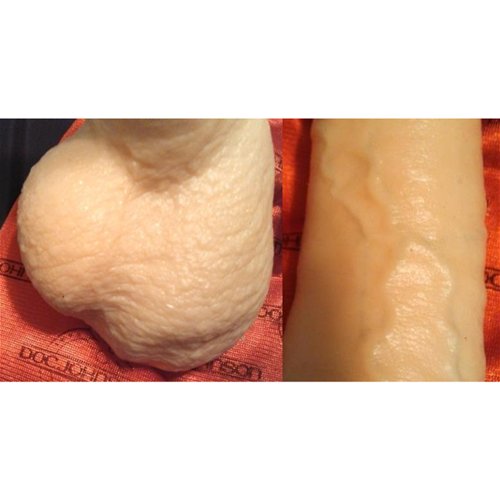 My favorite feature is the amount of detail in the head of the dildo. While the foreskin does not move, the head is slightly pinker than the foreskin covering it, and you can see where they connect. Again the level of detail is really impressive.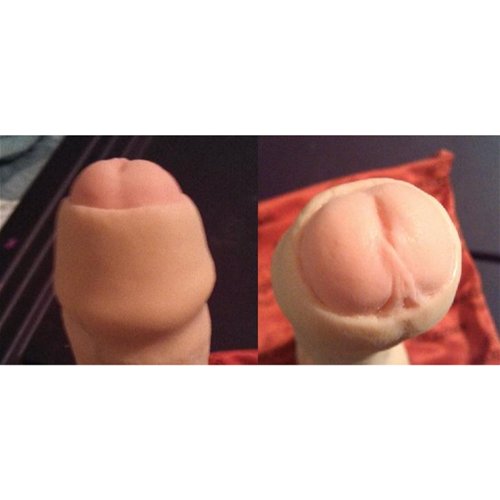 On to size... the maximum length of the dildo (from tip to end of suction cup) is around 8.75" and its insertable length is roughly 6.5". The girth and the width are what make this toy a bit on the large side for me but admittedly I do run on the petite side so my opinion could be a tad biased.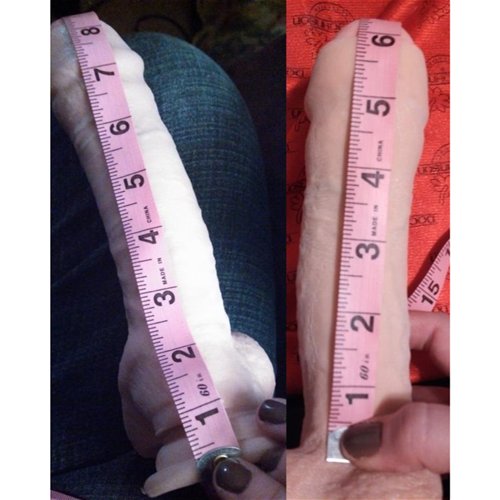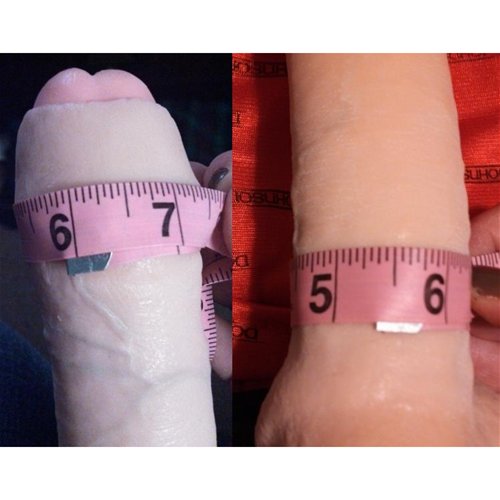 The toy's girth is around 5.25" with a maximum width of 1.9" according to measurements I found on an external site (this site, at least for me, only shows the measurements for the 6" version). That being said, when I measured girth it ranged from a little under 6" at the head to around 5 1/3" at the bottom of the shaft. This was a learning experience for me because a width of 2" didn't seem like it was large when reading the specs.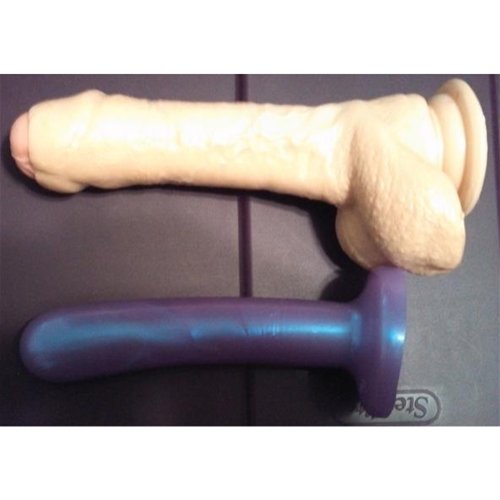 I think the only feature I have yet to mention is the massive suction cup at the base of the dildo. I haven't used it outside of testing it to see if it worked, it does. Because of the suction cup I believe this toy is listed as harness compatible but I don't own any O-rings that are big enough to accommodate this toy as of yet, so I can't say if it is or isn't from my own experience.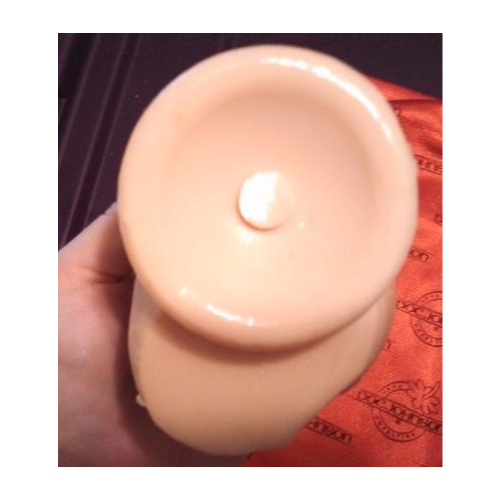 Material...The toy is made of Sil-a-Gel which is a type of Polyvinyl chloride (PVC). It is smooth, soft and semi-porous (so you need to use condoms when sharing the toy). It also has anti-bacterial properties which reduces the risk of transferring bacteria. The specs also point out that it is latex and cadmium free (which can cause cancer and is used in a lot of PVC items). Sil-a-Gel, like most rubber-esque items is a bit of a lint magnet if you just wash it and store it. I recommend going into the baking section of the grocery store and picking up a box of cornstarch. It is way cheaper than cornstarch based baby powder, isn't scented, and doesn't have additives like baby powder does.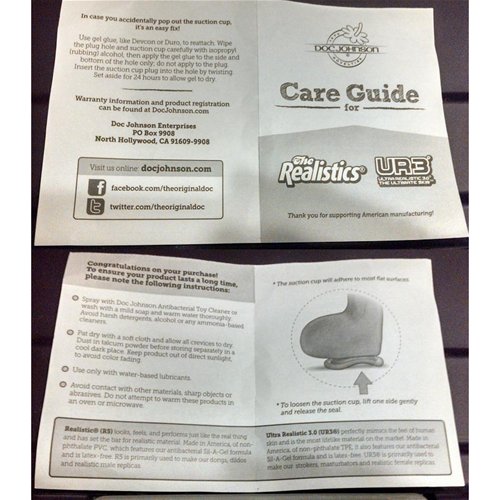 The care instructions recommend Doc's Toy Cleaner or mild soap along with drying the toy and then coating in talcum powder. Substitute corn starch for the talc; it is SO much safer for you. I also recommend using antibacterial hand soap or antibacterial wipes. The sheet goes on to say that you should only use water-based lubes, which is solid advice since it is the most toy friendly lube (it won't damage your toys like Silicone can). It also mentions not letting your toy near sharp objects and abrasives (scratches head) and to not warm it in an oven or microwave (more head scratching). If you want to warm the toy use warm (but not hot) water or just hold it in your hands until your body heat warms it up.
The back of the guide talks about what happens if the suction cup gets detached from the toy. It says to use gel glue like "Devcon or Duro" to reattach the cup. I looked up both glues on a government household products database because I had never heard of either. Both glues bond instantly to skin and can burn the skin when they're wet. They say to avoid contact with skin when using them but I couldn't find anything on their safety when dry. Sorry for the boring health babble, but I wanted to be thorough.
Last but not least... storage! Like most realistic toys it should be stored in a dark and cool place and not be directly touching toys of materials that might damage it. The dildo comes with a red bag that looks like it's made from the same material as gym shorts. It doesn't quite close around the toy but it will keep it separated from other toys as long as your storage box isn't getting shoved around or flipped over.
Experience
I typically don't go for realistic dildos as I'm in the "if I want to have a realistic dick I will sleep with a dude" school but the uniqueness of uncut dildos seem to draw me in. For my first realistic dildo purchase the Uncut Foreskin Realistic did not disappoint. I was super excited when this toy came in the mail. I rushed to open the package and checked out the toy. My first reaction when I opened the box was to wonder if my eyes were bigger than my anatomy. The Uncut Foreskin Realistic by Doc Johnson is pretty much the biggest dildo I own as far as girth goes and I was not thoroughly convinced I would be able to accommodate it. It was a tad intimidating, but I was more than eager to try regardless.

Sadly I didn't get to test drive it right away as I had other obligations that didn't involve self-pleasure and decided I needed to get cornstarch before using it since it was a little sticky. Later after cleaning it and powdering it and getting some alone time I was able to finally try it. Holy Hell it was girthy, to the point that for a moment I questioned being able to use it at all. I quickly realized I would need a little bit of water based lube to make sure I didn't actually hurt myself with the dildo. It took some work but I was able to use the toy as intended and it felt life like and had actually hit my G-spot a bit which was surprising for a toy not specifically designed to do so. It feels like a real penis once you wash it and coat it with cornstarch. It also warms up quickly, which adds to the realism. I am eager to see if I can achieve a G-sot orgasm with this toy since the material is more forgiving than a glass wand, but do wish the toy was just a tad less girthy.
Follow-up commentary
2 months after original review
I still love this toy. It's still a little bit on the big side for me but it doesn't take away from my enjoyment of the dildo. With lube it's not too much of a stretch, pun intended. The toy feels great and is very visually appealing. I definitely recommend this toy. If you are worried about girth I would go with the 6" one. I hope to get that one when I have the money. I can't recommend this toy more. I hope they will come out with a silicone version that is the only improvement I could see them making.
This product was provided at a discounted price in exchange for an unbiased review. This review is in compliance with the FTC guidelines.

Thank you for viewing
Uncut foreskin realistic
– realistic dildo review page!