Lay All Your Love On Me.
Phallix has done it yet again. I love the curve, but be aware that the curve and smooth shaft isn't for everyone. The smaller end may seem pointy to some, but it did not bother me in the least. I leave this out just to look at, and it is more discreet than most. It honestly looks like a piece of art. I think that, if you want to spend the money, this dildo could have something for just about anyone. It is definitely worth a shot.
Published:
Pros:
G-spot/P-spot curve, Simply gorgeous coloring, Double ended, Storage pouch included, Smooth
Cons:
Packaging, Thin storage pouch, Not enough of a curve for some, Some prefer texture
Best Used As:
The Gold G-spot probe is perfect for reaching shallow or easy to find G-spots. It can also be used anally for men and women. The nice curve in the shaft may be perfect for hitting the prostate. As the material this toy is made out of is very rigid, meaning it has no give at all, it should be used with caution. Rigid toys can easily cause bruising to the cervix and other tender tissues. If you like temperature play or you want to try it, this dildo is a good one to experiment with. While the surface looks like it is covered in bumps, the entire shaft is completely smooth. All of the bumps and texture is located inside of the dildo. It makes for a stunning work of art. The smooth shaft is perfect for those who want to try a glass toy for the first time. While the price tag is a little much for some, I promise it is worth it. Phallix is all about delivering quality glass toys. This toy is technically double ended. There is a small, tapered arrowhead shaped head and a round, more full end. Either end can be used anally, and both ends make a great handle. When using anally, I cannot state this enough:
Always keep a firm grip as there isn't a designated flared base!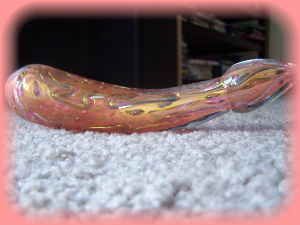 Material/Care/Cleaning:
This gorgeous dildo is made out of Pyrex glass. Glass is known to have many positive things going for it. Glass is non-porous, compatible with any and all lubricants, latex free, hypo-allergenic, and phthalates free. Speaking of lubes, this toy does become slippery when all lubed up. If dropped, it will break into large pieces instead of thousands of tiny shards.
Glass is super easy to clean. Simply wash with warm water and antibacterial soap. If you would like to give your toy a deeper clean, boiling or wiping down with a 10% bleach solution are always options. I usually prefer to stick it in the top rack of my dishwasher without any soap, as I am lazy like that. If sharing with a partner, I still recommend a condom be put over the toy. Always clean properly before going from anal to vaginal play. After play time and a quick clean up, simply place it in the satin pouch that Phallix provides. With very little care and maintenance, this and any other glass dildo should last you a lifetime.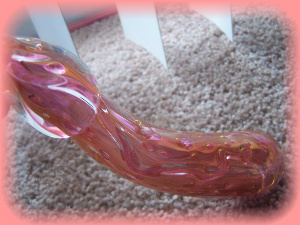 Shape/Size:
The smaller end is arrowhead is shape. It looks pointy, but it did not feel that way during use. Those who are more sensitive to this type of thing may find it uncomfortable during thrusting. It tapers to a 1 1/8" diameter, and then it drops quickly to a 3/4" diameter shaft. This means that the head is pretty pronounced, which may cause issues with catching on the pubic bone. When using anally, it does create a nice pop when removed. This side of the shaft is quite small and thin, so I prefer this end for anal use. I do not insert more than a few inches when using this end for anal, as the shaft gradually grows to a much larger diameter.
The larger end is more rounded at the tip. It has a slight, and I mean a very slight, taper before it quickly grows to a 1 1/2" diameter. After this point, the shaft gradually decreases. It really depends on what you are in the mood for, a slim or full experience.
The total length of this toy is about 8 1/8". I prefer to only insert up to 6 1/4" when using either end. That way my hand always has a nice portion of the toy to hold onto. The overall shape really reminds me of the
Jopen Vanity Vr8
.
Small End: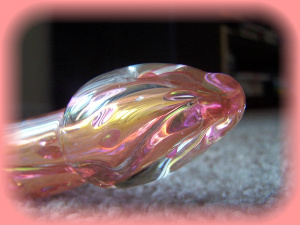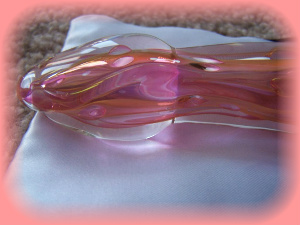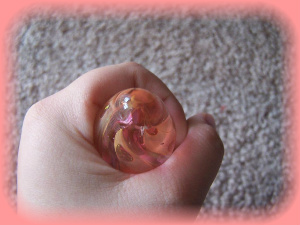 Big End: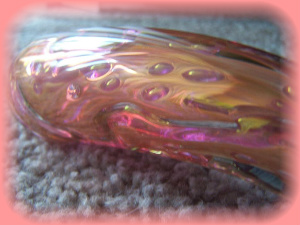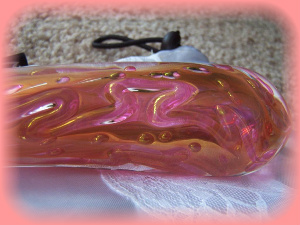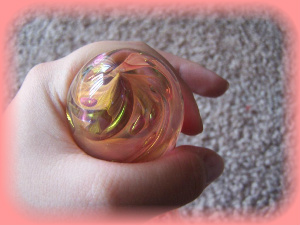 Packaging:
The Gold G-spot probe comes in the typical Phallix packaging. It is a pretty large plastic tube. The toy is clearly visible through either side of the packaging. You will find the toy, a Phallix pamphlet showing other dildos, and a satin storage pouch inside of the plastic tube. The packaging is overly large, so I threw it away as soon as I could. The pouch is white with matching white lace that goes around the top. It has a tag on the side that says "Phallix", but most will not know what that is. There is a black drawstring to close the pouch, and a plastic fastener to help keep it closed. This pouch is super thin, so it will only protect it from potential scratches.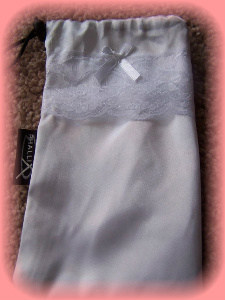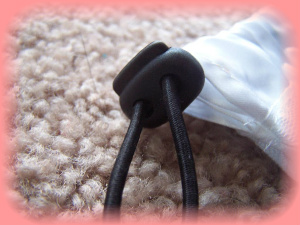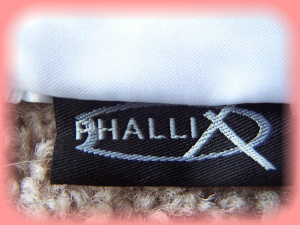 Experience
If you decide that you want to try some temperature play with this toy, simply place it in the desired temperature of water for 3-5 minutes. Glass quickly warms up to your body temperature, and it holds it very well. Unlike some glass pieces, this one is pretty light weight. Don't get me wrong, it still has some substantial weight to it. This is perfect for those with wrist problems.
The first time my husband saw this in person, he was astounded. He said, "This is the prettiest, coolest dildo I have seen, and thanks to you babe I have seen plenty!" He loves to bring this one out. It does not give me quick G-spot orgasms, but it is nice to take things slow sometimes. I have not had a squirting experience with this one yet, but I have come close. Those with finicky G-spots may become easily frustrated with this toy.
The coloring inside this dildo is luxurious and exquisite. There are swirls and bubbles of gold and pink. If in the right light, you will also be able to see some silver in there.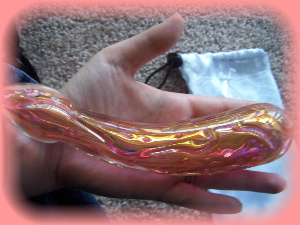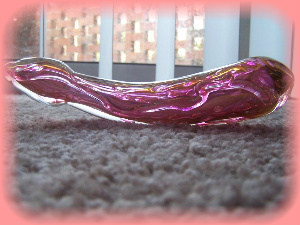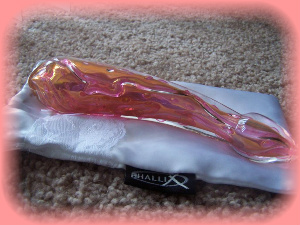 This content is the opinion of the submitting contributor and is not endorsed by EdenFantasys.com

Thank you for viewing
Gold G-spot probe
– glass probe review page!