Something Got Destroyed Alright, and It Wasn't My Pussy!
I can't believe I wasted a masturbation session messing around with this toy! For the life of me, I can't figure out why a perfectly good dildo was ruined by a silly gimmick. Don't fall for it! If you want to use this toy as a full 12-inch monster cock, go for it, but be forewarned that the 'bendable' feature isn't all that to begin with.
Published:
Pros:
None!
Cons:
Smells, cheap AND poor construction.
This was one of those toys that I was overly excited about before I even received it, but after trying it out, I'm now just speechless, and that's not because it made me cum harder than I ever had before. There is nothing special about this dildo, other than it might appeal to size queens. Certainly, being able to bend it allows the user to shorten the insertable length or to have it hit a certain spot just right, but other than that, I'd say it's just a gimmick and not to bother wasting your money. Once you see my video review, you'll understand why I'm not impressed.
MATERIAL
This is made from Sil-A-Gel, a variation of PVC (rubber) that has some antibacterial properties to it, but it's still somewhat porous. Pick up some xtra-large condoms if you are going to be using this anally or even for safer vaginal play. It smells funky, kind of like a sweet candy, enough to stink up the entire room. There are two defined ridges below the head that provide a little extra texture, otherwise, the entire surface is very smooth with some drag.
SIZE
This is a 12-inch long dildo, so if you want something to satisfy your craving for big cock, this might do the trick. The thickness is nice (6" circumference, 1-7/8" diameter), but in proportion to the length, there are much thicker and longer toys out there, so it's not terribly scary. You are probably going to need both hands to hold this toy while thrusting it in-and-out.
DESIGN
This dildo has a cheap, quasi-realistic look to it, with balls that are no way proportionate to the length of this cock. They are nothing but two lumps at the base of this tower, which probably do no more than aid in balancing the dildo to stand upright without toppling over. The base is flush, so this toy could perhaps be used in a harness with a large enough 0-ring; however it's not marketed or sold as such.
OK, now for the IMPORTANT stuff: the ability of this toy to bend and retain whatever shape it's angled at. Oh, it bends alright, but the rest is a joke! Within the center of the toy is a simple wire, nothing more. How do I know that? Because I took a pair of scissors to it and cut this cock in half! Why would anyone do such a thing? Because I like dissecting things, and I wanted to get to the bottom of this toy's problem. The wire within is much too thin and too soft of a metal. I wouldn't be surprised if it snapped at some point from being bent too much. Not only that, it doesn't even extend the entire length of the toy nor is it fixated to anything, so that's probably why the toy is flopping and twisting all over the place, as visible in my video review. Big design flaw if you ask me, because this toy could have more potential if it had been constructed with a thicker bendable mechanism. At this point, it's completely useless to me. Beside, I can't quite get over the annoying smell.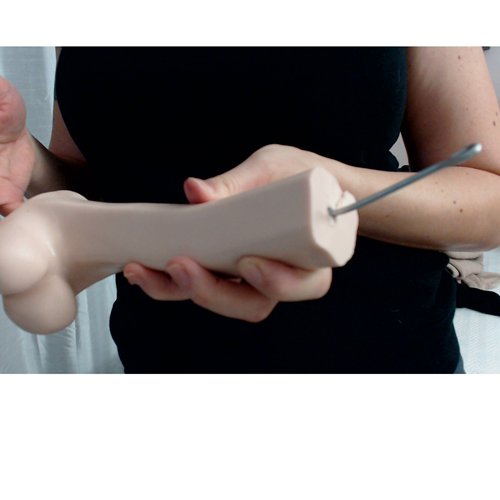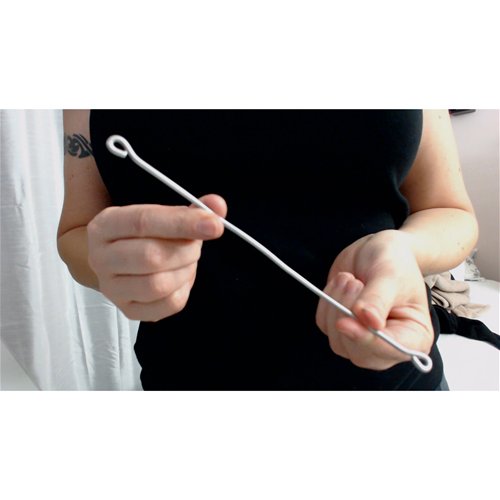 CARE
This is very easy to clean with warm water and antibacterial soap or with a toy cleaner. It can be used with a variety of lubes. It's big though, so you'll need to find a good hiding place for it, unless you bend it and stick it in a shoebox. After testing this toy out, I know exactly where mine is going: to the landfill!
This product was provided free of charge to the reviewer. This review is in compliance with the FTC guidelines.

Thank you for viewing
Bendable destroyer
– realistic dildo review page!