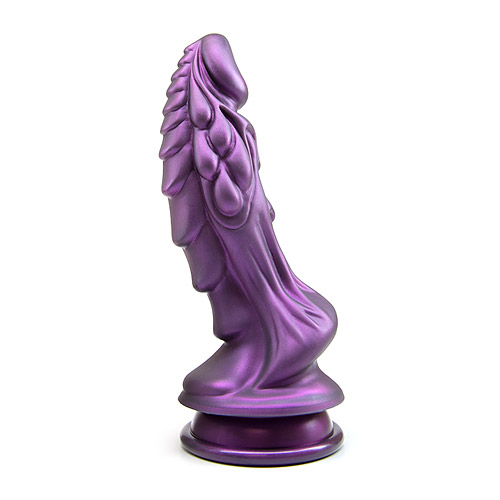 Alien
Fantasy dildo
by EdenFantasys
MONSTERFUCKERS RISE
The Alien is the super-size silicone monster of our dreams. Its orgasmic textures and huge girth are guaranteed to make you see stars. If you have some practice with large toys and you want an experience that's really out of this world - well, you've found the right dildo.
Published:
Pros
incredible design, great material, strong suction cup, strap on compatible
Cons
will be too large for some users
In case you had any doubt about how enthusiastic I was about this toy, dear readers, I literally bruised my cervix with it on my first go. Yes, it's amazing, but learn from my mistakes - be sure to do a safety check and plenty of proper warm-up before the enthusiasm carries you away!
That said, this is exactly what I've been wanting from EF - a super-sized monsterfucker toy in silicone. It has a pleasant heft to it and the silicone is a gorgeous dark shimmery purple, more than worthy of this monstrous beauty. The design is fantastic; I LOVE the many amazing textures that the Alien has going on, with lovely ridges down the back, tear-drop bulges at the sides, and smaller hooked ridges along the front to stimulate 360-degrees around. Towards the bottom, the Alien has thick veins and a flared upper ridge, atop a wide base and suction cup. Alien's enormous size is guaranteed to satisfy even the most intense size queen, measuring 2 3/8" in diameter at the largest point (a whopping 7.5" in circumference!) and 6" in insertable length.
The silicone is very soft, only a touch firmer than the squishy TPR these toys are usually made of. This makes it much more safe and comfortable to take such a huge toy. TPR is not as body-safe as silicone, since it is more prone to degradation; it also doesn't hold up as well, since it's easier to scratch, tear, and melt. Silicone is also easier to clean and less "sticky," thus less likely to collect dust, pet hairs, and other things you generally don't want going inside you. That's why I'm so delighted that Eden Fantasys has finally stocked a giant dildo like this in silicone.
The squishiness does mean the texturing doesn't feel quite so prominent, but don't worry, the sheer girth of Alien will press those ridges and bumps into your walls and give you a toe-curling orgasm!! I really enjoyed the tapered head, which makes insertion easier and allows you to really FEEL the texturing and girth as the toy slowly slides in. The stretch is absolutely amazing. If you manage to take the Alien all the way to the base, the slight ridge at the base is perfect to grind against your clit. With the Alien filling you up so blissfully, it will be impossible to resist.
Speaking of the base, I want to praise Alien for having the strongest suction cup hold I've encountered yet. This is an extremely rideable toy. You don't have to worry about it popping off whatever surface you've adhered it to mid-fuck; it stays PUT. This gives you way more options for solo play, or putting a show on for your partner by sticking the Alien to your chosen surface and fucking yourself in front of them. It is, however, easy to remove when playtime is over by gently lifting one edge of the suction cup to break the seal. The flared base makes this safe for anal play (well ... with LOTS of lube, stretching, and dedication), and works as a strap too - though you will probably require a self-tied rope harness, unless you have a monster-sized harness ready to go; I couldn't fit it into mine.
This will be an unnecessary warning for most experienced sex toy users, but never use silicone-based lube with a silicone toy. You will want water-based lube only! Why do I mention this? Because you're going to want lube, and lots of it, to ease this enormous invader into you. Have some on hand so you don't have to pause your Alien experience for even a minute.
For obvious reasons I don't recommend the Alien to beginners based on size alone. If you have some experience with large toys, though, and you want an experience that's really out of this world - well, you've found the right dildo.
Experience
The Alien has become a favorite for size-play of all kinds. I love the shape, texture, and material, and the sturdy suction cup is great for different positions. A personal favorite kink to enjoy with the Alien? Cock-warming. It's absolutely delicious to sit with the Alien inside you, without bouncing on it as it irresistibly urges you to do, until you or your partner decide to allow it. The spectacular size make it impossible to ignore no matter what you distract yourself with.
I also recommend that you try turning the Alien around, so the curved, ridged back presses into the G-spot. I promise the orgasms will be unbelievable :P
And, of course, for a REAL world-shattering experience, try pairing it with a clit vibe of your choice. I'm forever devoted to the Viva XS wand.
This product was provided free of charge to the reviewer. This review is in compliance with the FTC guidelines.
Thank you for viewing
Alien
– fantasy dildo review page!