My Favorite Glass Dildo of All Time!
This is the only dildo I have found with this particular style of ridges and for some reason, they are just right to stimulate me. I am sensitive to texture and it was a huge surprise that just a twist of this dildo was enough to transport me! I was particularly pleased with the absence of a defined head and that the girth was more filling than most glass dildos. I think others would enjoy trying this if they like glass toys.
Published:
Pros:
glass, can use any lube, more girth than most glass dildos, storage pouch included
Cons:
texture may not be good for some, pouch not padded, use care when thrusting
This is my favorite glass dildo due to the raised ridges that swirl down the shaft!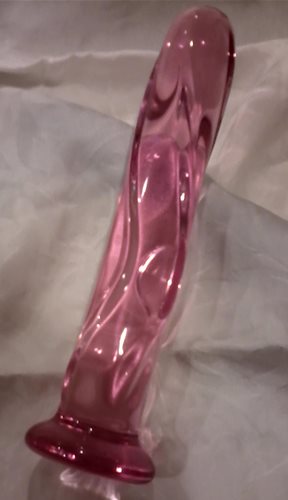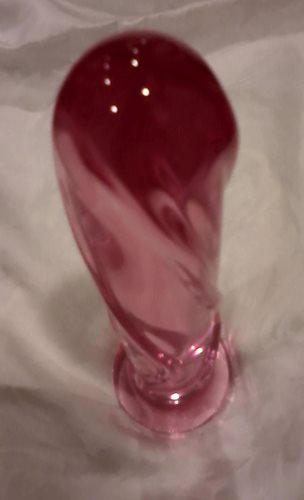 I tried one glass dildo, discovered how much I love glass and decided to buy several different styles to try. One thing I was looking for was that it have more girth than the less than 1" diameter you frequently see in glass dildos. These are hand made, so dimensions will vary. However, I did expect mine to be closer to the product page specification of a 2" diameter. All I can think is that the 2" refers to the diameter of the base on their sample. Mine has the actual measurements listed in my photo below:
Notice that the 1.25" diameter on my dildo is from the outside of a raised ridge, so the base shaft is really only about 1" wide. My previous glass dildos were under 1" diameter and had wavy shafts. Having this model, with it's consistently full shaft, made it feel much more girthy inside me and turned out to be just full enough. (What I would have done with an actual 2" diameter, I cannot imagine!) So, this brings me to the point where I need to mention that glass feels bigger inside you than a more yielding material, such as silicone. That is one reason why the material is always something to keep in mind when purchasing toys!
Another point to keep in mind, is that the rigidity of glass requires careful handling in use. It is easy while thrusting to get too rough and hurt yourself, or your partner! And don't assume you would necessarily know right away if you were causing any damage, I bruised myself internally with my first glass dildo and didn't know it until the next morning when I awoke very sore! For this reason, many chose to use glass for solo play where it is easier to control.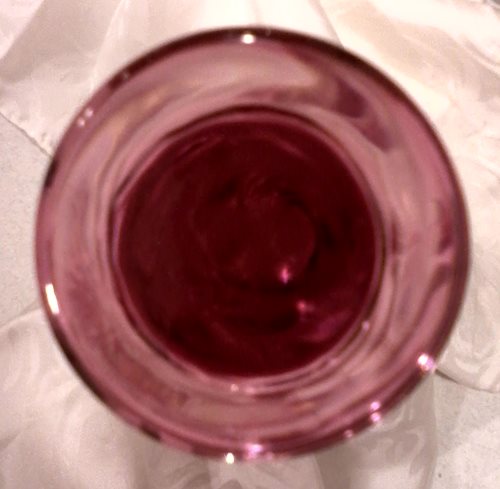 The flared base, shown above, should make this toy suitable for anal use. However, I do not use mine anally and cannot vouch that the flare is indeed enough to act as a brake. You need to use your own best judgement on that. But, I will say that glass is good for anal in that it is nonporous, doesn't retain smells and is so easily sanitizable. Go ahead and use any lube you like on glass. You can wash it with soap and water; toy cleaner; use a dishwasher; a 10% bleach solution or boil it.
The included pouch is nice to keep the dust off, but doesn't offer padding. But, if you want to, you can use a sock or bubble wrap on the dildo before putting into the pouch. One nice thing about glass is that it doesn't react with other materials, so no special measures need to be taken to protect it from touching other toys.
Experience
I found that thrusting with this dildo is too rough for me because of my sensitivity to textures. I inserted it vaginally and then it turned around while I tried to get a better grip. Imagine my surprise when the twirling action, or juicing, made me climax immediately! Now, all I need to do is spin it in me a little and I get such amazing results. Other textures on glass have been overwhelming or painful. For example, the glass dots on the shaft of the
Rainbow Heart
are way too rough feeling internally. So, I am delighted to have discovered some texture that really works for me! That said, I do find it uncomfortable to thrust this toy, but I do not usually find thrusting pleasurable with toys. You, of course, may be different, so I tried to describe what about this dildo worked for me.
Follow-up commentary
10 days after original review
This is, without a doubt, my all time favorite dildo, period, (not even just in glass, but out of all dildo materials)! I tried to find a vibrator with similar ridges and thought the
Roulette Lucky 11
was a good match, but unfortunately, it has too much texture and girth for me. Something about the way the ridges of the Enjoy are done, the almost vertical placement, is what works. It's like the Goldilocks of cocks; it's not too textured and not too big, it's just right!
This content is the opinion of the submitting contributor and is not endorsed by EdenFantasys.com

Thank you for viewing
Enjoy
– dildo review page!