My prized Perennial!
If you enjoy glass toys and G-spot stimulation, the Smooth shaft prized perennial offers both with a sleek curved design and a cute flower to top it off! Just be prepared for a little bit of a work-out, since this toy does feel a bit heavy over time due to the design and weight combined. Great for fun anywhere, and comes with a cute pouch!
Published:
Pros:
Easy to use, care for and maintain. Great for G-spot stimulation!
Cons:
Heavy during solo use for prolonged sessions
The
smooth shaft prized perennial
is a glass dildo featuring a flower pattern on the bulb of the "head". The toy is made by
Phallix
and comes in both red and blue. This particular review will feature the red perennial.

The perennial is intended for vaginal insertion, primarily for G-spot stimulation. While this does have a semi-flared base, it is not best for anal insertion, because the base is not wide enough in comparison to the shaft and this toy may slip inside if not held on to tightly. The base is much better used to allow the toy to sit upright by itself.
This toy is made out of 100%
pyrex glass
which means it is not only easy to clean and care for, but rates a 10 out of 10 on the safety scale. All glass toys are very unforgiving and precaution should be taken to prevent bruising of the cervix during use. Glass does not have any taste or smell even right out of the packaging like some materials may.
Glass is perfect for those who love temperature play. To do this, simply allow your toy to sit in a bowl of ice cold or hot water for a few seconds to minutes, and then use! It is a fun experience and glass holds the temperatures well! It is rule of thumb that unless you contact a manufacturer and find out if it is safe, you will not want to place any glass toy in the microwave or freezer. Sometimes this can cause invisible cracks in the glass that can harbor bacteria.
After each use with your toy, you can easily clean it with warm water and antibacterial soap, toy cleaner or toy wipes. If you would like to sterilize the perennial, simply boil it or place it in a 10% bleach solution. This is recommended if you plan on sharing this toy with a partner who you are not fluid-bound to and if you would prefer not to use a condom with the toy.
This toy is 7" in length and 6" of that is insertable. The toy is about 4" around and there is a slight curvature to the shaft. The primary color of the dildo is clear, the base a deep red (the color of Bacos bacon bits!), and there is a red flower in the head of the toy. The flower loos more orange than red, but it still is pretty.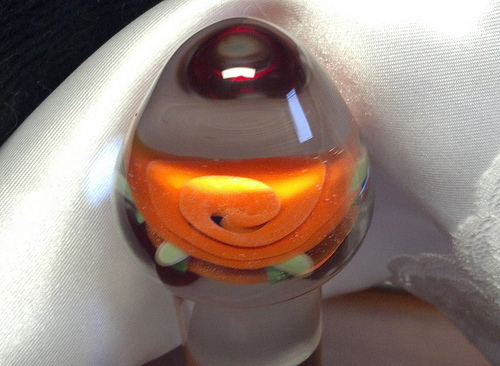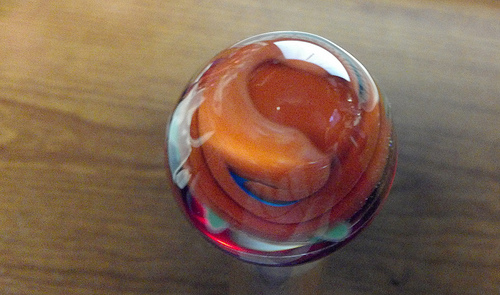 There is a removable
Phallix
sticker on the front of the toy. There are other
Phallix toys
available on
Eden
as well.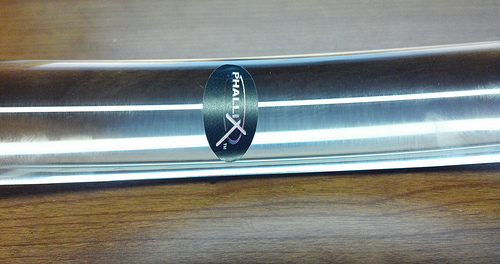 The curve of the dildo allows for better G-spot stimulation, however it does not add anything else to the function of the toy. It does certainly aid in G-spot stimulation, though, and also makes the toy look a whole lot more interesting! This toy does feel heavy after a while if being used solo, but you can add a little support under the toy with a folded up towel where the base of the toy will need to rest.
Glass toys are fine to use with all oil-based, water-based or silicone-based lubricants. None of the ingredients will interact with the material and cause it to break down, so feel free to use your favorite kind! You can also take them with you in the shower, as long as you take care to not drop the toy! Glass becomes very slippery when wet or covered in lube, so always make sure you have a grip on the toy especially while in the shower!
The perennial dildo comes with a white silky feeling drawstring pouch. The pouch is not padded at all, and is more for show than protection. The pouch has a lace strip with a bow going across and the string that ties it is black and has a plastic piece that you can use to secure the bag to seal it. If you would still like to use this pouch, you can always get a couple of thin foam inserts and place them inside of the pouch and slip the toy in between the inserts for added safety!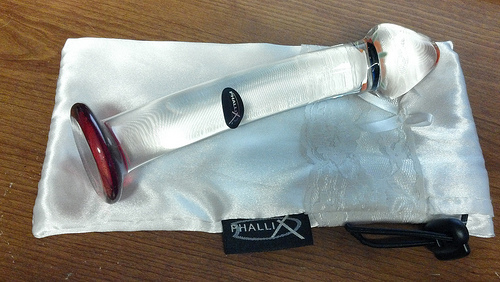 Experience
I was a bit disappointed with the difference in the product page photo of the toy and the way my toy actually looked as far as the flower design. The product page shows the flower as being very elaborate, while the flower I got looks more like one of those flowers you would find on a cake design. It really looks like someone took one of those icing flowers and stuck it inside.

As far as the function of the toy, it does work well for G-spot stimulation, but because the toy seems a bit heavy after a while, I found it difficult to reach orgasm without the help of a second toy.

For those two reasons I did give this dildo a 3 out of 5 star rating (the main reason being the weight of the toy and inability to use it alone).
This product was provided free of charge to the reviewer. This review is in compliance with the FTC guidelines.

Thank you for viewing
Smooth shaft prized perennial
– g-spot dildo review page!