Not Good For Much, But Certainly Good For Something
Using this device for DP might be difficult, but the fact that you could use it as a standalone for anal play is pretty neat. Then again, it can't be totally cleaned so it might not be the best toy for such use unless you were to always use condoms with it. Just a warning, it's intended use will end in an awkward game of Twister.
Published:
Pros:
Nicely sized for anal beginners, neat concept if you can get it to work
Cons:
Awkward to use, pulls hair, broke easily, can't be sterilized
The Accommodator is designed to be a device that allows for double penetration (DP) without that pesky third person involved--or even second person, because as you see on the box it can also be used with your favorite balls-n'-all dildo. Perfectly sized for beginners to anal play, The Accommodator is a little non-intimidating piece of action that if used correctly could actually be a pretty awesome DP experience!
Simply and carefully strap this thing to a thing and go. I mean if it were really that simple and painless, which it is NOT, as I will explain.
NOTE THAT THIS DOES NOT INCLUDE TWO DILDOS. The package is a little misleading if you don't understand what you're looking at. Only the smallish little guy with the doo-dad strappage will be included in your box. It gives you the OPPORTUNITY of two for the price of one, it does not actually INCLUDE two for the price of one.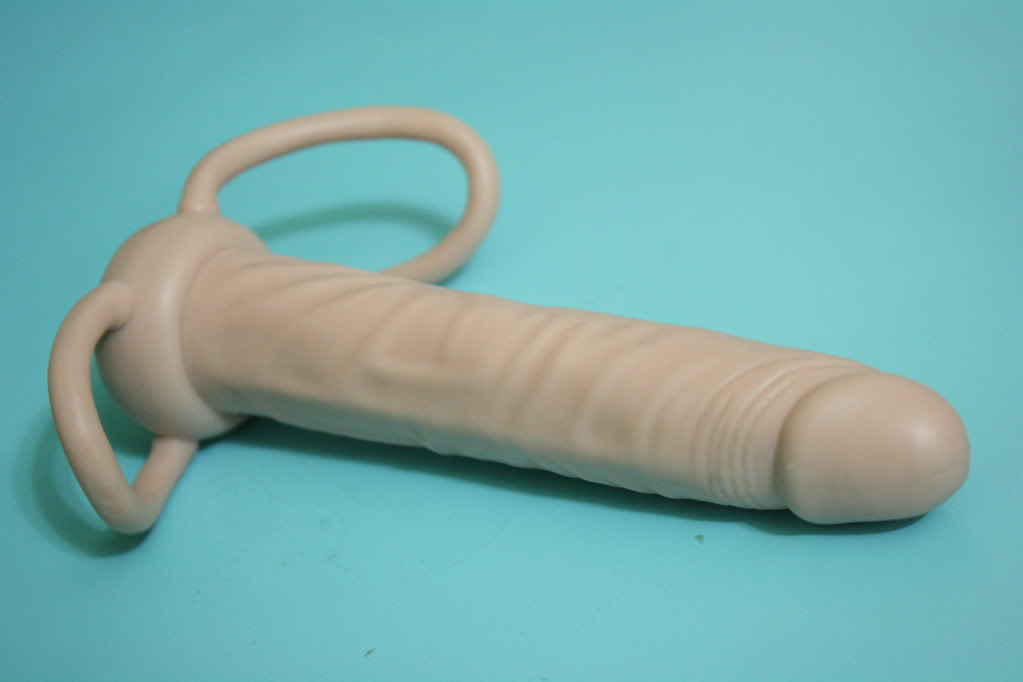 This toy is made from good ol' TPR, which is a rubber-polymer blend. It is firm yet pliable, and when shaken violently it will flop and bend, so if you're a dildo-wielding maniac this is a pretty cool feature. It is textured with realistic ridges, wrinkles and veins, but certainly needs proper lubrication as to not rub you raw. Silicone or water based lube would do the job. Also, because TPR isn't totally fool proof as far as disinfecting goes, it is STRONGLY recommended that a condom be used, especially because this thing is designed to go in the butt, and as much as you love someone, butt germs are nothing to fuck around with. Nobody wants a nasty infection.
Okay, so here's how this thing works. I've called in my old friend Quincy the 10 Inch Longboy for backup. (If you are using this with a real one, lube is strongly recommended.)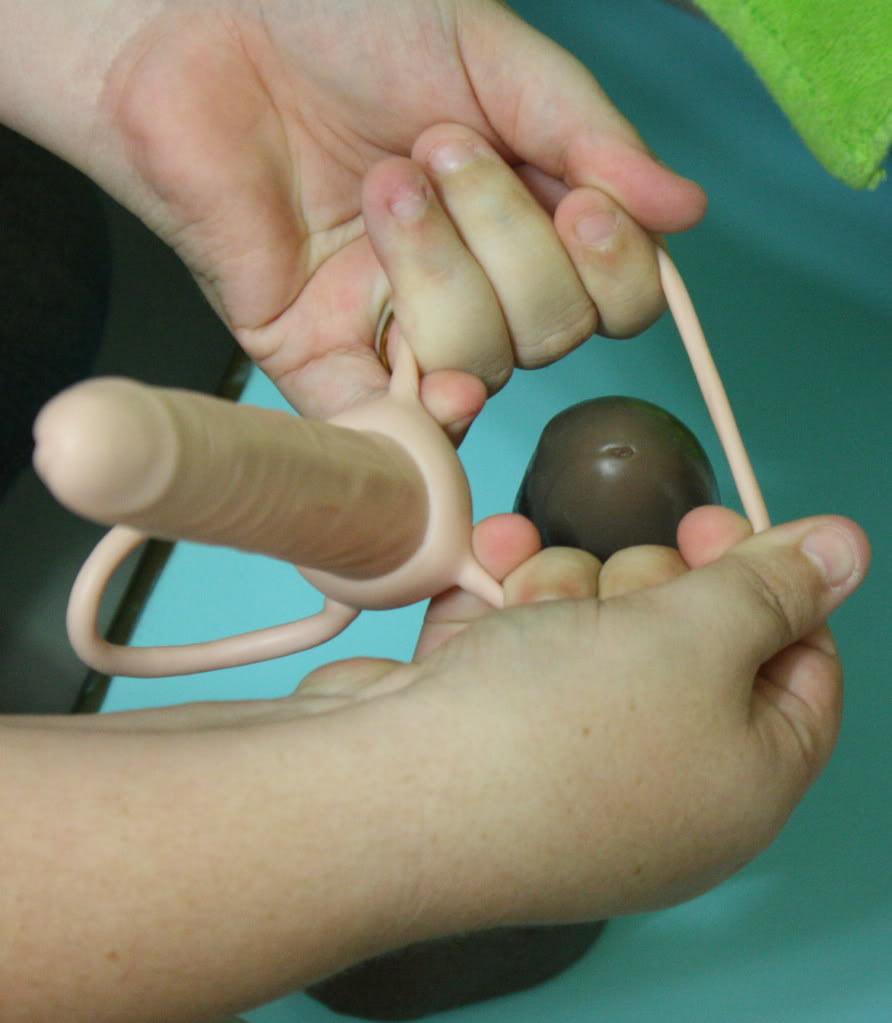 Step One: Stretch the smaller loop over what we'll call the "master peen" for this example.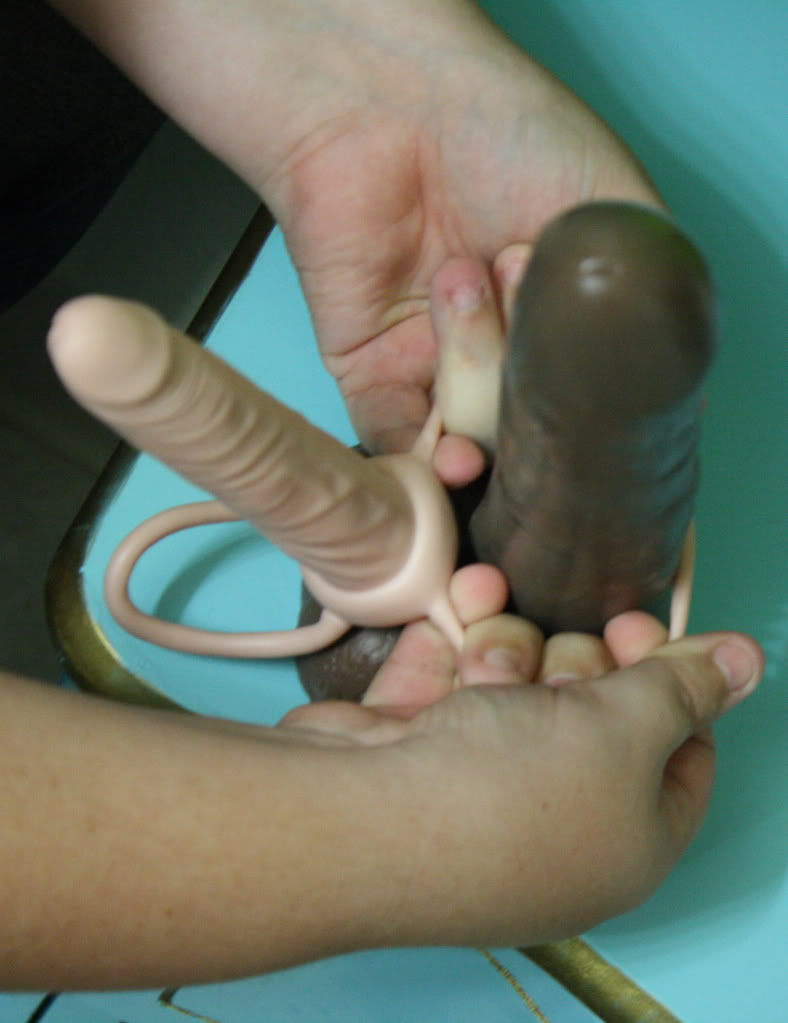 Step Two: Carefully slide the smaller loop down the shaft of the master peen, keeping it stretched until you get to the base. If your master peen is a live one, gently let go of the sides of the loop and try not to catch any hair. This might be a two person operation.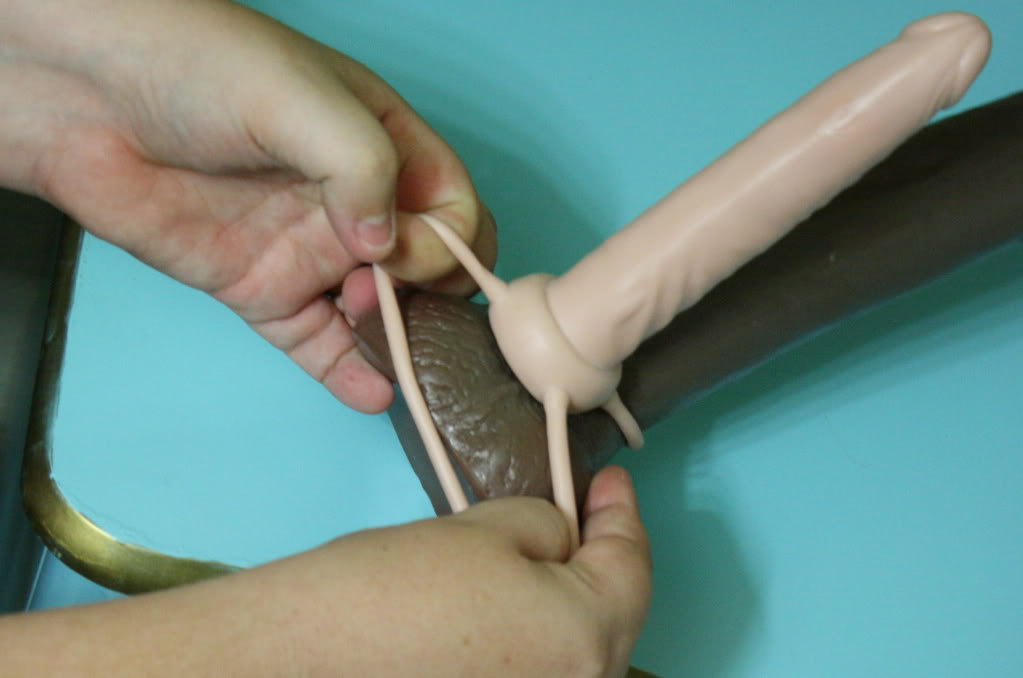 Step Three: Take the larger loop and stretch it over the balls of your master peen. Again, if your master peen is attached to a human PLEASE be careful during this step. Nothing like being rubber band slapped in the balls.
Your master peen should now be equipped with the Accommodator and look something like this:
It may look a little silly. When I first saw the photo on the package I thought of a little baby dick getting a ride from the daddy dick in one of those cool baby-packs people strap to themselves. But now your dick is equipped to DP all on its own! Sweet, right? How about "good luck with that."
My fiance and I tried this toy on his real live master peen and attempted for the first time ever the One Man DP. Notice I said attempted. Trying to negotiate the Accommodator into my ass and then negotiate his cock into my vagina was something like a really fucked up game of Twister: bottom dick brown, right hand cock, top dick pink, left hand bottom dick. Instead of a hot porno fantasy sex scene, it was more like working together to negotiate a turkey into an oven bag. We love food, but this is no bueno. We never actually accomplished double penetration even though we tried several positions (girl on top, missionary, from the side.)
Though we DID get both into my vag at the same time, which was kind of cool in a "I'm taking two cocks in the same hole" sort of way. It was probably the only real pleasure we got from the toy. So if you've ever wanted two cocks in the same hole, try this toy because the feeling is pretty neat.
Wearing the device was not comfortable. Not really painful but uncomfortable. The straps weren't really squeezing anything too terribly firm, but they were pulling skin and hair and in general the whole thing seemed awkward to my fiance.
Now, putting it on was not difficult. The problem came when he attempted to remove it. If your man is hairy, removal of this toy is tricky and painful. No matter how much lube there is, it's still going to hurt when those loops pull on your little curlies.
And whoopsie doodle, looks like stretching this guy's loops caused a little breakage.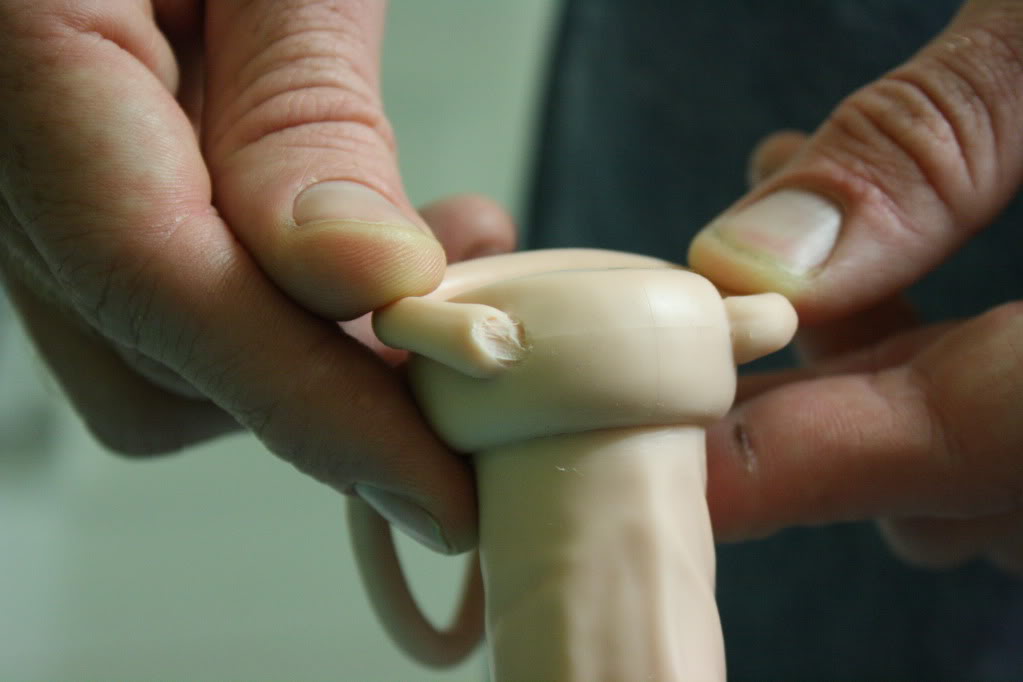 Barely used and already torn.
Experience
While this toy pretty much fails at what it's advertised purpose is, we haven't thrown out our Accommodator quite yet. It still makes a neat little anal toy and it even has handles! We're keeping this one on board for my fiance, who is new to anal play and in need of smaller toys. Though there's not much of a base on the actual dildo, as long as those big noodly straps stay on we've got a pretty surefire way of keeping it from slipping in too far. Plus, the handles would make it super easy to retrieve, am I right?
Or, if nothing else, strap this thing to a dildo and make alligator noises. YOM NOM NOM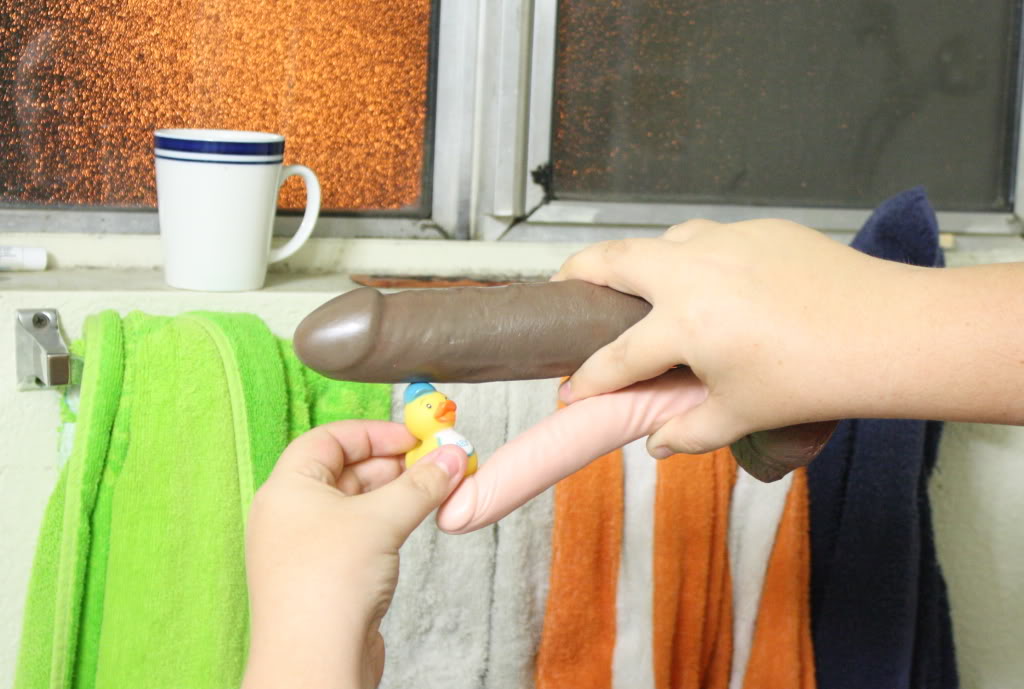 See? He's gonna eat the ducky...okay, well I'm pretty ridiculous but you already knew that. (Alternatively you could make it talk to people. Just saying.)
Follow-up commentary
2 months after original review
Well, one of the straps has totally ripped off, but as an occasional anal toy for my boyfriend this thing is pretty sweet. As I said, its intended purpose didn't quite pan out, but using it for other things is fine.
This product was provided free of charge to the reviewer. This review is in compliance with the FTC guidelines.

Thank you for viewing
Accommodator dual penetrator
– dildo review page!