Objects in the mirror are closer than they appear
While I am a fan of Doc Johnson, this toy was in some ways a disappointment. It is a lovely concept, but in the end fell short due to whatever painting processes they used. The toy, which is beautiful in shape and looks, came with a lot of scratches from this paint job. It was however a great tool in learning more about my G-spot orgasms. In the end metallic colors are probably best left to steel toys. I will continue to buy Doc Johnson, but not without a small slight chip on my shoulder.
Published:
Pros:
Sleek, glass, cord
Cons:
Scratches
Reflections Allure is an elegant G-spot shaped glass dildo. While it is designed to stimulate the G-spot, since it does have a cord attached, I believe it would make a very safe excellent anal play toy. Perfect for temperature play, this toy is very sleek with a lovely metallic silver hue.
I was excited for this toy to come in because of its shape. If you've read some of my newer reviews you might know I'm on a quest to learn about having G-spot orgasms. I have an easier time having them right after my period---and I'm not satisfied with that being enough. With each toy I seem to be getting closer to figuring out what works, this being another one that aided in my journey. And also the shiny spaceship look of it drew me in as well, I can't lie.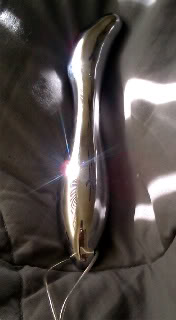 At 8" in length and 4 3/4" in circumference this dildo is made of eGlass. It seems solid and not hollow, which gives it a nice weight during use. After suggestion I did go back and try using a vibrator against the base of this toy during use--while I could feel some steady vibrations, they were very muted, and in the end probably not worth the hassle to maneuver both at once. Prior to this toy collection coming out I have never heard of eGlass. Though through some research I have found out that it is made of a Scientific-grade, SG-1 Borosilicate. Just like other glass toys it isn't easy to crack but if it happens to get even a chip, it is no longer safe for use.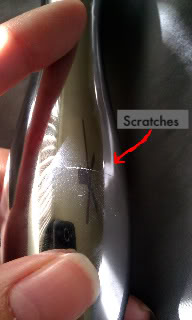 Which brings me back to this toy--while it doesn't have any cracks it did have some scratches. This being the second dildo I have received from the collection I'm starting to think it has to do with the painting technique. While it was no where near as heavily marked as the other, the scratches are noticeable throughout the body of the toy. After further inspection and cleaning, I don't think these scratches or marks will change the integrity of the toy. I think the marks on this toy came from some heavily tooling, not something that could easily come from home brushing against something. I believe this toy to be safe for use despite the marks, they don't seem to change at all when I picked at them.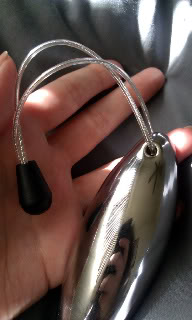 Since all lubricants are compatible with this glass toy it went in sleek and smoothly. It warmed up to my body temperature quickly despite the cold metallic look of it. The cord attached is about 3 inches long with a nice plastic coating. It makes it easy to loop around your hand or wrist during use.
The box it came in was just a regular plastic box, see-through with designs and words written on top. I am mildly disappointed that Doc Johnson hasn't started adding toy pouches with their items, but I can use the box it came in for storage. Cleaning is a breeze like with all glass---bleach and water or toy wipes. Please do not boil your toy; while it can withstand a lot of heat, I would not recommend it as you might burn yourself.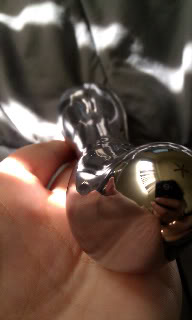 Experience
During use it easily reached my G-spot without getting caught on my pubic bone during thrusting. Due to the shape some might not find this as comfortable. The tip curves up like most g-spot dildos, but where the tip meets the body of the toy it does curve out at the bottom. After that, it narrows out, giving it a bulbus look and feel. While in use this bottom bulb part did give me the feeling of being full, but if not in the right position I can see how this can be uncomfortable quickly due to how rigid it is. I also had a lot of luck rocking the toy itself, but not as much for me doing the rocking.
While the toy is beautiful to look at despite its flaws, I'm not sure if I can forgive the scratches. Yes, the toy is still usable and works great. I am a fan of Doc Johnson, and will continue to be--I just think further inspection before toys hit the shelves is needed. If two out of two in this line is flawed I'm willing to bet more are. Had it been without these marks I could have easily given it a higher rating.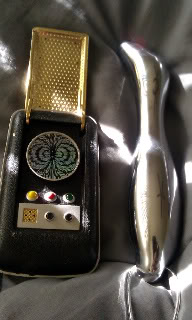 This product was provided free of charge to the reviewer. This review is in compliance with the FTC guidelines.

Thank you for viewing
Reflections Allure
– g-spot dildo review page!