Our Lips Are Sealed.
In the end, I like this dildo. It is not a favorite, but I still enjoy it from time to time. The color is stunning, the shaft is made out of silky silicone, and the bulges feel amazing.
The base is really where this fails for me and might fail for others. I really prefer to use this toy vaginally. The base makes a good handle for thrusting, but it does not feel good between the cheeks. I enjoyed this dildo, but I have many others that I enjoy so much more.
Published:
Pros:
Different colors, Silicone, Blunt tip, Bulges on shaft, Double Duty dildo, Harness compatible
Cons:
Not for beginners, Base can be uncomfortable at times, Firm, Not flexible enough for some, Packaging
The Deep Secret is a double duty toy. It is great for vaginal and anal play. The shaft hosts multiple bulges that help give the toy that anal beads feel. The flared base makes anal play possible and completely safe. If you like a textured shaft for either anal or vaginal play, I would suggest this dildo. I do have to warn that the silicone is very firm, and therefore feels as big as it looks. For this reason, I have to say that beginners may want to try a slimmer toy before attempting this one. The Deep Secret comes in a variety of colors, all of them gorgeous, but I could not resist the silver swirls.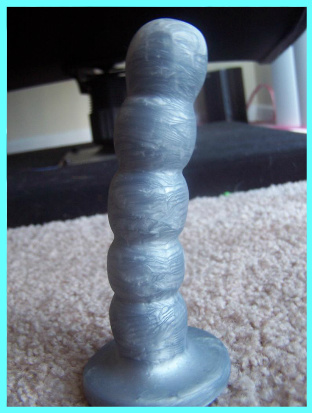 Packaging:
Deep Secret came in a plastic see through bag with a paper fold stapled to the top. It is definitely lacking in presentation and discretion. The paper fold says "Happy Valley" in huge red letters on the front. The back has care and cleaning instructions. I am grateful for this, because some may not know how to properly care for their first silicone toy. Once you open the bag, there is no way to close it again. I substituted a Ziploc bag for long term packaging.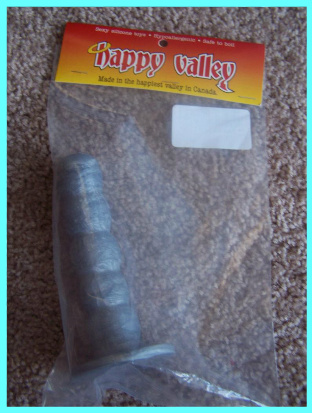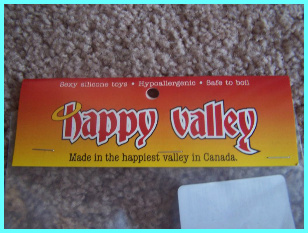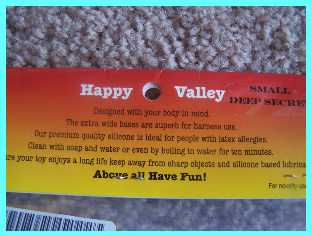 Care/Cleaning:
Even though this toy is made out of silicone, I still suggest using a condom if sharing with a partner. Always use water based lubricants only with the Deep Secret. For a simple and fast cleaning, I wash down with warm water and antibacterial soap. You can use your favorite toy cleaner if that is what you prefer. For a deep clean, I boil this toy for 3-5 minutes. Other solutions are available too such as wiping down with a 10% bleach solution or sticking it in the top rack of the dishwasher with no soap. Be sure to always properly clean before switching between anal and vaginal play. For storage, I suggest a Ziploc bag to help minimize the hair and lint problems that occur with most silicone toys.
Material:
Deep Secret is made out of hypo-allergenic and non porous silicone. The surface feels very matte, yet silky. It has a tiny bit of drag, but this can easily be erased with some water based lube. This toy came to me without any smells or tastes. Silicone will not harbor any bacteria, which is great news for those who are prone to infections. Silicone can be sanitized by boiling or bleaching. Deep Secret is a lint magnet, but it is not as bad as my Ryder. Every now and then I will see a few dog hairs on the shaft, but it really does not cause me any problems. The shaft and top of the base is very matte, but the bottom of the base is shiny and smooth. The bottom of the base is where most of the hair and lint ends up. The shaft is very firm and will bend a little, but it requires a lot of pressure to get it to flex. The base is a lot thinner than that of the Joe Rock, and therefore has more flexibility. I am indeed grateful for the difference.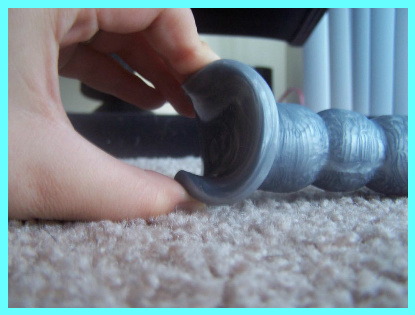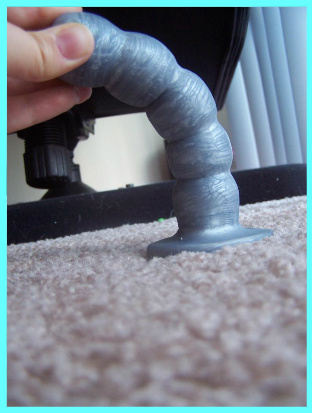 Coloring:
I got the silver, and it is just as beautiful as it looked on the product page. In person, it almost looks like a pearlescent silver with glittery swirls. The shiny base looks more like a deeper silver than that of the shaft, but it is still gorgeous.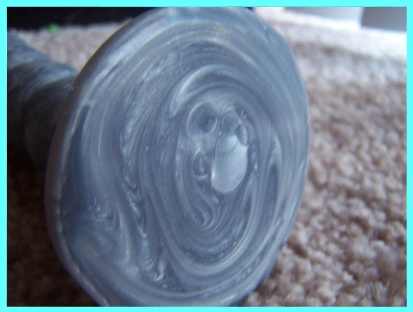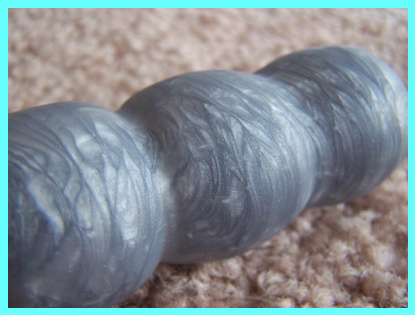 Experience
Design/Size:
The entire shaft is composed of five bulges. When using anally, it reminds me of anal beads. The two big differences between the two are that the bulges do not increase in size and there are no spaces between each bulge. The tip of the first bulge is very rounded, and can be difficult to insert. Once the tip is in, you are left with a nice stretched feeling. Each bulge tapers in a little before moving on to the next one. The tapering between each bulge can be used as a stopping point to breath and get used to each bulge before continuing. There is a slight curve that may hit some G-spots or P-spots. Having a shallow G-spot, this curve plus the firmness of the shaft was all I needed to have a great orgasm.
The base is quite large, yet flexible around the edges. This is irritating for me. I have an ample bum, so someone with less padding might find the base to be even more uncomfortable. The flared base should be able to be used in a harness. I do not own a harness, so I cannot confirm how well it performs in one. The base does make a great handle when thrusting.
As a long term anal probe, I would say that this one is okay. The firm neck plus the somewhat flexible base can become quite uncomfortable after about 30 minutes. During sex, this one is great if it will stay in. There isn't a slim neck, and therefore I find it hard to retain. My husband and I found that doggie style and missionary are the best positions to use this dildo while having sex. While I am on top, the base can rub my cheeks raw and hit his testicles in a painful way. I have found that this mostly fails anally for me, but vaginally it is great.
Measurements:
Total Length-5 1/2"
Insertable Length-5 1/4"
Diameter of each bulge-1 1/4"
Length of base-2 1/2"
Width of base-1/2"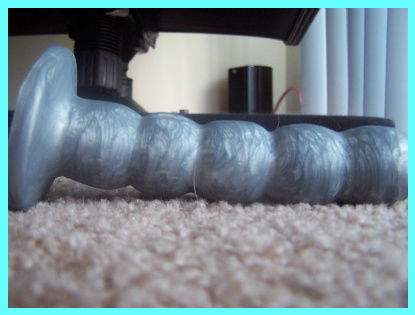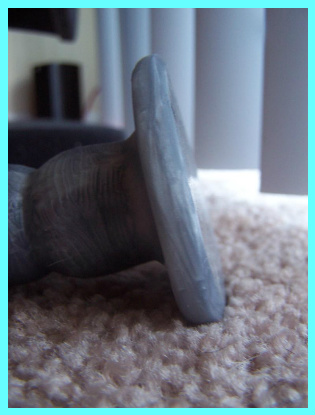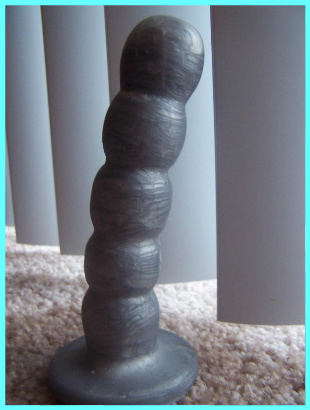 Comparisons:
I was instantly aware that this toy reminded me of another. The bulges on the shaft reminded me of the Emerald Explorer by SSA Glass.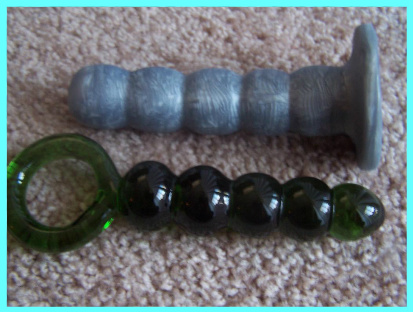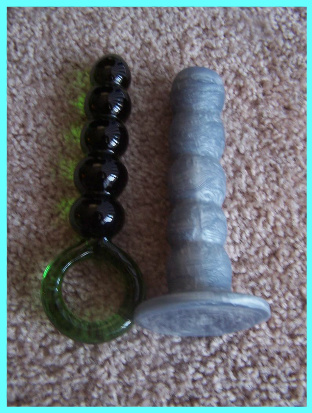 The slight curve and slim shaft reminded me of the Gold Laced G.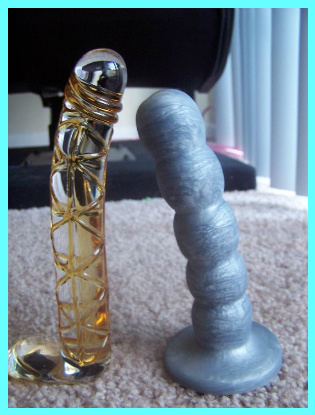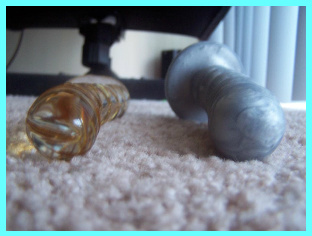 This product was provided at a discounted price in exchange for an unbiased review. This review is in compliance with the FTC guidelines.

Thank you for viewing
Deep secret
– strap-on dildo review page!